NCLA Nail Wraps: A Girl's Best Friend!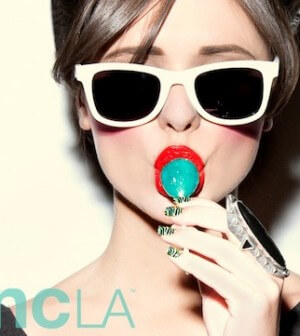 Last night I had an extremely girly evening, thanks to my best friend, a bottle of wine, Sex and the City, and my NCLA Nail Wraps! Each wrap design was created by celebrity nail stylists: you can rock nails just like Miley Cyrus, Vanessa Hudgens and Drew Barrymore. Not to mention the brand has been featured in such iconic fashion mags as Glamour, Instyle, Harper's Bazaar, Nylon (I could go on…). Yeah, they're kind of a big deal.
I'm absolutely obsessed with nail art, but since I completely lack the dexterity to paint tiny designs on my nails (not to mention they're basically whittled down to nothing having been a nail biter since I was about five), I'm always on the lookout for adorable stick-on designs.
NCLA was kind enough to send me two different sets of nail designs, and I'm so happy with the two I picked! I received Mod Cherry, which is a super cute yellow background with little pink cherries, and Brillapalooza, which is an awesome mix of crosses, hearts, stripes, and other tiny designs that elicit a "how did you ever do that?!" from all of your friends.
The nail wraps are super easy to apply: after selecting the appropriate size for your nail, simply peel off the paper, carefully place on your nail, smooth out wrap from the cuticle up, clip off the excess and file the wrap down to perfectly fit your nail. What is extra amazing about the NCLA wraps is that they come with 26 nail selections, as opposed to the typical 10. This gives you so many choices per nail, plus you can share them with your friends!
Mod Cherry – You can put one wrap on each nail…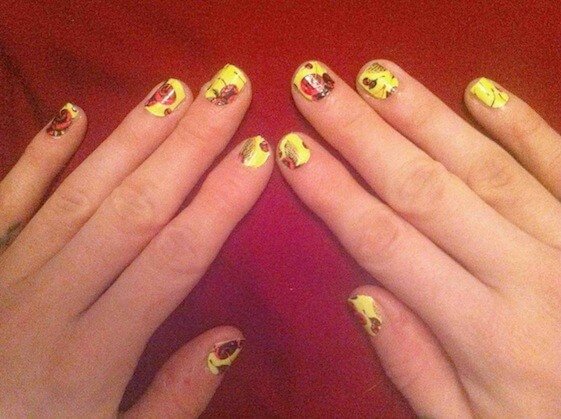 Or use them as accents, like my bestie!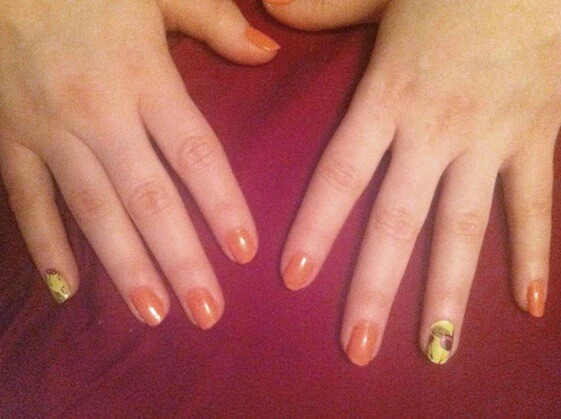 Hearts, crosses and stripes from my Brillapalooza set!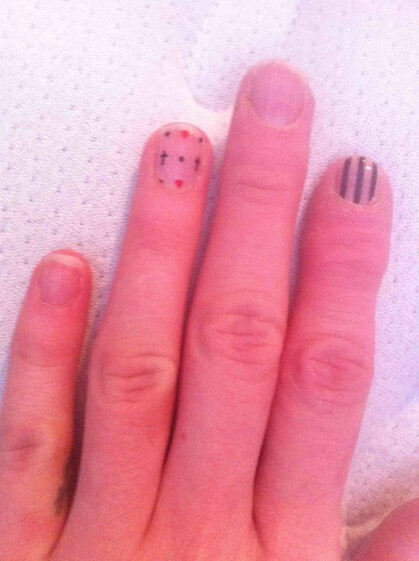 Everyone asked me how I made a cross on my thumb. Also from the Brillapalooza set!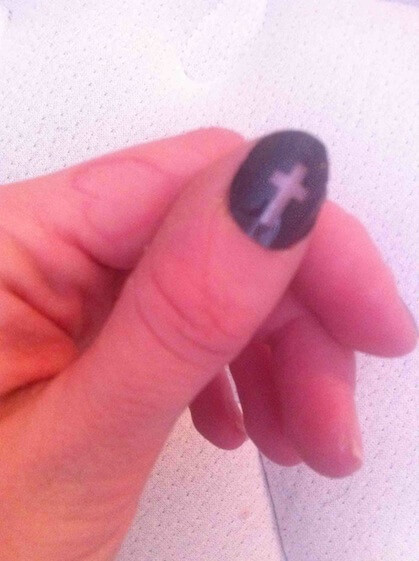 The wraps are also extremely easy to remove. Instead of removing with nail polish remover, like you would with other brands of stick-on designs, you simply peel off the wrap! I'm absolutely obsessed with this brand, so you should probably check out their site, start rocking these sick designs and make your friends jealous! All of their designs are just insane: I need to get my hands on Stephanie's Galaxy, Ink Drop and You're So Pretty.
And evidently, NCLA Nail Wraps are a perfect match for a little wine and Sex and the City.
http://www.shopncla.com/collections/nail-wrap
Twitter: @ShopNCLA
About Alex Payne
Alex Payne is a fashion student living in Toronto, and a complete pop culture junkie. She's an avid blogger, writing about beauty, fashion, dating, music and film. She's obsessed with cupcakes, Kate Spade and The Simpsons. Oh, and vodka.