Michaels On Simcoe
Have you heard about what's happening on the newly-hot downtown Toronto corner of Adelaide and Simcoe? First came the Shangri-La Hotel, then the Soho House Toronto and now Toronto welcomes Michael's On Simcoe.
The clock was ticking and I remember rushing to finish work and meet with Natasha and Aly for our dinner reservation at Michael's On Simcoe. Fortunately, I'd had the privilege of a little sneak peak the week before for some after work cocktails. But this time was going to be different… this time we would have the opportunity to sit down with the legendary Michael Dabic, the founder and one of the owners of the restaurant.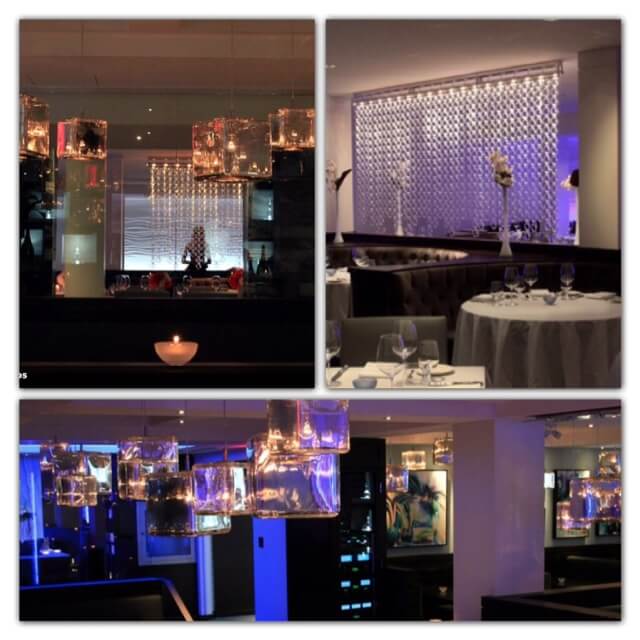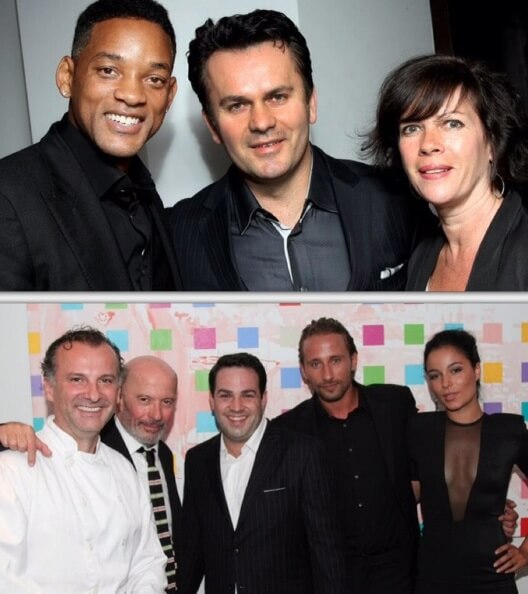 The décor is striking and reminiscent of the type of restaurant where you would find Mad Men's Don Draper wining and dining. Prior to opening its doors to the public, Michael's hosted a number of events during TIFF, including a party hosted by Will Smith.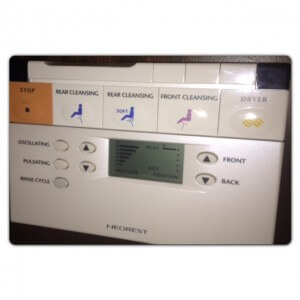 The modern space, designed by Eliana Diamond and Thomas Tampold of Yorkville Design Center, has a Miami meets New York vibe, which was exactly what Michael had intended. Contributing to the 60's vibe is a spectacular hand assembled Murano glass feature. The impressive interior features unique light fixtures and 55" TV screens built into the mirrors behind the bar. The atmosphere is warm, classy, crisp, and vibrant. And last but certainly not least, I cannot forget to mention the most amazing feature in the ladies washroom! The Washlet S400 toilet made by Toto USA (which you may recognize from Harbour 60 and a similar version at E11even.) The S400 offers gentle aerated warm water, cleansing options, massage feature, warm air drying, automatic air purifier, heated seat with temperate control, and convenient wireless remote control with large LCD panel. Usually going to the ladies room is a quick trip but with this fun little contraption you just might find yourself there a little bit longer!
After taking in our surroundings, we were guided to our table by the wonderful Hostess and Marketing Coordinator, Melissa, and introduced to our cheerful and informative waiter Paul Fedosso. We felt right at home! We found our fellow diners fab and fun; we chatted it up with the tables to the left and right of us – some of whom were already loyal regulars of the establishment.
The tantalizing menu featured steak, seafood and modern Italian. Shanna O'Lendy, the cocktail connoisseur and head bartender, started us with a pear vodka, St. Gemain, lime juice and Prosecco cocktail. Deliciously bitter and bubbly and, best of all, made just for us! They should call it the TCG cocktail! That first sip convinced me that this was going to be an amazing visit.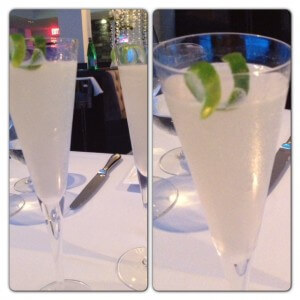 Of course, as is the custom in many restaurants, bread and butter was brought to the table to start us off. I must admit this is one of my weaknesses. I even refuse to have any bread in my own house for this reason. For Michael's On Simcoe I made an exception and thank goodness I did! Hello olive bread with cranberries! But wait, that's not even the best part… I topped it with their house made, mouth-watering truffle butter. Yes, truffle butter, you heard it right folks.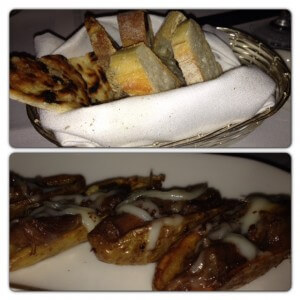 After taking a wee peak at the menu, we were quite excited but we opted to put it down and allowed Chef Boris Babic to take us on a culinary journey and Sebastien Moreau, the General Manager and Sommelier to select our wines. Exciting? HELL YES! If you are open to adventures, I would recommend you do the same- trust me, you are in good hands.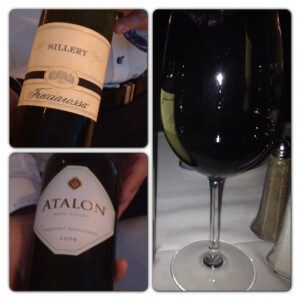 Sillery Pinot Nero, a light fresh Italian wine which pairs extremely well with light fare, merrily waited in our glasses as we indulged in the lobster ravioli. LOBSTER RAVIOLI- it is just as good as it sounds. The taste of the buttery-lobster-deliciousness just gives your taste buds exactly what they were longing for. Made with a lobster saffron butter, this dish is an ALL in house creation and by far the most popular selection on the menu. Note: before you get too excited and pop the whole bite into your mouth- take a moment to cut it in half and take a look at the beautiful mixture of ingredients inside – it is truly a work of art. The fougrais was just as well presented and most delicious with the jelly.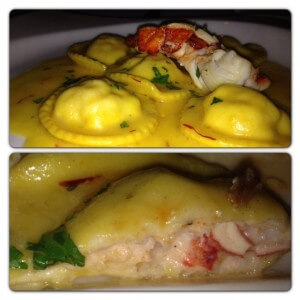 I didn't quite believe my ears it when I heard it, but there's poutine on the menu! I would never expect a restaurant like this to feature an item of this nature and to be honest I wasn't sure what to expect… There it was; neatly presented in front of us. We looked at each other and the opinion was collective; we dig it. We found it to be comforting and not on the heavy side, however it could definitely use a little bit more flavour to achieve that 'wow' factor.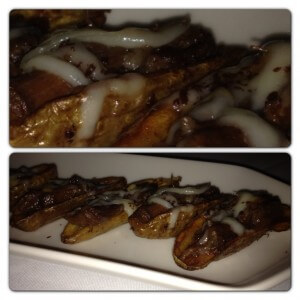 For our next selection we had the chilled seafood salad. Not being the biggest fan of octopus, I was pleasantly surprised by my enjoyment and the ladies loved it too.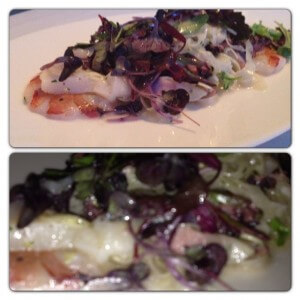 As much as I enjoyed all of our appetizers, personally I saved my appetite for a delicious steak – I'm a die-hard meat lover. I'm very picky though…I like my beef cooked a certain way and aged to perfection.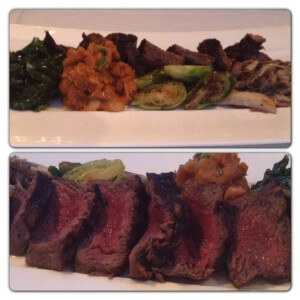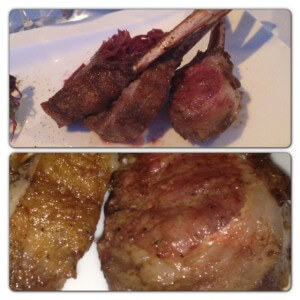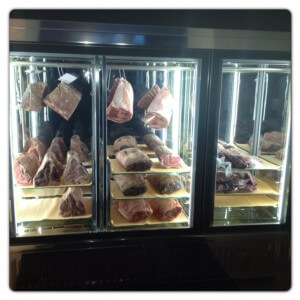 A Napa Valley Cabernet Sauvignon 2009 Atalon accompanied our Colorado lamb chops and steak served family style for us to share. The two absolutely blew my expectations through the roof. The steak was juicy and medium rare – just the way I like it! Incredibly flavourful! The steak and lamb was served alongside rapini, mashed sweet-potato and mushrooms. Mmmmmm! This was like a super-trendy version of Thanksgiving dinner.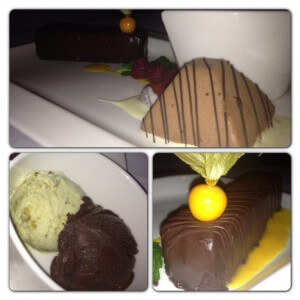 At this point we didn't think it could get much better…then came time for dessert! I don't have the biggest sweet tooth, but after eating some delicious savoury dishes, how could we resist? Well it's simple…we couldn't! While sipping on Michael's house champagne, Moet & Chandon, the most delicious flourless chocolate cake with house-made pistachio ice cream was placed before us. They better serve this in heaven… Our dessert selection was accompanied with Moët & Chandon Nectar Imperial, champagne with a hint of sweetness.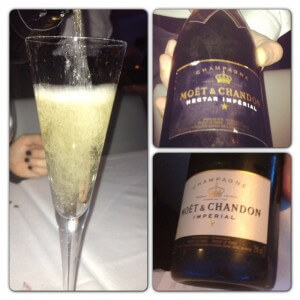 For reservations call: 416-260-5100
Address: 100 Simcoe St, Toronto Ontario
http://www.michaelsonsimcoe.com/