Lucien

Lucien Restaurant had been on my radar for some time, and fortunately by fluke I ended up connecting with its owner Simon Bower, who extended a gracious invitation to dine at his fabulous establishment. After drooling over the menu and photos I discovered online (the BEST type of research) I decided I could not wait another day before introducing my taste buds to the wonders that had been satisfying my eyes for days. That was that and reservations were set for 8:15 p.m. that evening.
It was a gorgeous Friday evening when Natasha and I arrived at the HIGHLY anticipated Lucien Restaurant; a cozy and luxurious little hole in the wall. I had been so busy lately that this was the first sit-down/girl-time dinner I had had in a while, and as we were seated at the "best table in the house" my anticipation for the night before us was at its peak!
In true TCG style we started our meal off with a glass of bubble-dancing Prosecco which never fails to satisfy and always sets the evening off right. As we gazed over our menus, glances of excitement were exchanged as we read over the endless delicious sounding possibilities for the evening. Beet Salad (beet flan, golden beet, horseradish, arugula, fresh herb, pumpkin seed, $12,) Cured Beef Carpaccio (wild ginger, sarsaparilla, sweet potato celeriac, alto beni, $16,) and Albacore Tuna Crudo (rye crisp, "pastrami oil," preserved radish, $17,) were our "beginnings" of choice… And let me tell you, this decision we would NOT regret.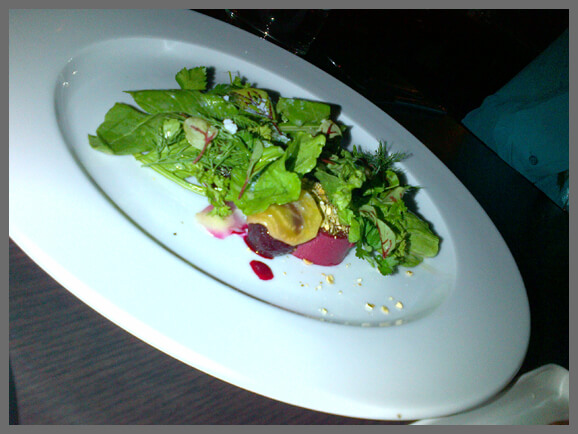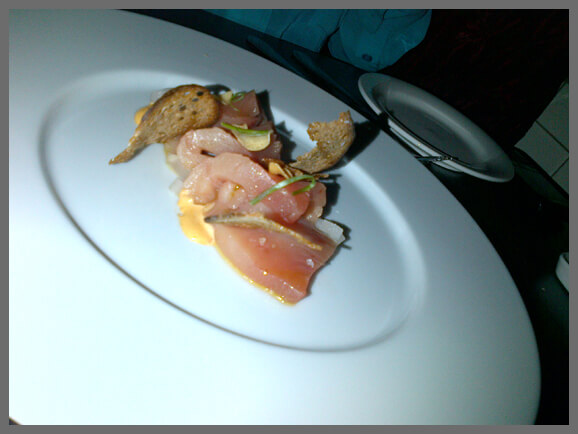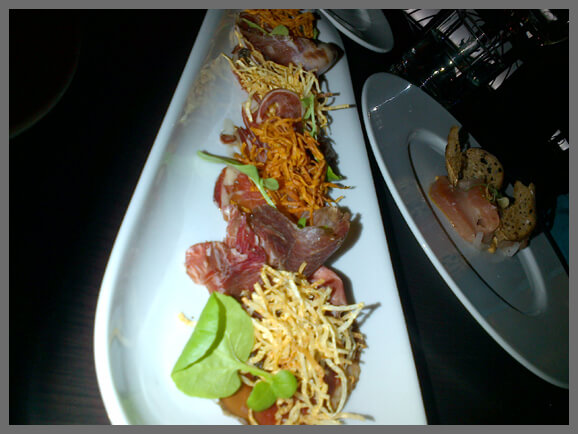 We took the few moments we had between ordering and receiving our appetizers to take in the enchanting sights surrounding us. The first of an endless list of whimsical components to catch my eye was an over-sized chandelier created entirely of recycled wine bottles perched angelically above the seating in the front window. The doors were taken from an Egyptian apartment building circa 1880. Each wall of the restaurant consists of over 5000 individual pieces of leather of varying hues and textures. The building where Lucien resides is one of the oldest buildings in the city and the front window remains with its original glass from 1862.
Every last detail of Lucien was hand-picked and designed by owner Simon, which only adds to the romanticism and unique-coolness of the 50-seater space. Thursday through Saturday is the restaurants busiest times. During those days the chairs are filled with an eclectic mix of Bay Street professionals, fashionistas, tourists, locals and loyal regulars. Lucien is open seven nights a week (yes Sunday nights too!) for dinner, and three days for lunch. Lucien is the perfect financial-district adjacent location to enjoy lunch and a drink with a colleague or for a business meeting.
And it began…
The Beet Salad was indeed lovely. The herbs and mixed greens were certainly in full-form alongside some tasty little golden beets and a creamy beet flan! A fresh, healthy and simple salad… just enough to begin a meal.
The tuna was very light in color and sweet in flavor. The texture made for effortless consumption. As I day dream back to this evening, I am lucky enough to still be able to taste it in my imagination. This dish was truly something I could LIVE on! It was simply to die for. Served chilled to the perfect temperature- the simple, natural flavors earned this dish an immediate place in my heart. Certainly a light and lovely beginning to any tuna-lovers dinner and was a welcomed addition to mine. A MUST TRY!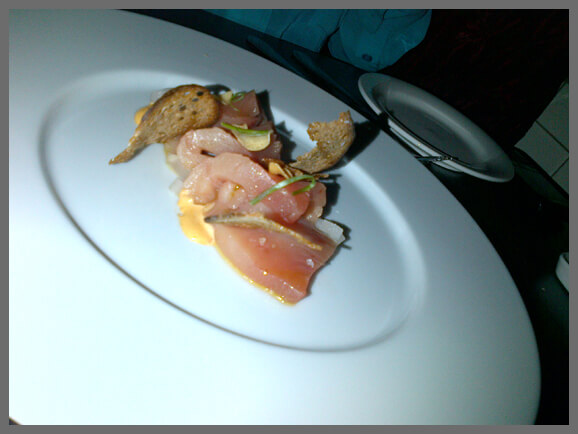 The beef had us literally speechless and encompassed a more advanced spectrum of flavors which hit all four corners of my pallet, with special mention to sweet and salty. This dish consisted of triple A, cured tri-tip Sirloin that is hung and air-dried in house and served alongside a Mexican chocolate salad and organic greens. This was just the most utterly unique, stylish and delicious- beef Carpaccio as I had never experienced before. The crispy pieces of ginger and sweet potato made for a fabulous texture combination paired with the tender, prosciutto-textured beef. Who would have thought chocolate + beef would form such a perfect bond on the plate… (and with me!) A MUST TRY!

As last bites were nibbled up and final sips swallowed, the extremely attentive staff swings by immediately to remove all empty plates and glasses. For girls like us who hate a mess, this was a very good quality! Now onto the "middle…"
Our initial entrée orders were B.C. Halibut (fish chowder, Mexican chorizo, fennel, $33,) for dear Natasha, and Paradise Farms Black Angus Ribeye (caramelized onion, Swiss chard, yellowfoot mushrooms, salarclaise potatoes, bay leaf vinegar, $38,) for who else? The red meat loving ME! But we couldn't help but notice not only with our eyes, but our noses, the House Made Pasta being served at a near-by table. It was a sight and scent to behold so we quickly stopped our waiter and told him we simply MUST have a taste!
Proving women have the best instincts- our love at first sight would only affirm itself to be worthy of a life-long love affair after first bites. Lucky for us, that day's House Made Pasta was Tagliatelle with venison ragu, parmesan and Italian parsley ($25.) It was warm, cozy and delicious—a true spokes-dish for Lucien itself. The mushrooms command a dominant presence in this dish, and the meat couldn't have been any more tender. Normally I am a very saucy gal—hold the pasta, but this pasta was possibly the most delicious I've ever tasted. It took every ounce of self-discipline in me not to down every last morsel on the plate. A different house-made pasta is devised every afternoon as a daily special, but I must plea- ADD THIS DISH TO THE EVERYDAY MENU! It certainly deserves it! A MUST TRY!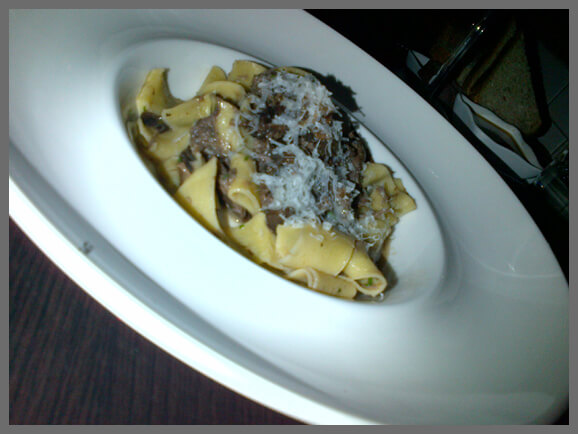 Even from afar the halibut looked firm (but not TOO firm) and fabulous- what's better than that? I took a couple of bites and they were thoroughly enjoyed, however I was far too excited to leave whatever room in my tummy was left for the tantalizing ribeye that lay before me. An aspect about this dish that was particularly exciting to me was the fact that it was delivered that day to the backdoor by a local organic farmer—straight from the farm to my plate! Now for the juicy details. The portion was huge, and the meat was prepared rare- exactly as requested. The sauce complimented everything on the plate and was mouth-watering.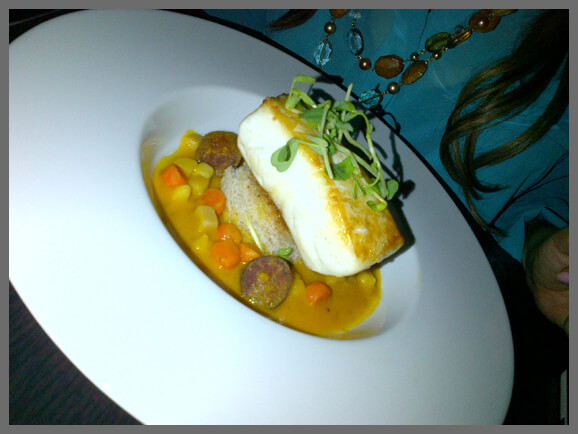 Normally I am a minimalist when it comes to my steak—I've always been a fan of natural beauty; however I do believe that if I am going to have ANYTHING with my steak in the future, it will be this exact creation. The potatoes and mushrooms– all I can really come up with to say right now is Mmmmmmmmmm!!!!!!!!!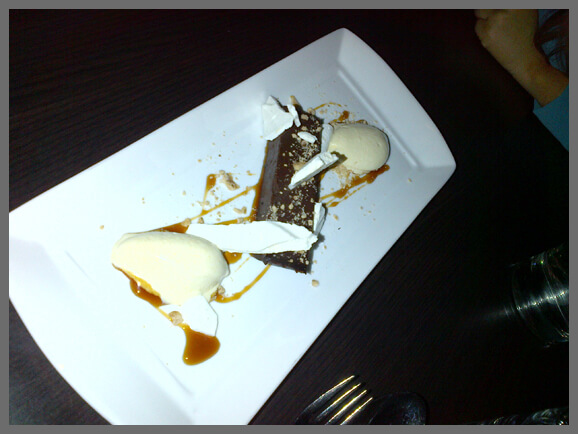 It truly was an unforgettable evening that I cannot wait to revisit. I will most certainly be joining Simon and the rest of the staff at Lucien for many future meals to come!
Sending my love and sincere thank you to Simon Bower, our fabulous Server Patrick Higdon and Chef Etienne Lemeiux. Don't walk, RUN to Lucien immediately if not sooner!
Lucien Restaurant- 36 Wellington Street West, Toronto. www.LucienRestaurant.com
For reservations please contact: 416-504-9990 & lucienrestaurant@yahoo.ca
Open seven nights a week:
Dining:
Sunday- Wednesday: 5- 10 p.m.
Thursday- Saturday: 5-10:30 p.m.
The Bar:
Monday- Sunday: 4 p.m. to close.
Lunch:
Monday, Thursday and Friday: 11:30-2p.m.
<a href="http://www.urbanspoon.com/r/10/182212/restaurant/St-Lawrence-Market-Old-Town/Lucien-Toronto"><img alt="Lucien on Urbanspoon" src="http://www.urbanspoon.com/b/logo/182212/minilogo.gif" style="border:none;padding:0px;width:104px;height:15px" /></a>