Weekly Warm-up: March Break Edition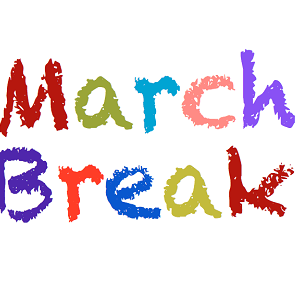 Hello Everyone! Need a little help planning this year's March Break? Well, we at TCG are here to help!
March Break Fun at the CN Tower – March 10-14
*National Engineering Month activities take place from Tuesday March 11 – Friday March 14 from 10am to 3pm.
This March Break, make the CN Tower your next big adventure! Explore the world's #1 elevator ride, Look Out and Glass Floor observation levels, the ride, movie, plus enjoy March Break activities including: Design your very own tower of power! Learn how super structures are constructed and put your building knowledge to the test(from March 11-14), Celebrate the in-home release of Disney's Frozen, complete activity sheets and enter for a chance to win a Blu-ray copy of Disney's Frozen, and participate in a fun, fact-filled scavenger hunt throughout the CN Tower and enter for a chance to win great prizes! For more information go to www.cntower.ca/en-ca/home.html
March Break Program at Ontario's Legislative Building – March 10-14
Join us for an interactive March Break program at Ontario's Legislative Building. During this 2 hour program, families with children aged 6 – 10 will: explore the historic building through a scavenger hunt, dress up in the traditional black robes worn in Parliament, participate in a craft activity, and learn about history and parliament! Pre-registration is required. Call (416) 325-0061 to register, or e-mail tourbookings@ontla.ola.org. Children must be accompanied by an adult. For more information go to www.educationportal.ontla.on.ca/en/visit-us/programs/march-break-program
March Break Fun at the Hockey Hall of Fame – March 7-16
Participate in activity stations where you can try your hand at goaltending, shooting, play-by-play calling, trivia, and video game hockey. View hockey's first 3D film and get hands-on access to the Stanley Cup. Plus, daily giveaways for kids compliments of Esso. For all details and to get your March Break Family Value Coupon go to www.hhof.com.
Hot Wheels Track Builder Challenge Exhibit – March 8-16
Hot Wheels® Canada is launching an exciting, interactive track exhibit, housed at the Art Gallery of Ontario (AGO) during their March Break drop-in programs. The Hot Wheels® Track Builder Challenge exhibit will feature Canada's first Ultimate Track, designed by a team of Track Experts to inspire and educate children on how to build exciting, original and creative Hot Wheels® tracks. Throughout March Break, kids visiting the AGO can interact with the Ultimate Track exhibit in addition to learning from the Track Experts who will be on site to give tips & tricks to help kids create their own ultimate tracks at the interactive building stations. All activites are free with the cost of admission. For all details go to www.ago.net/march-break-drop-in-family-fun2
Earth Rangers' Wild Journey – March 8-16
Show Times: 1:00pm, 3:00pm, 5:00pm
Meet and Greets: 2:00pm and 4:00pm
Earth Rangers' Wild Journey takes audiences on a trip around the world to meet and celebrate some of the planet's most amazing creatures. From Africa to Europe, to right in your own back yard, these creatures have an important story to tell about the challenges they face in the wild. Children and their families will meet some of our amazing Animal Ambassadors and learn about the importance of protecting animals and preserving the environment. Free with admission to the ROM. For more information see www.earthrangers.org and for more details on the Royal Ontario Museum's March Break Programing, go to http://www.rom.on.ca/en/activities-programs/march-break-2014-passport-to-the-world
March Break at the Toronto Zoo – March 8-16
When making plans this March Break don't forget to visit the world famous Toronto Zoo, and visit their new baby polar bear cub! On hand for the fun will be our partner Parks Canada who will be heading up a special March Break Activity Centre where you can get one of four Species at Risk temporary tattoos, including the polar bear. Find out how the Toronto Zoo works with Parks Canada to help save many native Canadian species, and how you can contribute to the protection and recovery of these animals and their habitats. Plus you can visit Toronto's favourite giant panda pair, Er Shun and Da Mao, as they enjoy their first ever Canadian March Break. Check out www.torontozoo.com for details!
Sneaking Around: March Break Spy Fun at the BSM – March8-16
Kids will have the chance to sneak around the Bata Shoe Museum, with lots of spy-themed arts, crafts and activities! Kids can make a secret agent ID card, get a cover identity and learn your spy mission! Then they learn the skills they need in Spy Class. Once you're prepared for your spy adventure, dress up in secret disguises in the 'Top Secret Hideout' and then search for clues throughout the galleries to complete your mission. Along the way, decorate a magnifying glass cookie, make your own jigsaw puzzle, check out spy gadgets (including shoes!), leave your spy-print at the Museum and so much more! For all information go to www.batashoemuseum.ca
March Break-A-Palooza – March 8-15
This March Break, Casa Loma invites you to take part in their Dr. Seuss' birthday celebration! Come enjoy fun-tastic themed daily activities for the whole family including:
A massive scavenger hunt, live performances with The Grinch, arts & crafts with that crazy cat, storytelling with special guests, performance art in the Great Hall, screenings of animated shorts, and much, much more. It's a Dr. Seuss birthday bonanza and you are invited…Oh the places you'll go! For more details go to www.casaloma.org
Ice Skating at The Natrel® Rink – Ends April 1
The city's most scenic rink awaits. Harbourfront Centre's Natrel® Rink is a popular skating destination in the heart of the city. Visitors can enjoy our artificially-cooled outdoor rink while skating to music and taking in the beautiful surroundings of Lake Ontario and the Toronto Islands. On-site skate rentals, helmet rentals, change rooms, rental lockers and skate sharpening are available. For all details go to www.harbourfrontcentre.com
Sherlock Holmes Mystery at Black Creek Pioneer Village – March 8-16
There is a mystery stirring! The Harness Maker's precious golden egg is missing! Help Sherlock Holmes and Watson solve this mystery by finding clues throughout the Village. With activities in every building you will use your detective skills such as disguise, observation, logic, clues, deduction and secret codes. Enjoy a Free Horse-Drawn Wagon Ride around the Village, join Watson in Detective School, search for clues and solve puzzles around the Village, question the Villagers, build disguises and make secret spy name tags, enjoy a variety of family friendly foods. For more information go to www.blackcreek.ca/v2/events/march-break.dot
Canada Blooms – March 14-23
Canada Blooms returns to the Direct Energy Centre celebrating their 18th Anniversary as Canada's largest flower and garden festival. Definitely a must for the flower and garden lover in the family! See www.canadablooms.com/ for more information.