m : brgr
In my life, I have many loves. I love my family. I love my friends. I love the Toronto Maple Leafs (a very one-sided relationship, however!) I also love food. Being Italian, I'd probably be expected to love pizza or pasta first and foremost however this isn't the case at all. Let's put it this way – if I was on death row and given one last meal, my request would be a no-brainer: a Big Mac. My obsession with Big Mac's started at an early age. I fondly remember my family going to McDonald's every Sunday after church and being so excited to get my sandwich. Looking back, I think it was my parent's way of getting us to visit the Lord for an hour but my siblings and I were completely fine with the bribe. Ronald McDonald served up the best burger we've ever had. Those beautiful two all beef patties, special sauce, lettuce, cheese, pickles, onions on a sesame seed bun! So delicious! To this day, the Big Mac plays a big role in my life. No mater where I've been in the world (Athens, Rome, South Beach, Vegas,) I've always made sure one of my meals was at the Golden Arches. The Big Mac is a piece of my personal heaven.
Recently, I went to Cabo for a week of relaxing in the sun. It was amazing. Aside from a drunken conversation with two of the Real Housewives of Orange County (Vicki – a really nice, genuine person and Tamra – world's biggest stuck-up biatch,) the week was pretty uneventful; exactly what the doctor ordered. The food at our resort was great but by the end of the trip we needed a taste of home. McDonald's called and we answered. The Mexican Big Mac did the trick.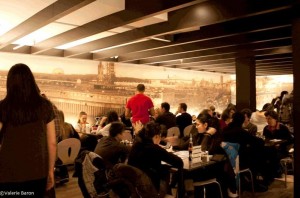 I arrived home after the week with my clothes fitting significantly more snug than when I had left. Yes, I put on a few pounds. With the weather in Toronto starting to come around, it was time for operation hard body. But one last Big Mac was calling before I had to set our relationship aside for the summer. I called up my buddy and we agreed to meet at Bathurst and King for one final visit to Ron's however, at the last minute, decided to grab a quick cocktail at The Counter first. One beer lead to another beer and before we knew it and were in the mood to keep the buzz going but wanted to grab a bite. Since McDonalds doesn't serve we decided against going there (I was actually not happy with this idea but I decided to trust his judgment.) I told my buddy that this was my last big pre-diet meal so I wanted something disgusting and delicious. A burger would fit those criteria. He suggested we take a quick walk up the street to m:brgr (www.mbrgr.com.)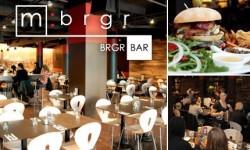 I first heard about m:brgr during a bachelor party weekend in Montreal and everybody encouraged us to go there instead hitting up a traditional Schwartz' sandwich. As most days were spent shopping on Ste.Catherine and hung over, we never made it. I was pleased when I heard they made a move to Toronto and I agreed to see what all the hype was about.
We arrived to find a pretty upscale and inviting environment – casual yet chic. The place was pretty full so we thought we were on to something good. We were seated and immediately were impressed by the menu. The first thing that caught our eye was the $100 brgr (2 x Kobe patties, bacon, grilled pear, foie gras, brie, fig jam, asparagus, Piave del vecchio cheese, garlic roasted ham, porcini mushrooms, honey truffl e aioli and truffl e carpaccio..) Definitely a far cry from the Big Mac and sounded absolutely amazing! As good as it sounded however, I couldn't justify spending that type of dough on a burger. Plus, other great things were jumping out at me. Perhaps a Kobe beef burger with truffle aioli on a lettuce wrap and add some grilled salami, goat cheese and grilled pineapple? Hell, this was my last chance to pig out so might as well add some pulled pork too! Compliment it with a side of sweet potato poutine and some mac n' cheese to split as an appetizer – why not! This was going straight to my ass but this was my last treat until October so might as well make it worth it! All of these choices sounded amazing but there was only one problem. We had been there for 20 minutes and not one waiter had come to our table yet. We weren't alone in our experience. Other patrons were starting to walk out because of the same circumstances. There seemed to be about two dozen employees floating around but all looked to be running around with no purpose or goal.
A waiter finally arrived at our table (once we had asked the hostess to send one over) and we explained graciously that we had been waiting for a while. He didn't seem to care or offer any type of apology. We ordered a couple of pints of Stella and waited…and waited…and waited. We could see our beer poured at the bar and just sitting there. There's nothing worse than craving a drink and having it stare you in the face. Those frosties must have been perched there for about 15 minutes. The waiter finally grabbed our drinks and brought them over. He took our orders happily (after about a total of 45 minutes in the resto.) My buddy and I tapped glasses and took a sip. Do you know what happens when you pour a cold beer and it sits out for a quarter of an hour? It becomes warm. Yuck.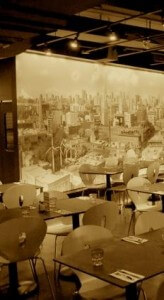 The food runner eventually brought our meals to us about half hour later (all at the same time although we asked for the mac n' cheese as an app – at this point we could care less.) The food was acceptable. It was tasty with some interesting twists on some old favorites. In the end however, it was as advertised – a burger. The exotic ingredients definitely added something to the traditional favorite but the value proposition just wasn't there. The fries were good but not better than anywhere else. Not once did the waiter come by to see how we were doing or check if we were enjoying our meals. Perhaps our experience was being tainted by a bad apple in the bunch. Not so – fast forward slightly and a couple we came across outside of the joint had a similar experience on the other side of the restaurant.
Finally, as we were finishing our warm beers and hamburger, the manager came over to ask how everything was. We were honest in our opinion and he graciously offered an espresso as a gesture of goodwill (a little stingy but nice nonetheless.) We could see the barista pour the coffees in the distance but, once again, no one was taking action. Do you know what happens when you pour a hot coffee and it sits out for a quarter of an hour? It becomes cold. Yuck.
Finally, la piece de resistance. The bill arrived and it worked out to approximately $80 a person. Now I'm far from cheap and love to spend my disposable income on quality dining, but $80 for a warm beer, an ok hamburger, regular fires and a cold espresso AND 2 hours of our time???? Unacceptable. I've found over the years that us Torontonians have no problem paying a premium for a quality dining experience but there must be a correlation with exceptional service, food quality and imagination. We are not unique in our approach. Bymark's burger, for example, is one of the best burgers ever served but the cost is reflected in the amazing wait staff, killer ambiance and out-of-this-world presentation. Don't get me wrong – m:brgr has a lot of potential – great neighborhood and good concept – however its product must reflect the cost, (and, of greater importance, get your house in order.) Process, timing and execution are critical. We, as Torontonians, have very little tolerance if our needs are not met in this regard.
And so our night continued. As we walked out after a disastrous experience, I could see the golden arches on the kitty corner of Bathurst and King and knew full well that I had made a mistake by abandoning my beautiful Big Mac. We'll see you again in October dear friend…