Look Book – Party Skirt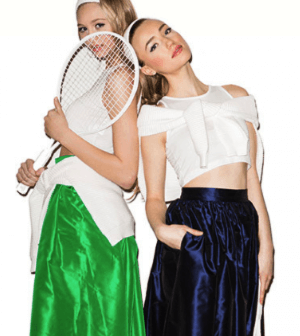 Every girl should own a great white blouse, an expensive bottle of perfume, a red lipstick, and a tea length skirt. Those are the essentials, however I could add many more items to that list, but for the sake of this article I'll leave it at that. The tea length skirt was once a daily uniform for women, and as we all know, fashion is cyclical and trends go in and out of style. It's not quite maxi, and certainly not a mini, but this skirt style has become one of the hottest trends of Spring/Summer 2014 and is popping up on the runways in shows like Tracy Reese and Christian Dior, and has been featured on blogs such as Atlantic-Pacific and in a more sleek and slim style on The Blondielocks. With bloggers picking up on this trend, we need to make sure you have this skirt in your closet. Sometimes it can be overwhelming looking for one trend that will work for your body, so I've found a skirt that works for everybody/every body. Partyskirts is a Canadian company created by two sisters from Vancouver who perfected a basic, classic skirt that will be timeless in your wardrobe. Take a look at a few of these skirts that the fashion world is deeming to be an essential piece in every woman's wardrobe!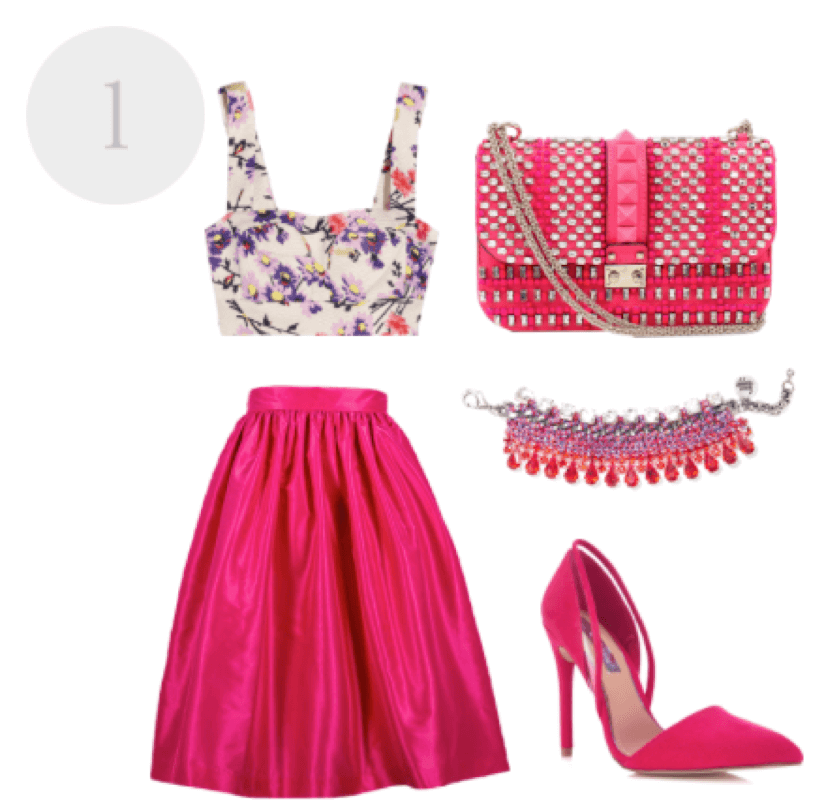 I absolutely love this bubble gum pink! This skirt is so feminine and the pink brings a great pop of color to your wardrobe. Try it with a floral crop top for a flirty look.
Look 1:
Top: Jill Stuart
Skirt: Partyskirt
Purse: Valentino
Bracelet: Vanessa Arizaga
Heels: Miss Selfridge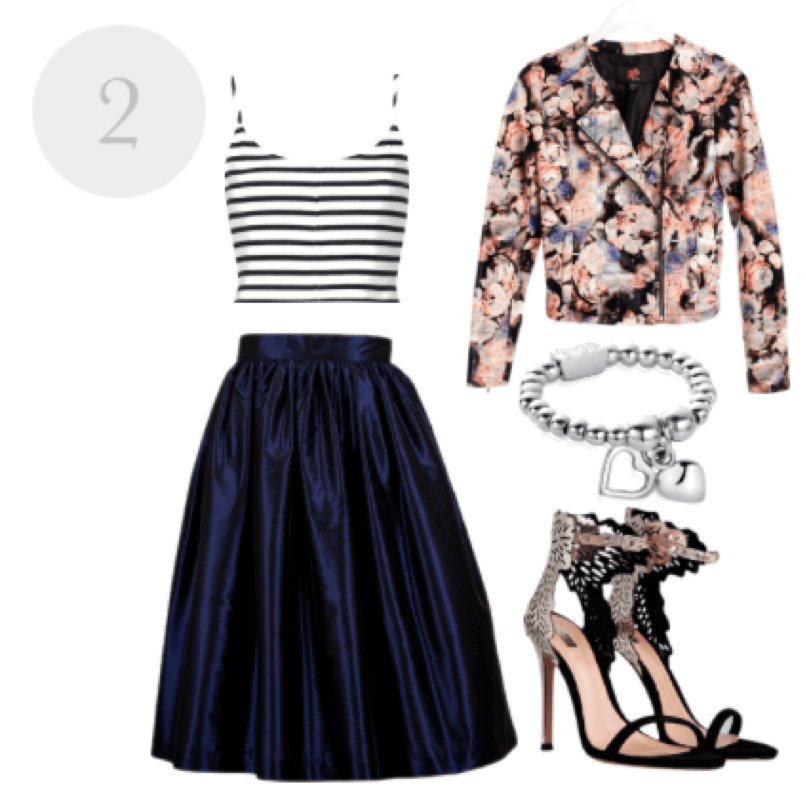 This navy skirt could be worn anywhere…getting groceries, on a date, in the office. The length is so perfect because it's so appropriate, and yet still so stylish. Try mixing some prints like stripes and florals to make an edgier look.
Look 2:
Top: Topshop
Skirt: Partyskirt
Jacket: 2b Bebe
Bracelet: Chlobo
Sandals: Schutz
I love shiny things (as do most women) and this skirt falls right into that category! Try to pair it with a fun color or print so you can spice up your look. Pair it with some great wedges if you need the height, or even if you don't!
Look 3:
Jacket: Piece D Anarchive
Clutch: Etsy
Wedges: BCBG
Sunglasses: Charlotte Olympia
Top: River Island
Skirt: Partyskirt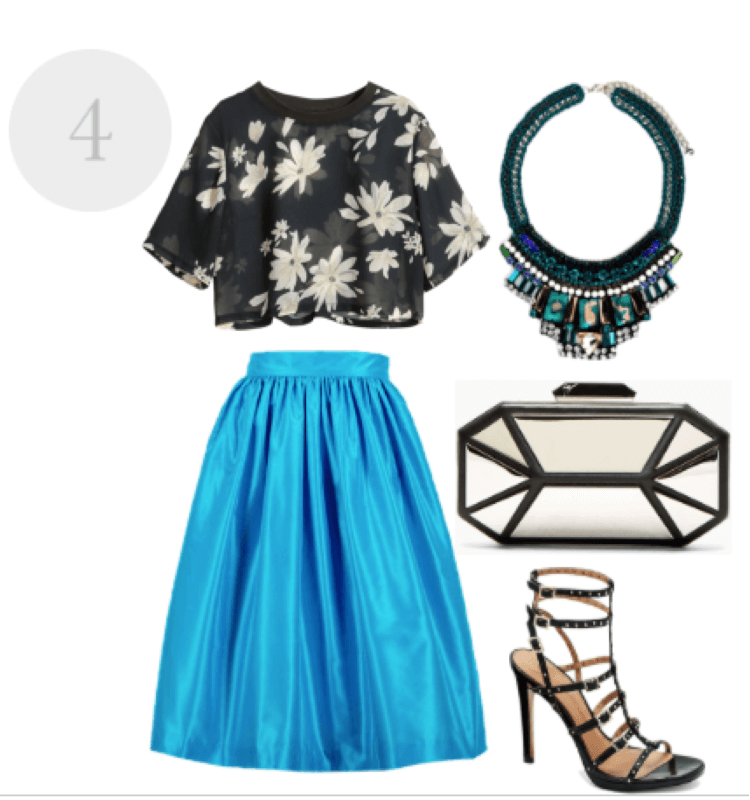 This skirt is so fabulous because any woman of any age could totally pull it off! Try to pick a color that you can play with but still feel comfortable in so you don't throw it away in a years time. This blue is so beautiful and it's a great color at any time of the year!
Look 4:
T-shirt: H&M
Skirt: Partyskirt
Necklace: Nocturne Reem
Clutch: Giuseppe Zanotti
Sandals: Vince Camuto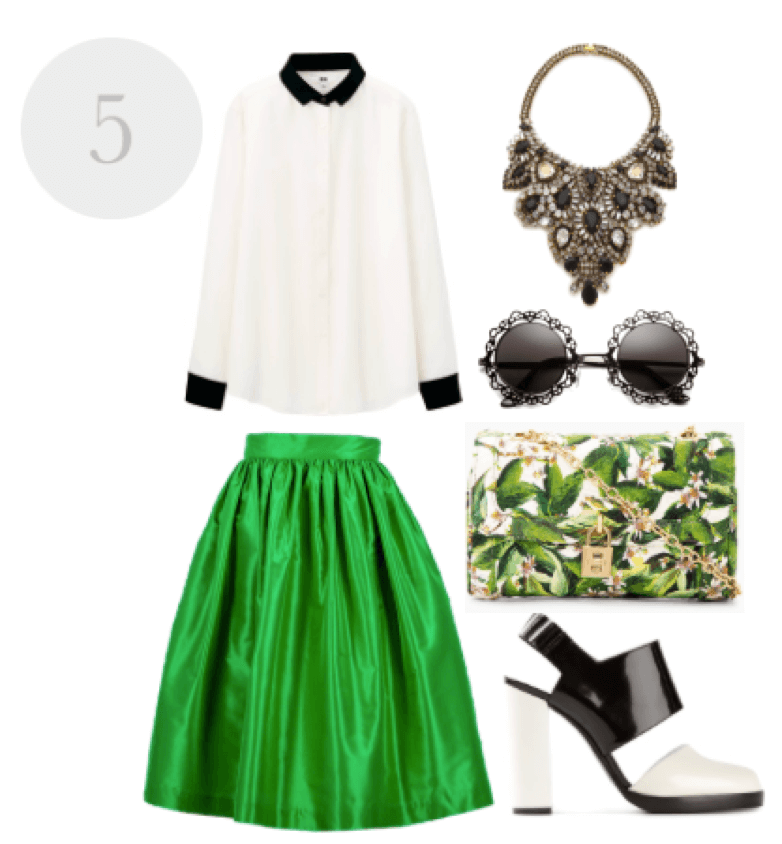 This green is so beautiful, but pairing it with other bright colors and prints can sometimes be too much for some people. If you're more of a basic gal, try a white blouse with your skirt, and accessorize with a statement necklace, a cool clutch and some cute heels. Pick a unique pair of sunglasses to finish off your look and your friends will be green with envy…haha!
Look 5:
Blouse: Uniqlo
Skirt: Partyskirt
Necklace: Aerin Erickson
Sunglasses: 80's Purple
Clutch: Dolce & Gabbana
Heels: Jil Sander
Check out the Party Skirt website here for more looks! Be sure to support Canadian designers, especially the ones that are making such beautiful designs like these ladies! Remember, this skirt is a classic piece that should be in every woman's wardrobe! Will you be heading out for one soon? Let us know @TOCityGossip @Mel13Marchand
Melissa Marchand

About Melissa Marchand
I am originally from Nova Scotia, but in 2013 I moved to the 'big city' of Toronto to study fashion. I am a big believer in following your dreams, working hard but staying positive, and taking advantage of any opportunity that comes your way. I love yoga, wine and high heels…and wine. Follow me on Instagram @melissamarchand and Twitter @Mel13Marchand.