Look Book – Mel's Fashion Week Style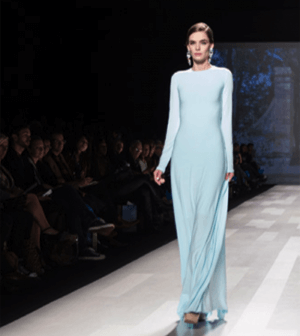 There is one day a year that is equivalent to a girls' birthday, Christmas, and Black Friday all rolled into one glorious day…the first day of FASHION WEEK. Then there is one of the most frantic experiences you will ever have in your life: the moment you need to decide what you are going to wear. There are several things you need to consider when determining the outfit you will put on for the moment you strut into the room of the industry's top respected fashionistas. First, real or faux fur? Second, what are your friends/coworkers wearing…you do NOT want to be wearing a similar outfit on the same day, so schedule outfits beforehand and talk about who's wearing what when. Third, what shows are you going to? Will you be hitting them all, or just a few here and there? This will help you determine your footwear and your handbags. For example, if you need to be running around to shows in different locations, or to the shows on your work breaks, bring a pair of flats and toss them in a big bag (one that works with your outfit) so you aren't dying of pain halfway through the day. Fourth, you should probably take a peek at the weather and decide what is most logical to wear, and how you can be prepared for a chance of snow or rain, but still look as fabulous as Miroslava Duma. Last but not least, find inspiration for your outfits from magazines, blogs or Instagram and Pintrest! But always be sure to be yourself, and add your own style to the items you wear so that it's genuine to your style. This way you'll feel 100% comfortable during Fashion Week (or as comfortable as one can be in sky high pumps). After considering all of the above, I have decided a few of my fashion week outfits will consist of the following photos: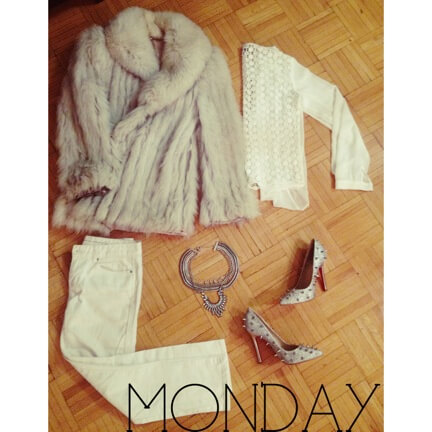 For Monday's outfit, I found some inspiration via Pintrest in regards to the whole "Winter White" trend. White after Labour Day is no longer a 'don't', it's a 'MUST'!
Coat: Saga Furs
Jeans: Tommy Hilfiger
Top: RW&Co.
Necklace: H&M
Shoes: Christian Louboutin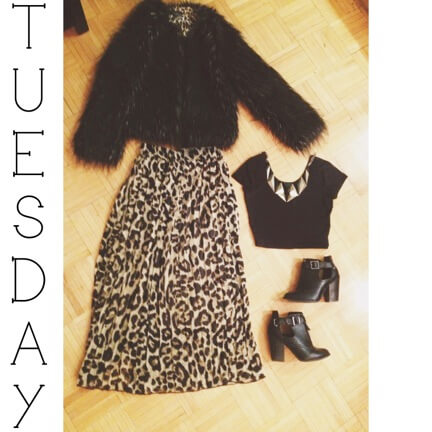 For Tuesday's outfit I thought I would spice things up with a midi skirt, especially since the sun will be coming out, but don't worry I've got the (faux) fur to keep me warm!
Coat: River Island
Skirt: Tobi.com
Top: Garage
Necklace: Baubles & Lace
Shoes: Aldo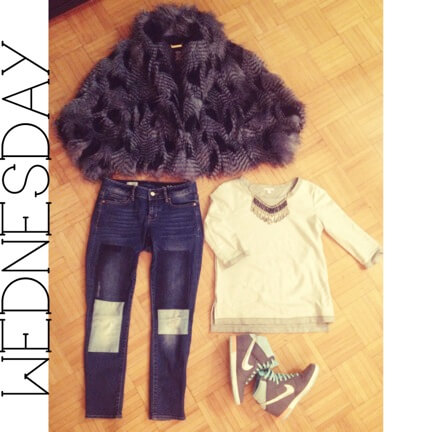 Wednesday's outfit is more comfortable swag, yes I just used the word swag. I have this INSANE fur poncho that I've been dying to wear since I bought it last year, but I haven't gotten the courage to do so yet, but this Fashion week, you people are in for a treat!
Coat: Juicy Couture
Jeans: GAP
Sweater: Gap
Necklace: Envy Clothing Co.
Sneakers: Nike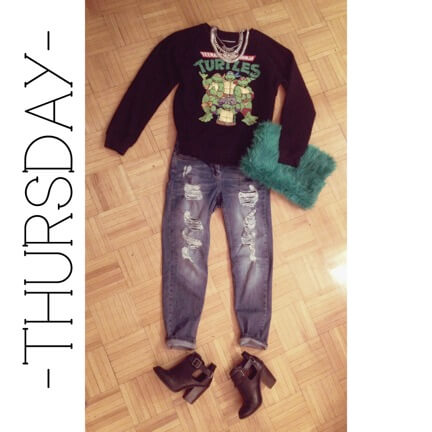 KOW-A-BUNGA!!! This outfit is so fun, I just love it! It's going to be a bit warmer on Thursday (supposedly) so hopefully I won't need a coat to throw on top of this uber comfy outfit.
Sweater: Forever 21
Jeans: Forever 21
Necklace: H&M
Fur clutch: Taye Anita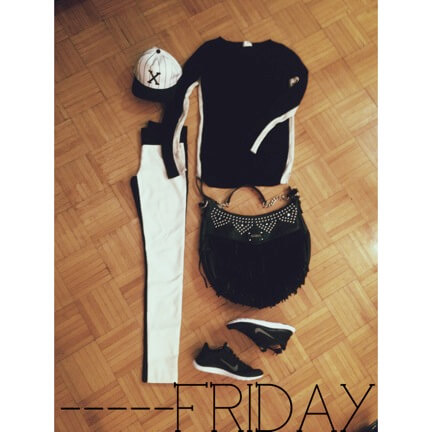 So Fashion Week FW14 is coming to a close, and what better way to end the week than with a classic black and white outfit? The answer: there isn't one.
Hat: F As In Fash – Vintage Store (Queen West)
Leather Leggings: Club Monaco
Top: Club Monaco
Bag: Guess
Sneakers: Nike
These are a few ideas for my TFW schedule, so what about you? Any outfit suggestions? Let me know @TOCityGossip or @Mel13Marchand
Melissa Marchand

About Melissa Marchand
I am originally from Nova Scotia, but in 2013 I moved to the 'big city' of Toronto to study fashion. I am a big believer in following your dreams, working hard but staying positive, and taking advantage of any opportunity that comes your way. I love yoga, wine and high heels…and wine. Follow me on Instagram @melissamarchand and Twitter @Mel13Marchand.