Look Book – Iridescent Fabrics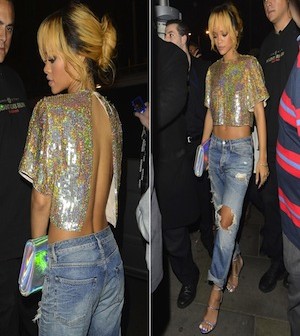 Remember that moment at Coachella 2013 where Tupac stepped on stage as a holograph and basically blew everyone's minds? Yeah, take a minute and Youtube that right now…can you say EPIC!!! Well that moment changed music, technology and fashion. The idea of the holograph inspired new fabrics and trends in fashion and now several designers have began using iridescent fabrics and sequence to create a metallic look to amp up your wardrobe. Christopher Kane, Tom Ford and Roberto Cavalli are just a few designers who sent this holographic trend down the runway, starting a hot new trend for Spring Summer 2014. Try making a statement with a sequence skirt, or if you want to be subtle try accessorizing with a sleek pair of sandals or a bag to incorporate this trend into your wardrobe. So ladies, as Rihanna once said, "shine bright like diamond".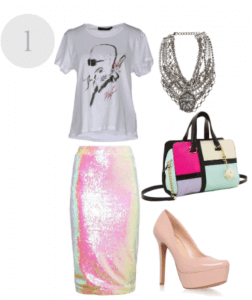 This mermaid-like skirt is sure to make you sparkle in the sunshine this summer! Try it with some nude pumps and a cool graphic tee. Tuck your shirt in in the front and let it hang in the back for a casual chic look. Finish your look with a chunky necklace and a cool bag that pulls out the colors in the skirt.
Look 1:
T-Shirt: Karl Lagerfeld
Skirt: Fille a Papa
Necklace: Gabriele Frantzen
Purse: Betsey Johnston
Heels: Jessica Simpson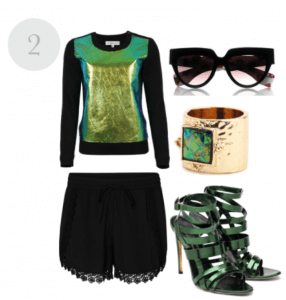 Go green with this awesome sweater and these adorable shorts. Finish the look off with a chunky ring and these amazing sandals to add some sexiness to your look.
Look 2:
Sweater: Milly
Shorts: Vero Moda
Sunglasses: Prada
Ring: Charlotte Russe
Sandals: Rupert Sanderson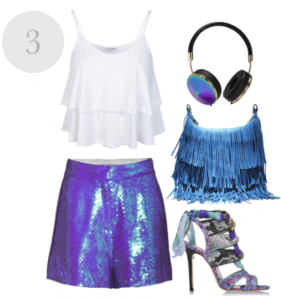 Try a loose, flowy tank top with these fabulous shorts that create a bold statement. Add some fun sandals, cool headphones and this amazing Steve Madden fringe bag to your bright, flashy look. Read more about these shorts here!
Look 3:
Top: Miss Selfridge
Shorts: Acne
Headphones: Frends
Purse: Steve Madden
Sandals: MSGM
How will you be incorporating this trend into your S/S 2014 wardrobe ? Let us know @TOCityGossip
Melissa Marchand

About Melissa Marchand
I am originally from Nova Scotia, but in 2013 I moved to the 'big city' of Toronto to study fashion. I am a big believer in following your dreams, working hard but staying positive, and taking advantage of any opportunity that comes your way. I love yoga, wine and high heels…and wine. Follow me on Instagram @melissamarchand and Twitter @Mel13Marchand.