Little Nicky's Coffee
If you've walked along the strip of Queen West from Spadina to John, you've probably seen the sandwich board pointing the way to Little Nicky's Coffee. No, it's not a reference to an Adam Sandler film. It's an adorable coffee shop tucked away beside the Gap along Peter Street. I had walked by a few times but never ventured in, until last week, and I'm happy I did. As I entered the cafe, I was instantly hit with the undeniable scent of freshly made mini donuts! The aroma was heavenly! I walked up a few steps to a chic, retro cafe. The signage, decor, and plate ware all have a prohibition era feel to them. If Nucky Thompson wanted to treat his lady to a hot cuppa joe, this would be the spot. Too bad it's not on a boardwalk…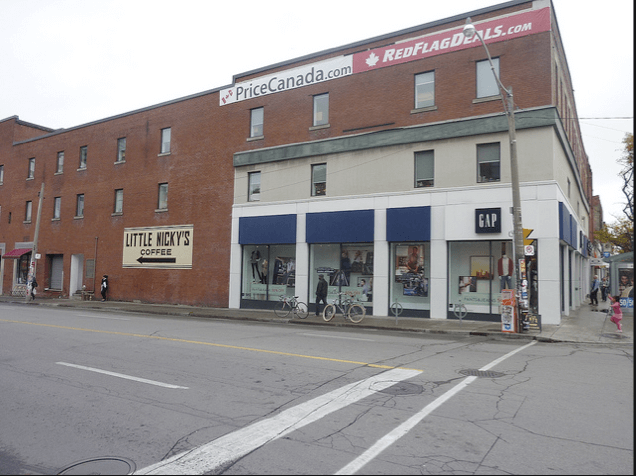 Owner Renee Bonise opened Little Nicky's last year. The shop is named after her Chihuahua. As Renee and I chatted, a steady stream of customers came in, most of which were greeted by name. It's always good to know when a business owner is taking the time to get to know their clientele and making them feel important and valued.
Little Nicky's of course offers the classic coffee shop fare; espressos, lattes, cappuccinos. They even serve home made cupcakes, cookies and scones, which Renee bakes herself daily. I got to sample a blueberry scone. It was delicious! Crispy on the outside, with a soft flaky inside, and sweet little blueberry bursts. My latte was good, well made, but the one thing that makes Little Nicky's different from any coffee shop in the city is their DONUTS! Little Nicky's makes mini donuts fresh to order. The batter pops out of the dispenser, in to the little donut bath, where they make their way to the conveyor belt and in to a tray. Once all the minis come out, they are tossed in a generous coating of icing sugar and cinnamon sugar. Oh. My. Word. They are unbelievable. Hot, sweet, yummy. Wow. I will never eat a Timmy Ho again.
When I go to the food fair at the Ex, I always get a bag of mini donuts. But they're only available that two week period. Unless you know about Little Nicky's! And to compare the Ex donuts to hers wouldn't be fair. A fresh, all natural, made to order donut is a heck of a lot tastier than one that's been sitting in a window waiting to be eaten. I loved my mini donuts so much I went back a few days later with my sister so she could try one too. Donuts are 6 for $2.75 or 12 for $4. Pretty fair pricing in my opinion!
So far, Little Nicky's has been doing lots of catering to the office buildings along Richmond and Adelaide, but slowly the shoppers on Queen Street are starting to take notice. Little Nicky's is open Monday to Friday, 730 to 6, and Saturday 930 to 6. So next time you're doing your shopping along Queen, skip the mega-coffee guys on John and walk a block westward to Peter and treat yourself to the classic pairing of coffee and donuts.
375 Queen Street West
Toronto, ON
(416) 260-0500
For more stories like this one, you can visit my blog at QueenWestGirl.ca