LaBorde Designs

Kristen LaBorde is bringing out the metals and introducing the tribe with her Fall/
Winter Jewelry line. This fabulous Canadian designer is making a statement this
upcoming season with her unique jewelry line that she describes as "tribal and

girly". Any fashion fanatic would definitely be thrilled to have a piece… or a few, in
their collection this season.
LaBorde can easily be described as a breathe of fresh air, her genuine personality
and love for fashion is unmistakable. This season her collection embodies bright
colours and a fabulous mix of metals. As I admired the collection at The Black Box
Boutique it become evident that LaBorde created pieces that are not similar to other
pieces in the market. One word… UNIQUE!
Her creativity was evident within her supreme execution of threading and use of
different mediums. Her statements necklaces are a great addition to nearly every
outfit as her collection entails something for everyone's personal style.
We all know that chunky chains are a staple piece for this season. This necklace puts
a spin on the traditional chain and is also my favourite from her collection. Not only
would this necklace look great styled alone but also layered with multiple other
pieces or even accompanied by a statement ring.
Visit the LaBorde online store for a preview of their FW13 collection here.
Follow @LaBordeDesigns for daily updates.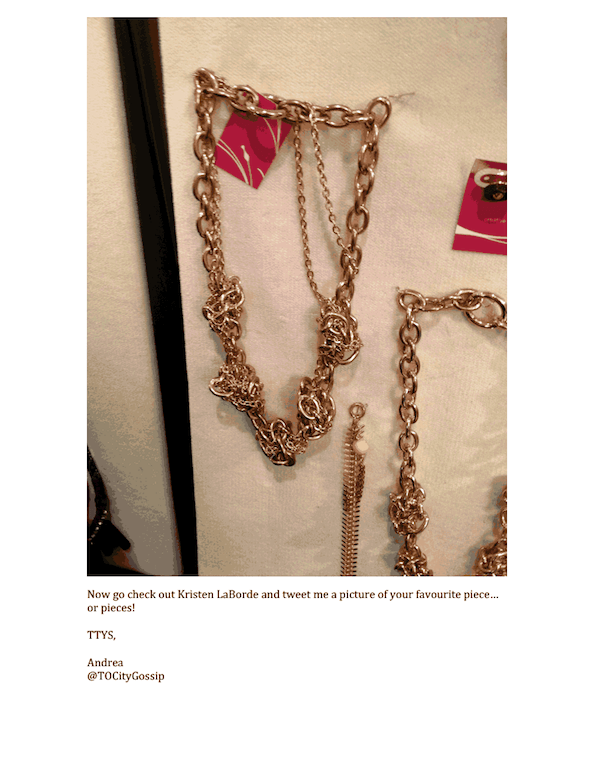 About Andrea McDonald
My true love in life is the wonderful world of fashion. As a self proclaimed optimist, activist for all and fashion fanatic, I am delighted to bring you everything you need to know about the Toronto fashion scene. I've got big dreams baby. @lifeof_andrea