Kultura Restaurant & Lounge
With the exception of food, drink and a bill, the one thing almost every restaurant in the world has is a menu. Reading a menu for the first time should be an exciting voyage of discovery; a mouth- watering event where time seems to stand still as we anticipate the pleasures to come. Sadly that is often not the case. Bland and predictable choices make menus as compelling to read as a railway timetable and the ensuing meal as appealing as a four-hour train journey. In contrast the menu at Kultura is like 'One Thousand and One Nights', a treasure-trove of exotic surprises and delights.
Kultura aims to offer culinary diversity with food from around the globe that includes Italian to Asian-fusion dishes, seafood, Steaks, desserts and more. It aims to be a 'social dining' venue, an opportunity to explore different dishes with your friends. To aid this, Kultura recommends sharing plates, tapas style with a suggestion of 2-3 plates per person depending on appetite.
Opened by Roger Mooking, Kultura is now run by Frank Nyilas who has added his own artistic flair. Located on King Steet East and spread over three floors, it seats up to 200 diners in four different rooms. The lowest level is the lounge while the middle level is the main floor of the restaurant. The bar area turns into a lounge friday and saturday evenings and is also available for private functions. The top floor is for private functions and can sit up to 48.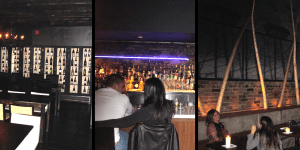 Entering the building is an experience in itself with the decor and art creating the impression of a continuous flow. Gorgeously exposed barn beams and over sized black framed windows. Black chandeliers and dimmed lighting compliment this space for an intimate experience.
We were greeted by the manager James who assured us that we were in good hands. He asked if there was anything on the menu that we insisted on being served. We suggested the mushroom orechiette, made famous by Roger Mooking, which we had heard such good things about. He smiled and told us that it would be on our menu for sure. Our server Matt was polite and informative and made sure to inquire about any allergies, and important matter considering some of the creations are quite eccentric.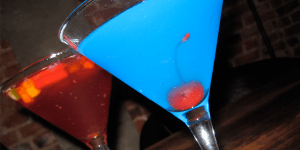 We started, of course, with cocktails. The first, Red Cocktail is a fun-looking berry cocktail muddled with strawberries and cucumbers. This was light and refreshing with the cucumbers and strawberries taken with each helping give the experience of summer's day. The second, Blue Cocktail or Social Butterfly was sweet with a hint of sour.
Our appetites were whetted by the cocktails as we moved on to our starters. Our first was Samosas made with asiago cheese and sage, and apple cumin chutney on the side. These were perhaps a little dry for my taste but complimented by extremely tasty spices. The apple cumin chutney is particularly fine. The second was Hamachi, seared with sesame oil, sitting in a chili ponzu sauce, topped with nori salt. The Hamchi was so tender it melted in our mouths and the blend of salt and spice, provided by jalapeños, made for a truly flavourful experience. They were a little on the salty side but not enough to spoil the enjoyment.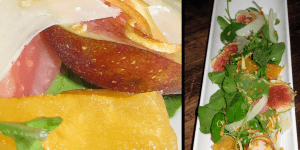 Our third starter was Cress salad, golden beats glazed with white balsamic vinegar, black figs, zamarano cheese and parsley root crisp. This was a light salad, sweet but not in a cloying way. The combination of the cheese and fresh, ripe figs was particularly pleasant. One person could easily eat the whole dish and have plenty of room for more.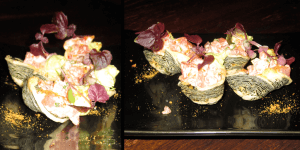 For our fourth starter was the Ahi Tuna Cornets. These looked like they came in mussel shells but are in fact made from a nori seaweed and springroll wrap. The tuna was prepared with sambal aioli, topped with jalapeno avocado purée. Reluctant at first because of the appearance, after a count of three we took the plunge or, more accurately a bite. It took only a few seconds to realise that we had found something special. Crunchy, smooth, tangy and delicious all in one, it is an absolute recommendation. It was made on site and was like nothing we had ever tried before.
The presentation for all the starters was superb – simple, tidy and mouth-watering. The restaurant pumped upbeat music taken mostly from the 1980s and 1990s and the past few years. It was not so loud to hinder conversation but was perfect for a Friday evening as people prepared for the night ahead.
For our first main course we went for selection of seafood dishes served with Naan bread stuffed with sautéed spinach, paneer cheese and jalapeño, topped with truffled pepper honey. The bread was baked in the restaurant's Tandoori oven and was absolutely delicious. We started with shrimp tandoori, marinated in yogurt, mustard, garlic, chillies and ginger. Three shrimp skewered and baked in the tandoori oven. A tomato chutney (cooked roma tomato, raw roma tomato, onion, mustard, seeds, sambal) is placed under the finished shrimp. A papadom cone is filled with quinwa, mustard greens, grilled corn, ginger and shallots. The shrimp is finished with a lime beur blanc (butter citrus sauce). This left a tangy, spicy taste in our mouths. For someone not adventurous with seafood this is the perfect choice as it has a 'Mexican inspired' salsa taste but is topped with a large delicious prawn.
Next was sushi pizza, which started with crispy rice cake with sambal aioli, topped with thinly sliced ahi tuna,seared on the outside, and pickled daikon radish noodles with a yuzu vinaigrette. This was very creative, light and not too fishy. It felt a delightful after taste of tuna mixed with black liquorice. We followed this with squid tempura miso soup. Frank Nyilas invented this soup, inspired by his love of miso soup and squid tempura so combined you get a unique soup that explodes with taste in your mouth. Its like nothing you'll try anywhere else. Baby squid is quartered and placed in tempura batter (all purpose flour, rice flour, cornstarch, all equal parts) and deep friend until crispy. A miso broth is heated which contains mushroom stock, soya sauce and white miso. This is placed in a container, which is poured by the server into the finished dish on the table. Soba noodles (thin buckwheat noodles) are heated in the miso broth and placed at the bottom of the bowl. The squid is placed on top and garnished with thinly sliced green onion and tagarashi spice (ground chili, orange zest, sesame seeds).
To accompany this course James (also a sommelier) had selected a 2009 Chamblis, Domaine Christian Morea (Pere & Fils) Chamblis. It was the perfect accompaniment for the seafood. For the next course we went red and selected a 2007 Valpolicella Ripasso (made from the second pressing of amarone grape.) It is a little on the heavier side but it was chosen to compliment the beef we were about to experience. During the course of the evening, the Manager James took us on a virtual tour of the wine world – California and Australia followed by France and Italy.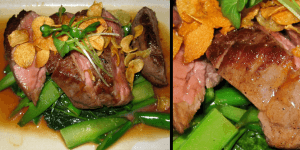 For the next course we started with beef tenderloin seared sitting on gai lan (Asian broccoli,) in a honey soy sauce topped with garlic chips. The sweetness of the sauce more than compensates for the bitterness of the gai lan. The meat was cooked to a perfect medium rare that literally melted in our mouths. The tenderness was unbelievable, tasting as though it had been aged and marinated for quite some time.
This was followed by duck confit risotto; asparagus purée and duck confit parmesan crisps topped with truffled paste. This is one of manager James' favourites but one I found quite bland. The confit was tasty but the risotto was nothing special. Things picked up again with the mushroom orechiette, whose reputation is well deserved. It consists of three different types of mushroom, truffle oil and four-year aged cheddar. At the bottom is pinot noir paired chutney, which needs to be mixed in so that the cheese melts properly. I'm a huge cheese lover and this was absolutely phenomenal. It is a favourite of many and one can see why. It is the perfect indulgence comfort food. On a roll, we next had black cod sitting on corn puree and ginger potatoes with pickled dye con radish on top. This has to be tasted to be believed, and it is no exaggeration to say that we ran out of superlatives while eating it.
Finally for this course we had the pleasure of tasting the spiced lamb rack; sitting on smoked shallot topped with picked red peppers, lemon and thyme labnah (yoghurt cheese.) It is worth mentioning at this time that to enjoy the food at its best one must be prepared to use your hands. Pick up a morsel, dip it into the sauce, hold that gorgeous piece of meat by the bone up to your lips and take a sensual bite and enjoy the spicy taste. Wash it down with a sip of Caravan 2008 Estate Grown Cabernet Sauvignon from the Napa Valley to enhance the spice in the lamb – amaze!
Before dessert we had a Riesling iced wine. What wine tour would be complete without our own infamous iced wines? We finished with the Henry of Pelham vidal ice wine from Niagara. Complimenting virtually any dessert, it is no wonder it is sought after worldwide.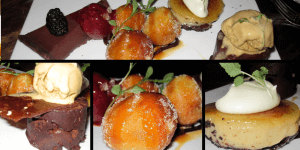 For dessert we started with blackberry chocolate tort that came with a blackberry red wine sorbet and candied ginger. Delicious (if you're a chocolate person) but it is quite rich. We moved on to a vanilla sugar donut hole covered with chocolate and caramel sauce. It was slightly on the oily side but delicious nonetheless. After that it was espresso brûlée, which comes with chocolate cookie crumble white chocolate mousse. The perfect amount of sweetness of the creme brûlée mixed with the bitterness of the coffee made for my favourite creme brûlée in all of Toronto. Topped with a not-so-sugary whipped cream, it is absolutely divine. We finished dessert with chocolate delicce. This had a salted caramel centre with sesame nougat, served with liquorice twizzler ice cream. A cold and refreshing way to end the meal.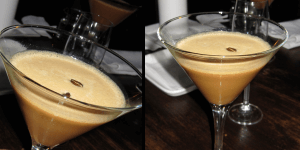 We followed the meal with an espressotini – a shot of espresso, Kahluha and baileys shaken with milk and topped with coffee beans. A suitably decadent way to end one of the most delicious meals I have ever had.
On a side note, starting this week Kultura is now open for lunch! I have attached their fabulous lunch and cocktail menu for all of you to preview.
Enjoy!
169 King Street East
Toronto, ON, Canada
Mon-Wed 5pm-10:30pm;
Thu-Sat 5pm-11pm;
Sun 10am-3pm
http://www.kulturatoronto.com
and
For more information!
xoxo