Hey, Listen! CMW Diary, Day 1: Kenny vs. Spenny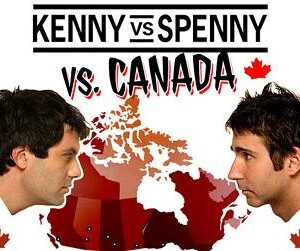 I'm absolutely thrilled that my first CMW 2014 event was being in the presence of two of the most amazing people on earth: Kenny Hotz and Spencer Rice, aka Kenny vs. Spenny, aka ultimate Canadian treasures. I'm absolutely obsessed with their TV show, so I was beyond stoked to see that they would be stopping in Toronto during CMW for their cross Canada tour, and could by no means pass up on this opportunity.
Nothing beats seeing any artist perform in their hometown, and these two absolutely delivered for their dedicated Toronto fans. Between Kenny ripping on Spenny (as usual), never-before-seen clips from their show, and the audience paying Spenny to eat Kenny's tongue scrapings (yes, you read that correctly), I was simultaneously crying with laughter and gagging with disgust.
To top it off, in honour of appearing during Canadian Music Week, Kenny graced us with a live performance of his 'Grandpa' song, which didn't disappoint. They also revisited some of their favourite music moments from the show, including Spenny rocking out to Kenny on the keyboard while tripping on acid with an octopus on his head. Ridiculous, yet unbelievably amazing. Such an incredible way to kick off CMW!
Check out the rest of their tour dates here, and take part in the insanity.
Stay tuned for some incredible bands and more CMW events every day this week! Rock on, Toronto!
About Alex Payne
Alex Payne is a fashion student living in Toronto, and a complete pop culture junkie. She's an avid blogger, writing about beauty, fashion, dating, music and film. She's obsessed with cupcakes, Kate Spade and The Simpsons. Oh, and vodka.