Hey, Listen! Canadian Music Week Updates!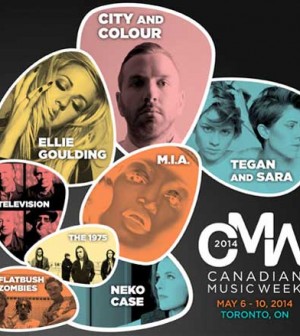 In case you didn't already know, Canadian Music Week is fast approaching! 1000 artists on 100 stages across Toronto – it's a non-stop, head banging, music fueled 5-day party. How do you take part in this colossal rager? Buy tickets and passes here: https://cmw.net/conference/online-registration/.
You can also check out the full schedule here: http://cmw.net/music/schedule/
I'll be bringing you full coverage of the festival, but if you're looking to catch any of the amazing artists I've featured, take a little peek below!
Xprime – Saturday, May 10th at C'est What (67 Front Street E) – 1:00am
(and if you can't catch these cats at CMW, hit up Horseshoe Tavern on May 15th for a serious party!)
For Esmé – Thursday, May 8th at Hard Luck Bar (772 Dundas Street W) – 12:00am
Saturday May 10th at The Gladstone Hotel – North Ballroom (1214 Queen Street W) – 12:15am
The Blue Stones – Thursday, May 8th at Rancho Relaxo (300 College Street) – 1:00am
The Strumbellas – Saturday, May 10th at Kool Haus (132 Queens Quay E) – 9:00pm
The Balconies – Friday, May 9th at Horseshoe Tavern (370 Queen Street W) – 12:00am
Be sure to check out all of these rad bands, plus discover some new amazing Canadian music!
CMW is running May 6th – 10th all across the city. Meet you on the dance floor!
About Alex Payne
Alex Payne is a fashion student living in Toronto, and a complete pop culture junkie. She's an avid blogger, writing about beauty, fashion, dating, music and film. She's obsessed with cupcakes, Kate Spade and The Simpsons. Oh, and vodka.