#FeatureFriday – Fitzroy Boutique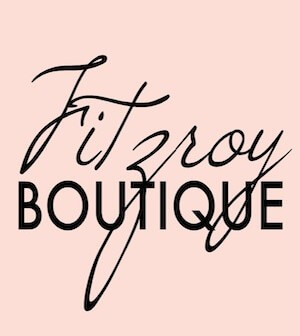 Angela and Julie have always been destined for success, friends since the age of four –they always knew a boutique was in their future. The dynamic duo brought their dreams to reality and created the fabulous Toronto store – Fitzroy Boutique. Both Angela and Julie were always obsessed with personal style and finding their own unique style and after years of trial and error in different industries –they walked into the wonderful world of fashion with open arms.
As Angela is an avid traveller and spending time in London, I had the pleasure of sitting down with Julie and hearing all about their success story.

When did you establish fashion was you passion?
I always loved it, both Ang and I did. When I worked in PR, fashion clients were always my favourite. We always talked about opening up a boutique one day.
Where you always confident that Toronto would be your home for all your success?
I grew up here so it was a natural step. Also there is always so much going on in the city, bringing in cool crowds. It is such a great scene.
How did you and Angela establish your relationship?
Kindergarten! We went to elementary school together and separated for high school, but always kept in touch. As we grew older we both travelled and moved away for school but once we were both in the city again we were like "Okay, Let's do this".
How did the name Fitzroy Boutique evolve?
Angela spent time in Australia and it a name of one of her favourite areas over there. We carry lots of Australian brands and love the boho, beachy vibe they have.
Where do you begin looking for inspiration?
We take inspiration from our personal style that we like to call "boho glam". A little beachy feel with fun accessories. We are also obsessed with Pinterest and always sending eachother looks we see and remembering them when we go on buying trips. I'd like to say we are aspiring to be the Canadian comparison to nastygal.
Do you have a favourite spot in the city?
We love Kensington and St. Lawrence Market, as well as Toronto Island and Bellwoods in the summer. We are always inspired by street style and the individuality we see around the city.
How would you describe your personal style?
Boho glam, it's fun to stay trendy but my personal everyday style is a good representation of LA and Australian style.
She has fabulous style!! Everything you can envision on a relaxed neutral style with fun and glamorous hints.
Do you and Angela have any 10 year goals?
Things are just going to get bigger & better!
Is there a trend that continues to inspire you?
For me it would be the effortless look – a nice pair of pumps, white tee and some boyfriend jeans. Angela is in love with Stevie Nicks and the 70's.
How would you describe Toronto fashion?
It's definitely unique and different; everyone has his or her own style. I am seeing lots of urban influences.

Fitzroy Boutique carries primarily Australian and LA designers; their online boutique will not have any items over $200. Any women will be able to find fabulous pieces as they carry something for nearly everyone. All the clothes are fashionable and trendy, but still transitional and versatile from season to season.
Fitzroy carries it all, from casual to sophisticated or trendy and wearable – I am obsessed with all the designers they carry. The online boutique is bound to be a go to site for all fashion fanatics in just a matter of… moments.
And stay connected via twitter for an update on their next Pop-Up Shop! Thank You Laurie for a fabulous afternoon.
http://www.shopfitzroy.com/
Instagram
Facebook
Twitter
XO,
Andrea McDonald
About Andrea McDonald
My true love in life is the wonderful world of fashion. As a self proclaimed optimist, activist for all and fashion fanatic, I am delighted to bring you everything you need to know about the Toronto fashion scene. I've got big dreams baby. @lifeof_andrea