How To: Dress for Your Body Type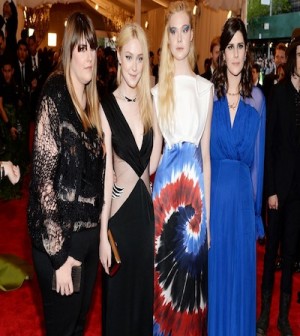 In the spirit of being completely transparent, I'm going to share a secret with you. Dressing for your body shape has become something of a mandatory topic for fashion writers to have an opinion on. After all, if we plan to assist you, the loyal readers, with all your fashion-related queries, comments and concerns, we had better know our A-line from our pencil skirts and our bohemian from our bodycon. Instead of making the matter seem blasé or overly conventional, the expansive repertoire of articles related to dressing for your body shape actually serves to reinforce the importance of understanding the technicalities of your body type as they implicate the development of good dressing habits.
It has always been my belief that looking your best means feeling comfortable in your own skin. It does not escape me, however, that achieving this comfort is often easier said than done. In this guide to dressing for your body shape, I intend to clear up any skepticism connected to the capacity for anyone and everyone to look fashionable. Indeed, I want to show you that trendiness and chicness are attainable elements regardless of what kind of figure you have. As such, finding clothing that makes you feel confident is about looking for those items whose shape, colour and quality compliment the goods that God gave you.
(1) Hourglass
In an hourglass body shape, the bust and hip measurements are virtually equivalent, while the waist is well accented and quite small in comparison.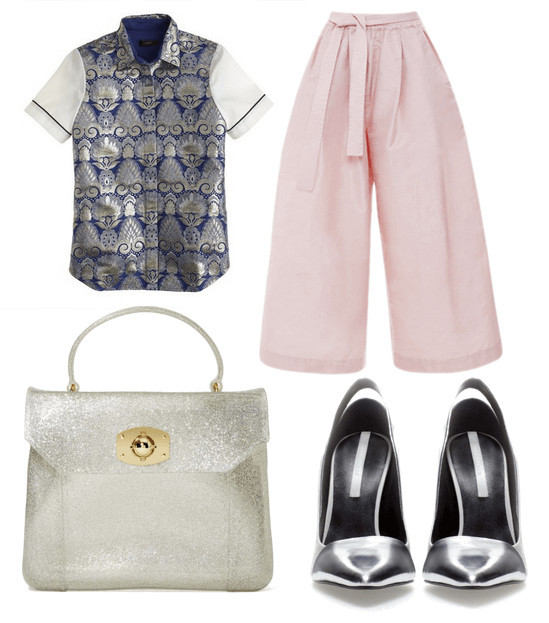 If you please, you can make the most of your hourglass shape by over-emphasizing your well-defined waist in clothes with a feminine flair. Culottes are unique, on-trend and perfect for your figure. In this light pink shade, they look charming paired with a collared brocade shirt (short-sleeved for the spring/summer season). Pointy-toed shoes help to elongate the leg, while a cute jelly bag is the perfect offset to all this feminine glamour.
Top: J.Crew, Culottes: Tome, Bag: Nasty Gal, Shoes: Zara
(2) Straight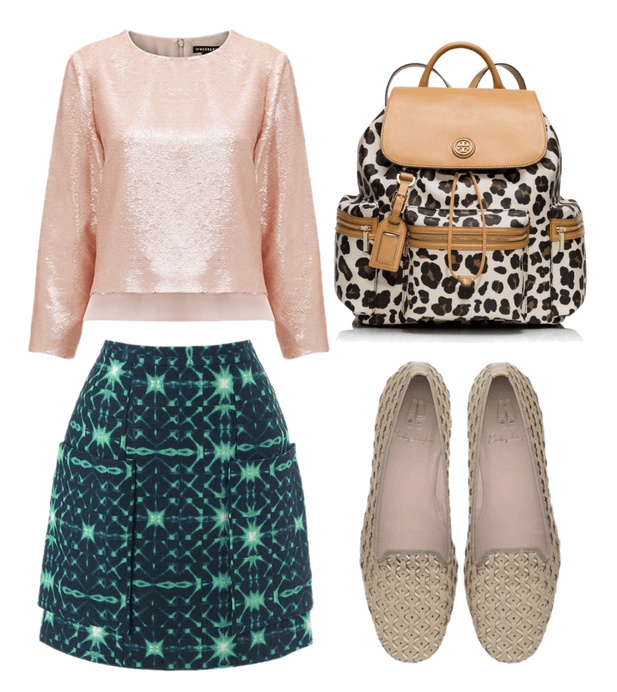 Women with straight figures lack curves to define their bust, waist and hips. These three body parts have similar measurements, making for a somewhat athletic-looking build.
I love when women with straight frames opt for shorter hemlines with very little flare. To me, this always makes for a minimalistic and sophisticated look. During the warmer months, it can be fun to mix up the sophistication factor with cool textures and prints. A long-sleeved sequin top in pink adds some flashiness and is a great option for those with smaller busts. Instead of a classic ballet slipper, those with longer legs look amazing in this slightly male-inspired type of flat shoe. For the ultimate in spunky and unexpected, finish off the look with a backpack in an ever-chic leopard print.
Top: Whistles, Skirt: Whistles, Bag: Tory Burch, Shoes: Pretty Ballerinas
(3) Apple
An apple shape signifies a body where the waist is larger than the hips and bust. The shoulders are broad, as are the back and ribcage.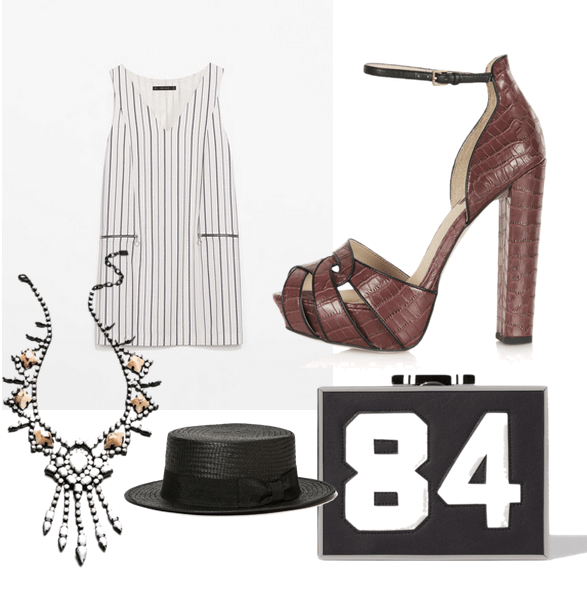 If you have an apple shaped body, the shift dress should be at the top of your summer shopping list! This style avoids clinging to your mid-section and does a fabulous job of showing off those legs. The downward stripes on this Zara dress have a slimming effect, and a chunky, textured heel is a lovely match. Have some fun with a box clutch that picks up on this season's major sporty trend. A hanging choker necklace is also a great addition because it creates the illusion of a high neckline, further elongating your mid-section.
Dress: Zara, Shoes: Topshop, Necklace: Dannijo, Hat: Nasty Gal, Clutch: Zara
(4) Pear
Hi there, do you happen to be a Kardashian!? Those with pear-shaped bodies have a smaller upper half than lower half. The hips are broader than the shoulders, the waist is defined and the derriere is rounded.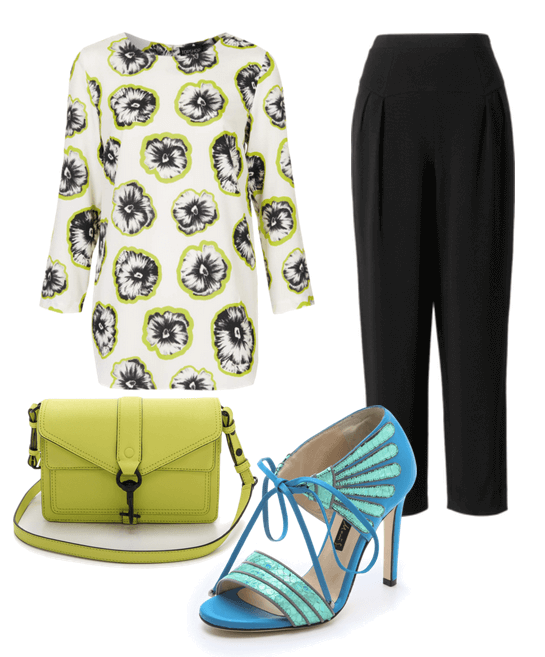 Ladies with pear-shaped physiques should opt for looser hemlines, like the one on these fabulous black trousers. A longer tunic-style top with a slightly boat neckline will broaden your shoulders and de-emphasize the hips just a little. Wear a statement shoe that forces people's attention right down to your toes and accessorize in colours that match.
Top: Topshop, Trousers: Temperley London, Bag: Rebecca Minkoff, Shoes: Chrissie Morris
(5) Inverted Triangle
If you have broad shoulders and a broad chest, and if your body becomes narrower as you move down to your waist, hips and legs, then you have what is known as an inverted triangle body shape.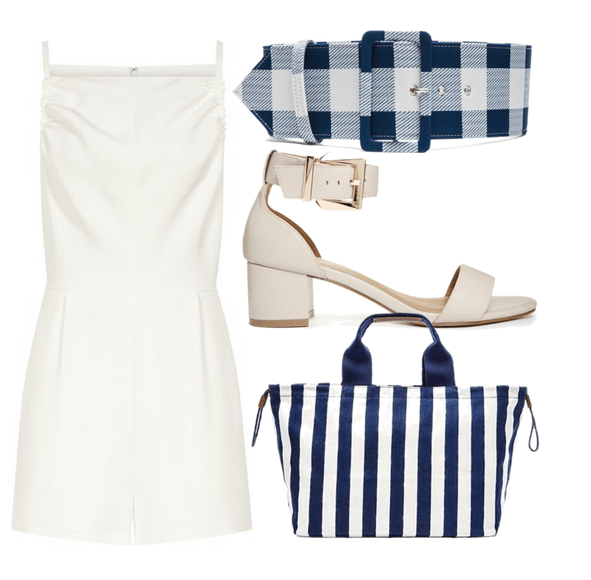 Thin straps and looser bottoms are beneficial to those with an inverted triangle frame. The delicateness on top compliments broad shoulders and bottoms that are not skin-tight help create flattering volume on the lower half, especially when cinched in at the waist with a statement belt. Keeping shoes in the neutral palette will keep your legs looking longer from afar, and a striped summery tote is never a bad idea!
Romper: Reiss, Belt: Derek Lam, Shoes: ASOS, Bag: Marc by Marc Jacobs
Dressing for your body shape is simply a matter of accepting your figure and embracing it. Remember, there are fashionable clothing options for anyone and everyone! Whether you flaunt an hourglass, straight, apple, pear, inverted triangle body shape, or something in-between, have fun with what you wear and experiment with the styles that fit you flatteringly. Happy dressing!

About Krystin Chung
While other kids were busy playing hopscotch, I could usually be found in my closet, playing dress-up or making one of multiple daily outfit changes. Currently pursuing a BA in Art History and Communication Studies, I think of myself as a burgeoning fashion writer, eager to use my knowledge, love for fashion and creative eye to bring you only the best.