Danier: Love For Leather
Danier leather has always been at the forefront of Canadian leather goods fashion and their Jeanne Beker EDIT preview held by Brill Communications leaves no doubt that they will continue to see a lot of success.
The event kicked off with the announcement of the Danier Design Challenge winners. The Danier design challenge was created in partnership with Ryerson University's School of Fashion to provide senior year students with the opportunity to showcase their unique designs by creating an original fashion garment incorporating leather. The winner of these challenges receives the chance to have their designs sold in select stores.
The top finalists this year were Meagan Johnston who featured leather in the detailing and back of her garment; Alyssa Alikpala who incorporated leather in the hood; Sisi Jiang with a long garment; and Yvonne Lin who used white leather in her design.
The designs this year offered something fresh in the way mixed media fabrics were incorporated with leather accents. If you're looking on renewing leather goods in your wardrobe, make sure you look out for the colour trend of this season – Whiskey! Distressed leather and detachable fur were also among the top trends.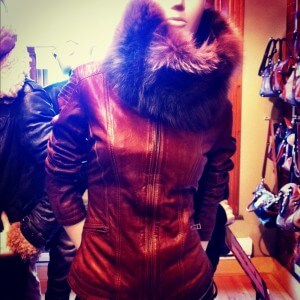 The Designs
With a shark bite fit at the bottom and knit lining, we love the jacket trends! The removable liner also makes cleaning hassle-free and colour blocking only further adds to the stylishness of the piece.
Hello Yellow: Jeanne Beker EDIT

Feel as bright as the sun in this gorgeous yellow jacket with quilted leather accents for only $195!
Mallia
You'll be sure to stun with Mallia's Italian wool jackets with fur collar lining!
Sparks Fly
Philip Sparks' collection is the perfect fit for fall. With a detached hoodie jacket in cognac, houndstooth men's scarves, and distressed leather looks, all men can look and feel just as cool as the weather.
The navy jacket is super chic and minimalist with a huge open collar in warm brown.
Accessories
In terms of accessories, we all know one can never have too many and thank goodness, because when you see these items, you'll want to snatch up all of them!
Danier has stuck with their core wallets and removable coin purses but has also added new and interesting pieces such as black quilted lamb skin, and a pony hair coin purse in November (retailing for $39-$49). In terms of chic handbags, we are loving the Waxy vintage 70s bag and the hand painted bag (available starting late August!). For the traveler or heavy-duty bag user, we recommend the duffle bag, messenger bag, or backpack!
As we all know, fall in Canada can be pretty chilly so we recommend warming up yourself and your wardrobe with these stylish reversible scarves, available for only $29!
With all these new and innovative pieces, we feel Danier is the place to go for leather goods this fall/winter season!
Article written by: Julia Toadere
Twitter: @JToadere
Blog: jaimevoyager.wordpress.com