Blo Blow Dry Bar: WASH BLOW GO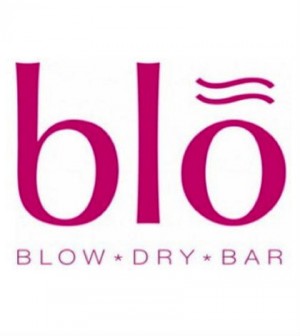 I've never been to get a blow out. I mean, yeah, I've had my hair styled after a cut or a dye job like any girl, but I've never experienced the luxury of just a blow dry. So last Friday— the day Toronto finally decided to grace us with some spring weather, i.e rain— I found my way to The Exchange Tower to experience a blow out from Blo the Path (one of the six Blo Blow Dry Bar locations in Toronto). The Exchange Tower is always super busy and Friday was no exception. But the hot pink sign of Blo the Path beckoned to me and swept me out of the hustle.
I was greeted by Denise, who ended up being my stylist, she was super welcoming and told me that we could get started right away. It's always nice when you don't have to wait at the salon! I was surrounded with the comforting smell of coconut styling products and hair dyers. Denise took me to the sinks where she washed my hair with Unite products.
I'd just had my hair trimmed and it ended up being a lot shorter than I wanted, since my hair is unruly and curly. I was a little nervous I wouldn't be able to get an amazing look, but Denise assured me: "your hair is never too short to style!" Proof of her point: they even do men's blow outs at Blo.
After a quick wash, Denise gave me the Hair Menu and explained the different styles. There are seven specific styles to choose from: Red Carpet, Holly Would, Pillow Talk, Executive Sweet, Hunt Club, Go Irish, and High Society. The first four are blow out looks ranging from sleek straight to messy-bed head. The last three are "up-dos" and include a perfect bun and a braid. There are so many options to choose from and you can also ask for something more customized. I opted for the Holly Would, with a touch of Marilyn Monroe.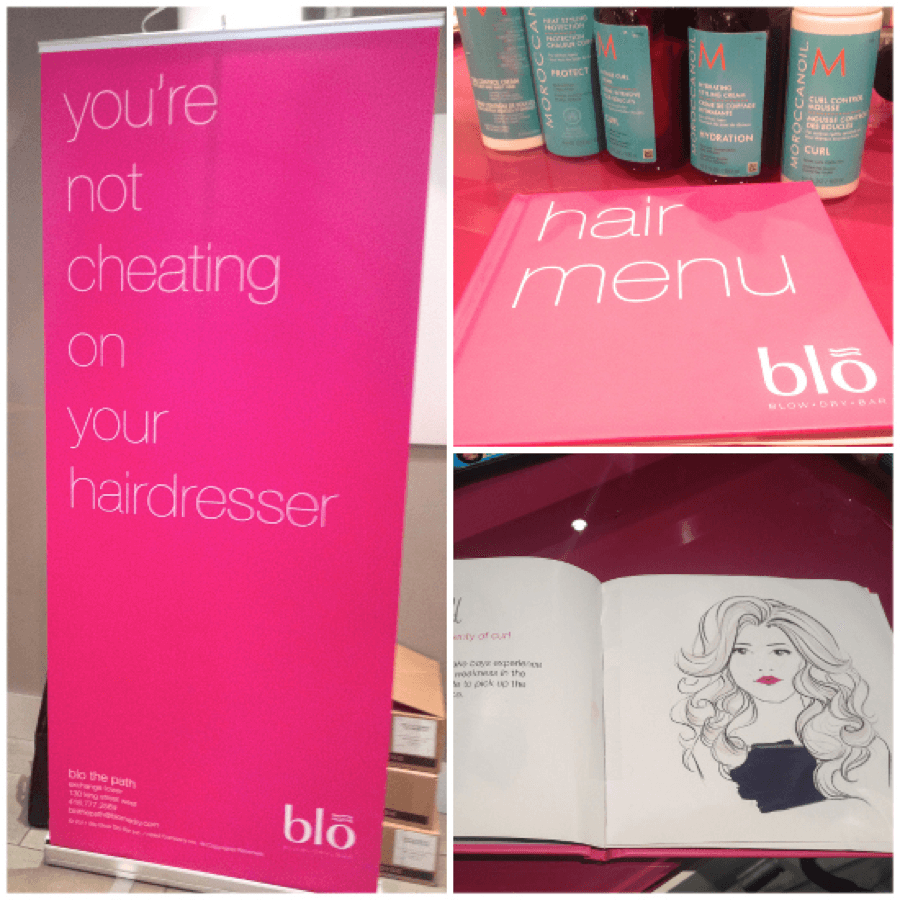 The exciting part was watching her work! Normally a blow out takes about 45 minutes so a lot of people come before work (they open at 7am), or it's easy to fit it in anytime of the day. Blo the Path is one of the busiest locations, but on the weekends the Path location closes and they work out of the Shangri-La Hotel, doing wedding parties, bachelorette parties and other events!
Denise used Moroccanoil Root Boost, which smelled divine and felt kind of like a mousse, to help with the volume. She used a few different round brushes and a hair dyer with a directed nozzle to help smooth my hair. She left one of the brushes in the front portion of my hair while working on the rest to help give extra volume and hold. So cool! After the dry Denise ran a curling iron through the rest to give it some more curl. She used Moroccanoil Luminous Hairspray to set everything. The final product was fabulous and probably the best my hair has ever looked. I'm definitely on my way to Hair Cadet status (see the blo-cabulary http://www.blomedry.com/blocabulary/)
If you have a special event to go to or just want to look completely fabulous for the weekend, I would definitely recommend a trip to Blo Blow Dry Bar. The experience is a must and the result, well it speaks for itself. A simple but luxurious Blo Dry starts at just $35!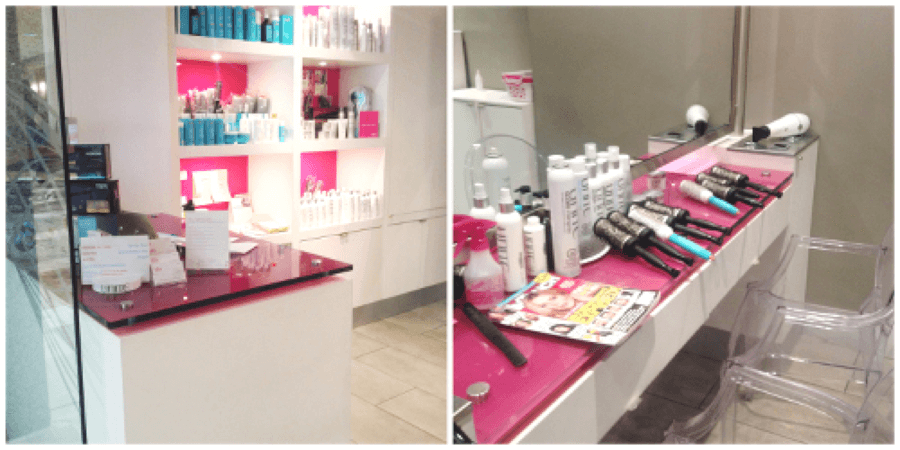 Blo the Path: Exchange Tower130 King Street West, Toronto
416-777-BLO9 (2569)
Don't forget there are a bunch of other locations throughout the city!
About Moira O'Connell
Moira is a writer & makeup-lover based in Toronto. She has a background in archiving, coffee slinging & relocating (also signing Iggy Pop a little too loud). She's pretty sure she was born in the wrong decade, maybe even century. Swears by: red lipstick, bell bottoms & selkies. You can check out her lifestyle blog at http://lkewolves.blogspot.ca or follow her on Twitter @lkwolves