BIVY "Urban Food Outpost"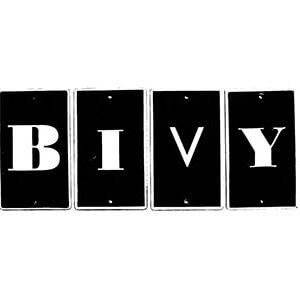 TCG ventured into the very hot, up-and-coming Dundas West area to a little place named "BIVY". Just in case you didn't know, BIVY is actually the abbreviation of the word BIVOUAC, which is a temporary shelter that one would find when trekking in the mountains. The BIVY is where one would go for a rustic roof over-head, a simple and satisfying meal and the peace and quiet to rest and recharge.
This quaint restaurant is a hidden gem. The food is Canadian inspired and the Chef is French – a very interesting twist. However, we felt right at home with the Canadian inspired decor which consisted of a map of Canada similar to those hung on the walls of elementary schools making it a nostalgic conversation piece.
We started the night off with two unique cocktails called the "BIVY Panky" and "Common Trace". These delicious creations went great with our first appetizer which was a Veggie Farcou & Goat Cheese dish (mushrooms, red pepper, shallots $6.50). Definitely a vegetarian-friendly option that can be generously shared amongst a group.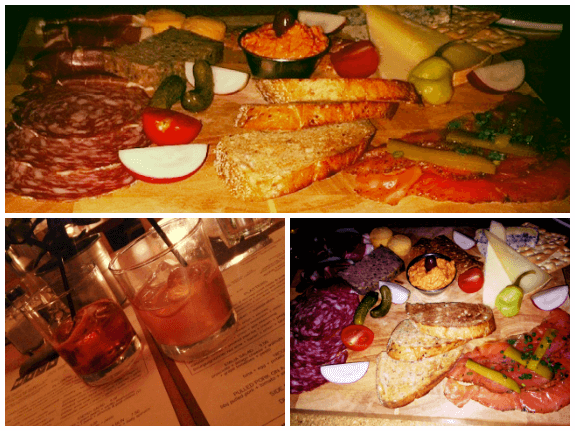 Our second appetizer was a the "picnic platter" and boy, it was a hit. The platter consisted of a variety of gravlax, decadent paté, prosciutto, sun-dried tomato hummus, and a selection of local cheese. This was perfectly paired with a 2011 Tempranillo from the South of Spain. A delicious combination of different meats and cheese listed at only $15. This was an ideal starter to share between the three of us dining.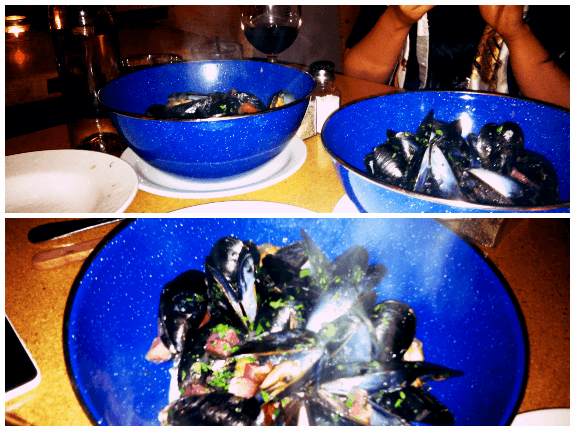 The best part of our tasting at BIVY were the mussels. For only $12.00 for 2lbs it made our jaws drop. It's absolutely unreal how Chef (and owner) Pascal Vernhes takes care of these mussels. They literally fell out of the shell if they weren't aren't already at the bottom of the bowl soaking up the delicious ingredients that making them even more tender and juicy. Our mouths were watering as we kept going for each shell until there was literally nothing left. There are 10 different listings in this section of the menu alone for the every day mussel-enthusiast making it our go-to spot for P.E.I mussels in the city, no joke. We opted for the "jerk" (tomato + white wine + onion + jerk seasoning) and the "bourguignonne" (red wine + bacon + onion + tarragon) but will bet our bottom dollar we will be back to try the other eight immediately, if not sooner.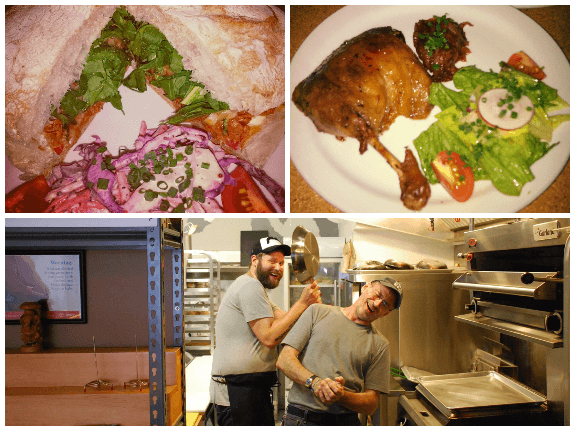 After an intense conversation about how delicious the mussels were, we proceeded to try three main dishes at BIVY. One was a Energy Salad (tomatoes + green beans + sautés mushrooms+ red peppers + beets + almonds & goat cheese $9.50) which is a great option for the vegetarians. Duck Confit (in-house made duck leg confit served with arugula & chutney $12.00) was our second main. The duck was extremely tender and considering it was made by a French Chef it lived up to the expectations. The last dish we tasted was the pulled pork sandwich (bbq pulled pork + tomato + emmental + baby spinach $7.50). This dish is served with According to our server, this is an extremely popular option for those who come in for Brunch on Sundays. Can you say "Comfort Food" ?
TCG was nothing less than impressed by BIVY. This intimate, Canadian styled restaurant is sure to remain a favourite for some time amongst those venturing out to the Dundas West/Ossington area. Seriously, stop in for the mussels and tell them TCG sent you, Chef Pascal Vernhes won't be the least bit surprised.
If you are looking for a small place with great employees BIVY is your spot.
Breakfast, Brunch, Lunch & Dinner options.
An urban food outpost open 7 days a week
1600 Dundas Street West Toronto ON M6K 1T8
416 534 8800
bivyto@gmail.com @BIVY1600
www.bivy.ca