'A Beautiful View' Review – Factory Theatre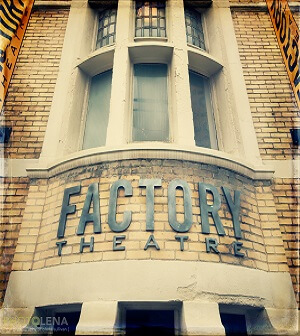 I had the absolute honour recently of seeing "A Beautiful View" which is playing at the Factory Studio Theatre until March 9. Before I continue, I just want to say this off the bat: I did not expect such a fantastic show, and I highly recommend this show to anyone who is searching for themselves in a mental, spiritual, or sexual way, or to simply witness a beautiful show.
As we walked into the tiny theatre, my friend and I noticed the set comprised of one thing: a white radio on the stage. This radio seems to play a key role in the continuation of the story told through sounds and music. The show starts off with what sounds like a horror film, almost like a monster. It was honestly very scary and very guttural sounding.
Sound seems crucial, because the set/staging is super simple. Things like light changes allow the scenes to change smoothly, but this can only be achieved successfully thanks to the amazing acting of Becky Johnson and Amy Rutherford. They made the entire show feel genuine, emotional, and moved the audience while being able to successfully build tension.
The story itself is about many things, but the show starts off with the meeting of two friends, but it's a strange meeting. Their meeting is awkward, because it appears that the two ladies are crushing on each other (which we soon learn is 'strange' because they are both straight), but what makes this meeting awkward are the lies they tell each other to appear more desirable or "cool", or even simpler, not lame. The story builds where the two meet each other (by accident, or purposely) to clear the air and reveal the truth, but before they characters tell the truth to each other, the audience learns about each character's truths through the use of monologues. Now, normally I hate monologues, but I enjoyed the characters uncovering and exposing the truth and their true feelings for each other. They explore their growing love for each other, which at first is strange but warms up to them.
The other thing I thoroughly enjoyed was the deeper thoughts and ideas expressed in the show. A quote that I enjoyed came up when the two characters were talking about silence, and how it's underneath all the noise in daily life, and is God's way of saying "Shhhh". The show, at its root, is about the search for our true identity and sexual identity, which goes hand in hand with the idea that love doesn't have any logic, it just happens. What we do however is put a label on how we feel, or supposed to feel, instead of exploring and embracing love.
This show is truly awesome! Yes there are some sad, and emotionally pushing, but overall it is a fun, lighthearted, and lovely show. There is so much I didn't tell you, because I want you to go experience this intimate show for yourself. It has a super short run, so to get more information and buy tickets, go to http://www.factorytheatre.ca/what-s-on/a-beautiful-view/