BBQ Season is here! Dine Alone Foods Presents All-Natural, Canadian made line of BBQ Sauces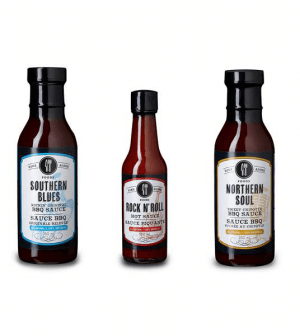 After a long work day and a couple of exciting meetings, it was time to head over to The Dog and Bear (1100 Queen St West) for the launch of Dine Alone Foods line of all-natural BBQ and hot sauces.
Prior to our arrival we had no idea what we were in for. Greeted by smiles at the door we checked in and followed the fabulous ladies of Rockit-Promo where we were escorted to the Southern Fare Feast that was provided by Hogtown Smoke and Parts&Labour Catering. Included in this feast were delicious fried pickles (they were clearly a crowd pleaser as we took the last two), BBQ chicken, pieces of beef brisket, chicken wings and so, so much more.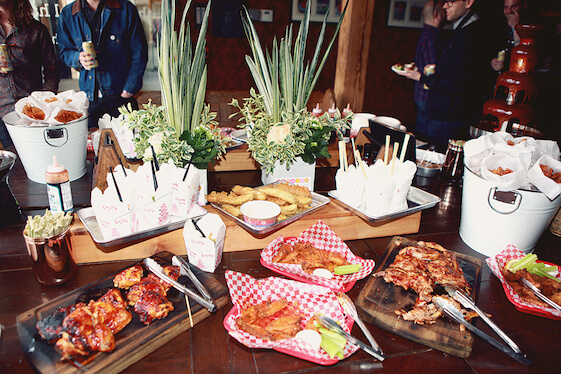 Our eyes were immediately focused on the two massive fondue machines on either end of the table that consisted of a classic Southern Blues BBQ sauce & a sweet smoky Northern Soul BBQ sauce (separately) from Dine Alone Foods. I'm not kidding – we were unable to get over these machines for a good five minutes. Needless to say: the comfort food lover's version of heaven.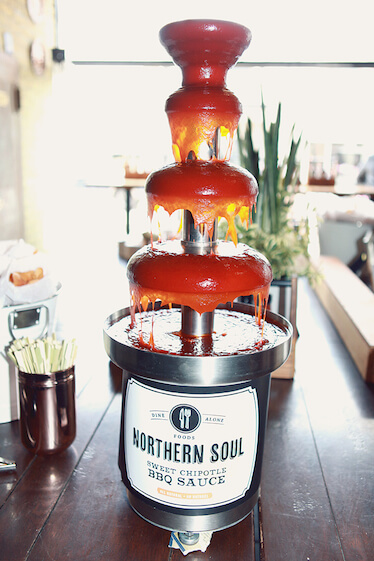 Both of the sauces were equally delicious to me, however, I tend to favour a more sweet/spicy BBQ sauce so I stuck to the side of the table by all of the delicious food covered in the classic Southern Blues BBQ sauce.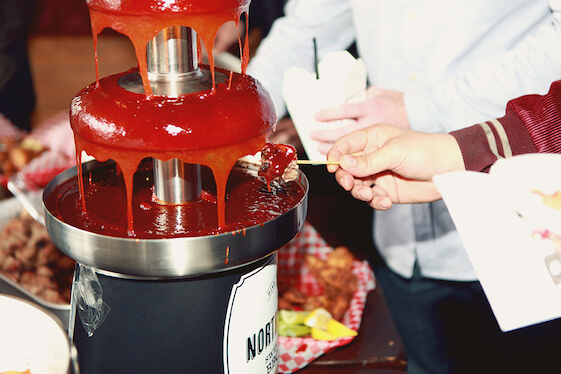 This uniquely crafted line of all-natural sauces are made-in-Canada and created by Dine Alone Records founder Joel Carriere and Alexisonfire's Jordan Hastings.
If you're looking to try these sauces on something prepared for you or you're on the go, you're in luck as the sauces are featured on the menus of Let's Be Frank, Boots and Bourbon, The Dog and Bear and Hogtown Smoke food truck.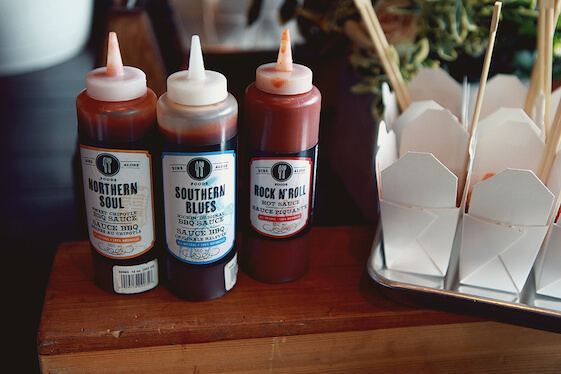 The complete line of sauces are available for retail purchase in select stores in Ontario, Quebec, Nova Scotia and Alberta. Retail price varies. To find a retailer, visit dinealonefoods.com.
Seriously, you need to get your hands on these products – they're finger lickin' good.