Another moment with Rob Ford – this time on Jimmy Kimmel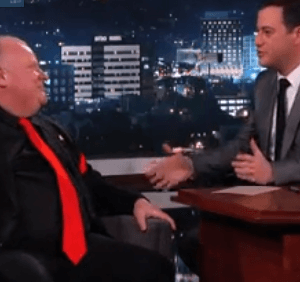 Surprise, surprise, not only are we getting hit by another snow storm in MARCH…. we also get hit with another ROB FORD stunt. The discussion of Rob Fords appearance on Jimmy Kimmel last night amongst Torontonians has taken social media by storm. Are you disturbed that our Major decided to appear on the popular show, or are you amongst those shaking their heads with a smirk on their face, "Nothing new"? Being classified as "a crack smoking Mayor" – do you think he did a good job representing our beloved city? Who else thought it was embarrassing to hear him refer to "Everyone" as "a customer" ?
We know you were not "elected to be perfect" but you are to appear so to the public… that is what Mayor's do. Jimmy Kimmel's comparison to LA's mayor was an slap in the face to Ford and he just sat there and laughed away.
When is the embarrassment going to stop? Share your thoughts on his appearance with us! Tweet @TOCityGossip