Anna Wintour: The Woman, The Bob and The Manolo's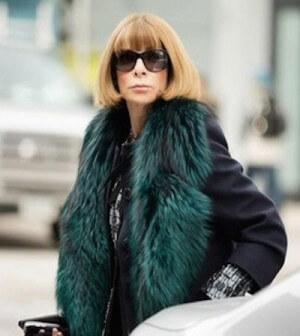 Fresh. Current. Hip. On-trend. These are the words that entice 21st century audiences, and with good reason. With so much to know and so little time, people trust the sources they can rely on day-to-day, month-to-month and for years on end. This kind of credibility can only stem from the demonstrated ability to adhere to an adamant set of values and standards, while embracing modernity by constantly shifting to meet the times we inhabit. For the past 26 years, Vogue has done just that. With fashion powerhouse Anna Wintour at its helm, the word almighty comes to mind to describe the transformation and colossal success this Condé Nast publication has seen. From her onset as editor-in-chief, Ms. Wintour has breathed newness into the Vogue identity, her vision so fruitful that it has gone on to shape the direction of fashion magazines at-large (think front covers featuring major Hollywood actors, and the now pervasive theme of high-low fashion).
The thing about writing a piece on Anna Wintour, the esteemed icon, is that her immense presence, both as a leader in fashion and as a businesswoman with enviable instincts, makes it easy to feel dwarfed, unsure of where to start or how to do her story justice. As such, if you are looking for a classic biography, this is not the place to get it. I cannot in good conscience pretend to have spent years digging up research or to have conversed with Ms. Wintour herself and/or those close to her (though to be sure, this is most definitely on my bucket list). What I can do, here and now, is take the facts we have available to us and piece them together in an attempt to express my own perception of Anna Wintour: The Woman, The Bob and The Manolos.
Anna Wintour is one of those women with the ability to harness the likes of people aged nine to 89. That she appears to share little in common with many of the latest celebrity sensations popping up today leads me to believe the qualities that make Wintour so revered are the very qualities we forgive others for missing. As a magazine miracle worker, Wintour is known for being decisive, critical, uncompromising and self-assured. She remarks that, "people respond well to people who are sure of what they want." And isn't this accurate? Although the rumours painting Wintour as an ice queen are equally high in circulation, not a soul can deny that the woman lives and breathes her work and, if the past 26 years are any indication, this ethic has produced insurmountable results.
It is Wintour's refusal to compromise her integrity that allows her to have a dialogue with the producers of popular culture. Young people see good value in celebrating an individual who has stayed true to herself and, by the same token, Vogue's celebration of all sorts of leaders from the new generation aligns with Wintour's mandate of keeping the magazine fresh and reflective of the world we live in. In addition to featuring actors, singers and athletes on her covers, Ms. Wintour has demonstrated her knack for identifying new talent with the early support and mentorship she has given to some of today's most lucrative designer labels before they became so well known.
In the midst of all her modern accomplishments, Anna's classic bob and bangs hairdo has changed little since she first donned the style in her teenage years. Recognizable from any distance and at any angle, her signature front row look is completed with a pair of glossy black Chanel shades. Ms. Wintour has long favoured Manolo Blahnik as her footwear designer of choice, and she is notoriously unapologetic about her love affair with fashionable furs.
Perhaps what I admire most about Ms. Wintour is that combined with her forward-looking attitude and astute instinct for the next big thing, she remains relentless in her exhibition of good manners and grace. Her role as organizer of the annual Metropolitan Museum of Art gala is merely one of the many outlets she devotes her talents and skills to in the name of philanthropy. Bee Shaffer, the 27-year-old daughter of Anna Wintour, makes clear that her mother "is the most generous person you will ever meet," putting "everyone before herself, always." Helping to raise around $125 million for the costume department at the Met and rolling out hugely successful fundraising initiatives like Fashion's Night Out, Shaffer's words are accompanied by tangible proof of their veracity. Whereas some interpret Ms. Wintour's strictness over what her editors were to wear to this year's Met gala as rigid (editors chose from a selection of Reem Acra gowns in a limited number of colour palettes, paired with matching Manolos), her reasoning was rooted in the commendable notion that the night was not about the editors and, while they had to look polished, they need not attract the primary spotlight.
Maintaining her reign as editor-in-chief of American Vogue, assuming the position of artistic director at Condé Nast, imagined text messages with Rihanna and boycotting a hotel favourite for Paris fashion week in support of gay rights is all in a day's work for this larger than life fashion figure, who rarely attends a party for longer than 20 minutes and gets to bed by 10:15pm every evening. If that's not role model material, I suppose I'll never know what is.
credits to vogue.com, nytimes.com & fashion.telegraph.co.uk

About Krystin Chung
While other kids were busy playing hopscotch, I could usually be found in my closet, playing dress-up or making one of multiple daily outfit changes. Currently pursuing a BA in Art History and Communication Studies, I think of myself as a burgeoning fashion writer, eager to use my knowledge, love for fashion and creative eye to bring you only the best.