Accessorize for Awareness – HOPE
Aside from adding bling to your ensemble, what else does your jewellery do? Accessorize For Awareness bracelets fight the battle against pancreatic cancer.
AFA is a brand new Toronto based non profit organization. The launch comes just in time for Pancreatic Cancer Awareness Month (a.k.a. November).
The organization sprung from a cause close to the founder's heart. Marianne Musi's mom was recently diagnosed with this life threatening disease. It took no time at all for Marianne to combine her passion for fashion and marketing expertise to create the AFA Campaign.
Pancreatic cancer is the most under funded cancer, with only 0.1% of research funds. Accessorize for Awareness matches purple bracelets with a variety of charms. AFA is a global ambassador in the mission to end PanCan. Tools for early detection are lacking, but what's worse is that symptoms are generally dormant until the debilitating disease has reached an advanced state.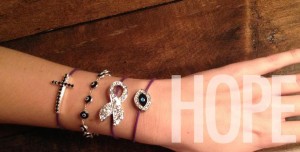 All of Accessorize For Awareness' proceeds are donated to the Pancreatic Cancer Canada foundation. As it stands, the highest individual donation campaign for pancreatic cancer is $17, 000. AFA aims to reach $25, 000, with an overall goal of $100, 000. But, they can't do it alone. Read more about Marianne's initiative and log on to: http://accessorizeforawareness.com/ to see how you can help.
This wonderful website allows you to browse the products available for purchase, donate & learn more about a disease that is incredibly underfunded and poorly represented; especially hot off the heels of October's impressive breast cancer campaigns. AFA believes good things come from bad situations, and TCG is proud to lend its support.
Tweet to beat this disease: #PurpleHope @accessorizefor