The SodaStream Revolution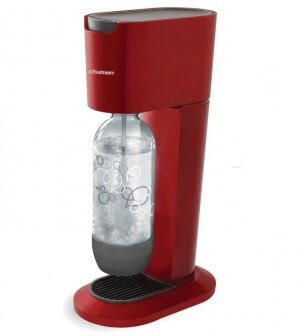 Toronto City Gossip had an amazing presentation today at Soho House, Toronto for a new company called "SodaStream".
SodaStream is a company that transforms ordinary tap water into carbonated drinks. These drinks can create anything from your regular Coca Cola beverage to a refreshing Ocean Spray cranberry juice.
After a demonstration by the employees of SodaStream we were surprised to find that these delicious drinks can be made in less than a minute. Alongside the demonstrations was a delightful cocktail menu exhibiting the various ways one can make unique alcoholic-beverages using the system. The "Ginger Julep" (SodaStream Ginger Ale with unsweetened iced tea, bourbon, sugar substitute, and fresh mint) was a crowd pleaser.
The top of the line machine which has four different levels of carbonation can be purchased for $199 and the second machine with three degrees of intensities is only $149 (available at various major department stores including Canadian Tire and The Bay). The different favours of juice retail at $7.99 with over 30 different flavours to choose from making this innovative product the perfect accessory for any gathering. Also, it is a healthier alternative to the average carbonated drinks as there are only 8 grams of sugar compared to the 32 grams in a single serving of various kinds of 'soda.' It is not surprising to see the rising success of SodaStream and the bright future for this company.
Be sure to visit the SodaStream website and follow @SodaStream_ca on Twitter for news and updates!
#Setthebubblesfree