The Loft Pilates
Living in the Junction, and seeing the great potential of the neighborhood, I love to promote the independent studios, bars, and boutiques which have been popping up more recently.
One such business is a lovely Pilates/GYROTONIC studio nestled on the corner of Pacific and Dundas. The studio it's self is bright with lots of windows and all the latest state of the art equipment. It is the only GYROTONIC studio of it's kind in the west end of Toronto and features the latest technology in simultaneously stretching and strengthening muscles at the same time. The benefits gained from the GYROTONIC system are the same as those achieved by doing yoga, gymnastics, dance, swimming and Tai Chi. Plus all GYROTONIC sessions are one on one, and who doesn't love to be the center of attention.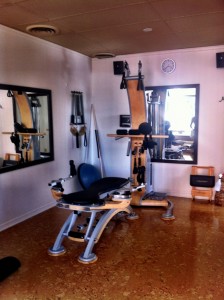 We got the opportunity to have a semi-private Pilates session with Myriam Pelletier. A lot of people, including ourselves associate Pilates with an intense mat or reformer workout which you power through, while giving little thought to the moves you are completing or how your body is even performing them. I also tend to think that unless I am sweating buckets, then I am not really benefiting from my workouts. Myriam is here to set the record straight on these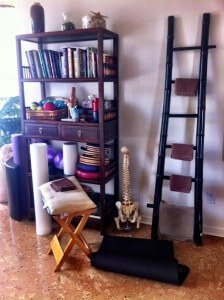 myths.
Thanks to Myriam, Owner and Operator of The Loft Pilates, my eyes have been opened to how Pilates can help your body perform at an optimal level, through strengthen while stretching. Although Myriam has instructors working in here studio who offer toning classes which are more fitness related, this is not her passion. Instead she places her focus on rehabilitation, specializing in Scoliosis. And who better to work with on these type issues than someone who is truly educated and understands the condition themselves as Myriam also lives with Scoliosis.
To start our session off Myriam got us to walk around the room, so that she might get an impression of what imbalances might be present and what potential areas may need correction. While walking around she asked us to focus on what was moving too much and what was not moving enough. Although Natasha and myself were attending the session together, Myriam was sure to give us both very personalized attention and direction.
The moments throughout the rest of the session were slight and targeted very specific areas of the body. The most surprising thing was they seemed to make a visible difference to our posture immediately after the exercise was completed. These type sessions are great for people who have a desire to become more body conscious and want to get the most out of their gym workouts.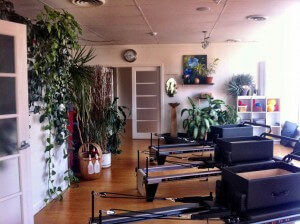 The Loft Pilates Studio offers group classes in both Yoga and Pilates (matwork/reformer) for those of you who are more interested in a more workout oriented class. Myriam also offers private instruction classes in Pilates as well to better meet the clients specific needs.
What this studio truly has to offer it's clientele is best summed up by their mission statement: The Loft Pilates is an oasis where everyone, staff and clients alike, will have equal opportunities to learn, grow (spiritually, mentally, physically and intellectually) in a safe, enthusiastic, respectful, educated and honest environment so that we can all enjoy a healthier and more balanced life.
www.theloftpilates.com
396 Pacific Avenue, Suite 201, Toronto ON
Phone: (416) 604-0177
Twitter: @TheLoftPilates