Tarragon Theatre 2014-2015 Season Launch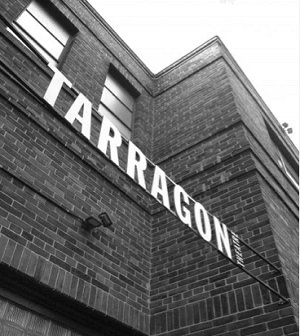 Check out the 2014-2015 season from our friends at the Tarragon Theatre! Definitely some must see on the list!
An Enemy of the People                English-language premiere         Mainspace
By Henrik Ibsen
Adapted by Florian Borchmeyer
Translated by Maria Milisavljevic
Original Direction by Thomas Ostermeier
Toronto Staging by Richard Rose
September 16 – October 26, 2014 (Opens September 24)

Dr. Stockman has made a shocking discovery, but to go public with it will spell the end of his town's prosperity. The people don't know that the local baths are contaminated with toxic industrial waste; and if the world finds out, it will send the community into economic collapse. Censored scientists, whistleblowers, environmental crises, the pitfalls of democracy, anarchist manifestos and "the 1%" – An Enemy of the People is as alive now as it was in 1882.
____________________________________________
The Bakelite Masterpiece             World premiere               Extraspace
By Kate Cayley
Directed by Richard Rose
October 21 – November 30, 2014 (Opens October 29)

It is the end of World War Two. Holland is in chaos. The artist Han van Meegeren is arrested. His crime? Selling a long lost painting by the Dutch Master Johannes Vermeer to Hermann Goering, Nazi leader. His defense? The painting was a perfect forgery painted by him. His proof? In front of his prosecutor, art historian and resistance fighter Geert Piller, he must paint another flawless forgery of a Vermeer to save his life. This premiere from playwright-in-residence Kate Cayley (Tarragon's After Akhmatova, Stranger Theatre Artistic Director) embellishes an intriguing piece of history as it debates art and forgery, truth and lies, faith and doubt, and the reconstruction of a country.
____________________________________________
 Sextet                   World premiere                               Mainspace
Written and directed by Morris Panych
November 5 – December 14, 2014 (Opens November 12)

Six musicians are stranded by a blizzard in their motel with only their instruments, each other and their secrets to keep them warm. Where will everyone sleep when everyone is sleeping with everyone else?  Underscored by their difficulties to come to terms with their career struggles, failing marriages and unfulfilled desires, the sextet tries to make a set-list for a show that they know won't happen. How long can they keep their composure before everything they've kept hidden comes into play? This is the inimitable Morris Panych at his comic-drama best: snappy dialogue, idiosyncrasies, and startling truths about the human comedy.
____________________________________________
Waiting Room                  World premiere               Mainspace
By Diane Flacks
Directed by Richard Greenblatt
January 6 – February 15, 2015 (Opens January 14)

A doctor embarks on a groundbreaking medical experiment despite the objections of his colleagues. Meanwhile, a couple wonder if the doctor has what it takes to save their baby. When every choice leads you into the unknown, what are you willing to risk to save a life? This is a play about life in the waiting room of a major research hospital. This is a play about uncertainty. This is a play about families that find the will to keep going. This is a play about the needs of the heart and the necessities of medicine. This is a play about breaking the rules. This is a play about how to have hope. Diane Flacks and Richard Greenblatt team up once again for Tarragon (co-writers and performers on Sibs and Care, performer and director on By A Thread) as six actors take the stage for this new drama.
____________________________________________
Abyss                    English-language premiere         Extraspace
Written and translated by Maria Milisavljevic
Directed by Richard Rose
February 3 – March 15, 2015 (Opens February 11)

MISSING. Karla Zuckowski, 24. Last seen before she left for the grocery store in blue jeans, a green parka  and her red rubber rain boots. The police and papers ignore the disappearance, leaving her loved ones to discover the truth. Suspicions turn to her lover Vlado, born into terror and war. "He is the kind that finds" and he must find Karla. A search for Karla becomes a search for the self in this poetic thriller and modern day epic cloaked in the mystery of Europe's underworld. The first-ever international playwright-in-residence at Tarragon, German playwright Maria Milisavljevic makes her Canadian debut with Abyss, which was first presented at the Deutsches Theater Berlin (as Brandung) and won the prestigious 2013 Kleist Promotional Award for Young Dramatists.
____________________________________________
 Cake & Dirt                         World premiere               Mainspace
By Daniel MacIvor
Directed by Amiel Gladstone
March 3 – April 12, 2015 (Opens March 11)
Two nights, one week apart. Six residents of Toronto. Drama unfolds in a downtown hotel room, a suburban bedroom, a luxury condo and a forgotten parkette. There are those who believe there is a dark age ahead; there are those who believe it is already here; and there are those who couldn't care less as long as there's cake. Tarragon playwright-in-residence and one of this country's finest and most prolific writers premieres another much-anticipated work. This is Daniel MacIvor like we've never seen him before.
____________________________________________
Infinity                 World premiere               Extraspace
A co-production with Volcano Theatre
By Hannah Moscovitch
Directed by Ross Manson
March 25 – May 3 (Opens April 1)
Infinity is an elegy to time: a young mathematician explores the seeming impossibility of love; her brilliant parents' lives collide with damaging force; all three are particles in a world animated by music and theoretical physics. A shocking, funny and revelatory new play about time, and what it offers, by one of Canada's most celebrated playwrights, Hannah Moscovitch, whose East of Berlin, Little One and This is War were previously premiered by Tarragon.
____________________________________________
Much Ado About Nothing              Freely adapted from the original          Mainspace
By William Shakespeare
Directed and adapted by Richard Rose
Consulting Director: Ravi Jain
Choreography by Nova Bhattacharya
April 22 – May 31, 2015 (Opens April 29)
Beatrice and Benedick take on Brampton in this Bollywood-inspired adaptation of Shakespeare's clever comedy. As reimagined by Richard Rose with consulting director Ravi Jain, this Much Ado plays as an all-out war of the sexes against the backdrop of a very Canadian clash of cultures. At once witty and dark, moving from comedy to tragedy and back again with razor sharp wit, a familiar story takes on new meaning when set in our own backyard. Classical text fuses with contemporary bharatanatyam dance and Bollywood in this exuberant larger-than-life spectacle that promises to move audiences – both literally and figuratively!
____________________________________________
CHEAP SEATS: Specially priced $15 tickets will be available starting at 6:00pm for evening performances and 1:00pm for matinees. Combined with a number of affordable options and the best-valued subscription packages available, Tarragon truly has a ticket for everyone.
2014-15 Early Bird Subscriptions (with spectacular savings of up to $190) and single tickets for the 2014-2015 season are on sale now. An 8-play season package starts as low as $135; a Pick-6 Package starts at $105; and a 5-play Mainstage subscription is available for as low as $90 if booked by May 31, 2014.  Regular Subscription prices apply thereafter.
Subscriptions and tickets can be purchased by phone at 416-531-1827 or in person at the Tarragon Theatre Box Office at 30 Bridgman Avenue. Call Patron Services at 416-531-1827 for more information or visit www.tarragontheatre.com .