The Weekly Warm Up – May 19th – 25th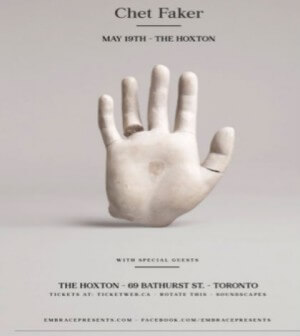 The end of the long weekend doesn't have to be the end of your good times, get outside this week and try some of these events on for size.
Chet Faker – Monday, May 19th
If you feel like seeing some good live music to take the sting off returning to work on Tuesday I strongly recommend going to see Chet Faker, an Australian neo soul and downtempo r&b crooner at The Hoxton, one of Toronto's hottest venues. Doors at 7pm.
For No Good Reason – Friday, May 23rd
A documentary that celebrates the incredible impact of illustrator Ralph Steadman on popular culture and politics from the 1970's onward. The film prominently features Johnny Depp, who idolizes Steadman and the canon he contributed to the literary work of Hunter S. Thompson. Much of Steadman's work is stirring, evocative and centered on providing social commentary about the prominent political and human rights issues that characterized this time. Opens on Friday at Famous Players Canada Square.
View the trailer: http://trailers.apple.com/trailers/sony/fornogoodreason/
Brewer's Backyard- Monday, May 19th
Celebrate Victoria outside at the beautiful Brickworks venue while enjoying craft beer by Sawdust, Amsterdam and Oast House Breweries. The event will also feature a completely original menu, deserts and snacks provided by local businesses and the weather is expected to be great. Admission is free, the event is family friendly and it runs from 11am – 4pm.
For more info: http://brewersbackyard.com/queen-victorias-secret-partially-revealed/
Still Points in a Turning World: May 22nd
I'm a big proponent of getting out and listening to talks curated by museums, they're almost always interesting and informative, and speaking from the perspective of an aspiring writer and student of cultural history, this one sounds amazing. Wade Davis and John Vaillant, an anthropologist and an author, discuss the ethics of storytelling, reportage and bearing witness in the 21st century. 7pm, $25 at the Art Gallery of Ontario.
More info: http://pencanada.ca
About Mary Anderson
Mary is a history student, freelance writer and avid culture junkie. Three years ago she moved from the nation's capital and began a love affair with Toronto that has only grown in strength since. In her spare time she can be found trying to complete her bucket list items of trying a Caesar in every bar in the city or crafting the perfect breakfast taco. Follow her on Instagram: @_mollieanderson