What To Wear: Graduation Ceremony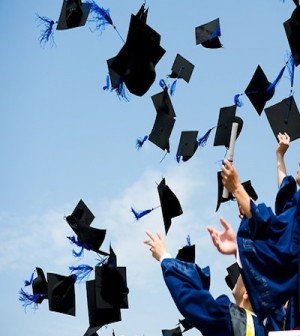 Graduation season is upon us, and the hunt for the perfect convocation outfit has begun. While forced to wear those horrific robes that do absolutely nothing for our bodies, we have a choice as to what goes on underneath. After four (or more) years of undergraduate or even a master's degree, I say to hell with hiding under the robe, and finish this chapter of your life with a bang! I mean you've been hiding behind books for long enough. So, I've come up with three possible looks for the special day.
Look #1: Pretty In Pink
This look is for the Blair Waldorfs of the higher education world. While you may not have been strutting your stuff on the NYU campus like Blair, it doesn't mean you can't look like it. This blush pink dress hugs your body in all the right places and goes perfect with a pair of strappy heels. Accessorize with a bib necklace and sleek clutch and you are ready to walk up that stage with the confidence of Queen B.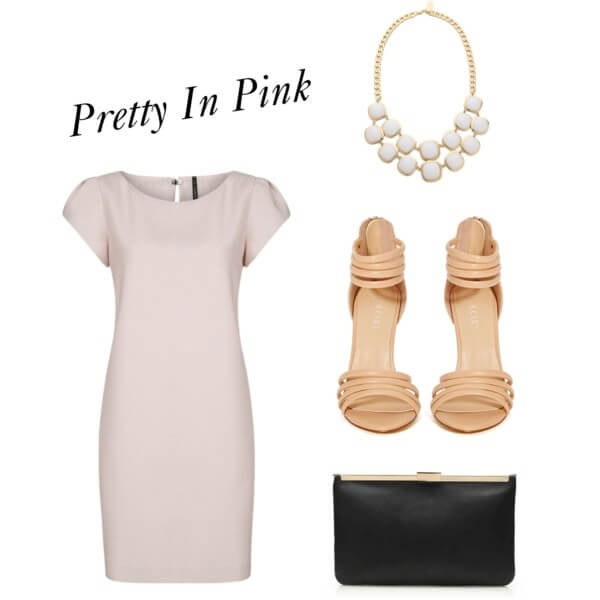 (dress, shoes, necklace, clutch)
Look #2: Flower Power
For those who opt for a more casual and summer feel, this look is for you! The floral print dress and pastel colours just scream summer. And paired with cognac wedges with a wooden heel, it creates a more bohemian look. Add your favourite dainty necklace and leather satchel and you sashay your way across that stage!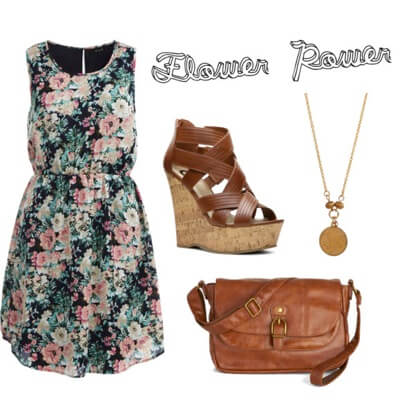 (dress, shoes, necklace, purse)
Look #3: Comfy Casual
Now don't think I forgot about the girls who may not want to wear a dress. I've got the look for you! This look is comfy but classy and avoids any risk of tripping on that stage. I've opted for a pair of tailored shorts and a chiffon peplum top. (Keep in mind, tailored pants work perfectly too, pantsuit anyone?) These two pieces create a very practical but feminine look. If you're going to go with flats, go big or go back to undergrad! These Tory Burch flats add a little bling to the outfit and go perfectly with a gold watch, or whatever minimal jewelry your heart desires. Finally, I've chosen a wristlet to complete the look because it's tiny and easy to carry, and can fit right into your pocket while you go grab that diploma!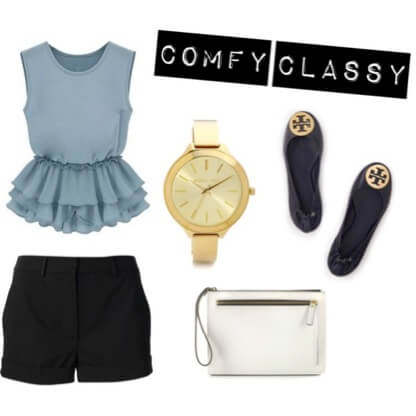 (shirt, shorts, shoes, watch, wristlet)
Congratulations to the Class of 2014! I wish you the best of luck in your endeavors and can't wait to see your convocation outfits (without the robes of course)! Tweet me your pictures and thoughts @journjess!
About Jessica Albotra
Growing up in a small town, I always knew I belonged in the city. And my love of writing brought me to Toronto to pursue Journalism. I'm new to the fashion-writing world but I've always adored the industry. Make-up is my first love and when I'm not typing away you can find me covered in swatches testing out the newest products. I'm an amature baker, aspiring traveler and a self-proclaimed professional instagram photo editor. Follow my journey into the fashion world here and @journjess.