Treating Tired Eyes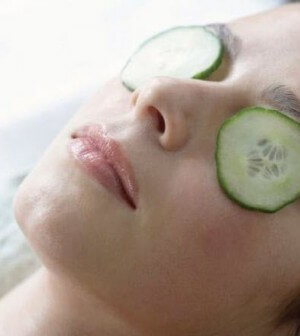 Almost everyone has arrived at work on those early, dreary mornings after a horrible night's sleep and at least once been welcomed by a coworker saying, "Oh, don't you look tired today". It definitely isn't the most affectionate greeting, and what may just be a passing remark can leave even the most confident woman feeling self-conscious for the rest of the work day. No one likes waking up to a reflection of dark under-eye circles, so nip the problem in the bud (and help conceal it in the meantime) with my simple steps to healthy looking peepers:
Step 1: Get Enough Sleep
I'm no stranger to pulling an all-nighter to finish an important project for work or school (or to finish an episode or two on Netflix), but it's so crucial that we're all getting enough sleep every night. Learning to put down the paperwork and nourish your body with a full, uninterrupted snooze will ensure you never look like that walking zombie on Monday morning.
Step 2: Sleep with a Clean Face
Make sure you're washing off all of your makeup before going to bed! There's nothing worse than waking up late and having to deal with a winged eye that's drooped to your cheek while you slept. Using a gentle makeup remover every night will ensure all of the day's grime is washed away, leaving your face fresh and nourished while you get your beauty sleep.
Step 3: Eat Well
With summer fast approaching, take advantage of the countless markets throughout the city and load up on fruits and veggies. Eating better and drinking more water will increase your vitamin count, which will reduce puffiness and dark circles due to some vitamin deficiencies.
Step 4: Ease the Puffiness
To treat puffiness, place ice cubes or used, frozen tea bags over closed eyes for 3-5 minutes in the morning. The chill will help reduce puffiness and redness and leave your eyes feeling rejuvenated.
Step 5: Apply Under-Eye Concealer
If your dark circles aren't going away just yet, invest in an under-eye concealer that will help mask your imperfections. Products that use rollerballs will increase the bloodflow under the eyes, improving the overall look and feel.

About Megan Dussin
Megan is a marketing student living in Toronto, working in fashion merchandising. She spends her time scouring thrift stores and flea markets for the perfect vintage pieces, sipping coffee on her balcony with friends, and exploring the city on foot. Obsessions include anything black, leather, or shiny. Follow her on Instagram at @megadeexo