Top 5 Greek Eats In Toronto
Greece has been in the headlines for many months, and Toronto City Gossip will not refrain from giving our input. Our treatment of the European country comes in the form of culinary commentary. Here's a list of the Top 5 Greek restaurant picks.
Greek food is synonymous with Greek town, so a trip to the Danforth is in order.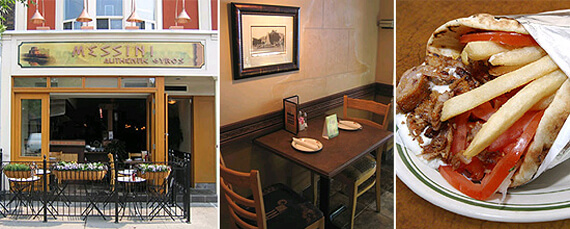 Messini – 445 Danforth Ave.
Hands down, the best gyro I've had here in Toronto. Incidentally, you'll need both hands up to hold the chicken, pork, or lamb pita sandwich. The fresh, and fluffy pita is usually stuffed with meat, tomatoes, onions, and tzatziki sauce. In the motherland, souvlakis to Greeks are like hamburgers to us in the Western world.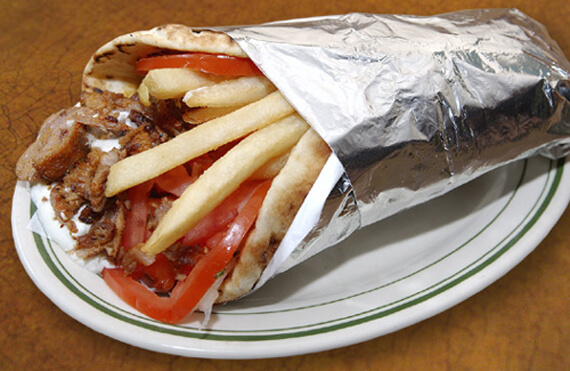 Since 2002, owner Marinos Dafnas has been opening everyday at 11 A.M. and closing at 1 A.M. (except for Friday and Saturday nights; he keeps the gyros coming well until 5 A.M. for club-goers, just like in Greece; proving the delicious and nutritious meal is perfect for any time of day (or, night). A few other note worthy things on the menu: the Greek fries are a must try. What are Greek fries? French fries topped with olive oil, oregano, feta, and then broiled to perfection. I am also a fan of the Greek salad for the mountain of crumbled feta atop the tomatoes, cucumbers, onions, green peppers, and olives.
Now, I know I said you'll have to venture out to the Danforth, but the lucky uptown residents of Yonge and Eg will have the good fortune of welcoming it's newest neighbour: the second location of Messini, which will be open for business some time this summer.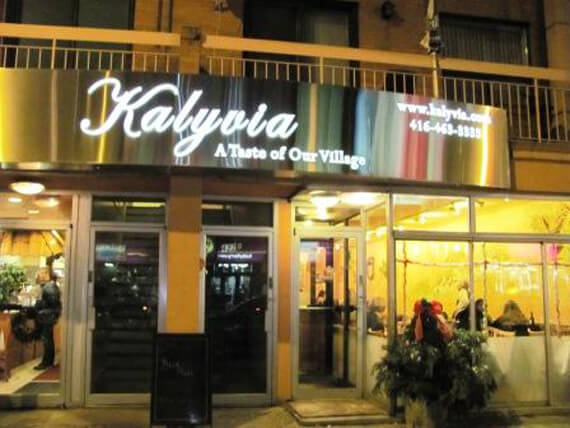 Kalyvia – 420 Danforth Avenue
If you demonstrate your knowledge of Greek while chatting with the waiter, it might be enough to have he, or she bring over a special order that isn't on the menu. A sizable platter was brought to our table brimming with potatoes, rice and an overwhelming selection of meat. The food is always fresh at Kalyvia. I recommend the Saganaki. It's a a visual spectacle, as well as an enjoyable appetizer. Translated, the word Saganaki, means little frying pan, this appetizer is also known as the flaming cheese, because the waiter will douse the cheese in Ouzo, or Metaxa (Greek Brandy) and set it alight.
If the wait time is too long at Messini, Kalyvia's souvlaki, gyro, and feta fries are up to par.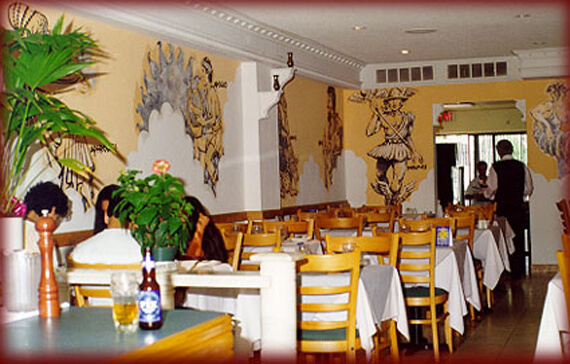 Pantheon – 407 Danforth Avenue
This family friendly restaurant will make you feel like you stepped into Yiayia's kitchen (Yiayia is Greek for grandmother). Pantheon's traditional Greek dishes, platter style, and hearty servings may not be super fancy, but it's fine dining, none the less. Soups, a lengthy appetizer selection, an extensive dip list, salads, souvlaki, and fresh seafood (fish direct from Greece), are just some of the palatable pleasures Pantheon has to offer.
Pantheon means the place of the heroes, or idols. And, you'll feel like a hero with the warm welcome that awaits you, making you feel at home. And, if you're having an event at home, Pantheon extends it's catering service to you, because sharing is caring. Or, better yet, avoid the clean up, and let Pantheon host your event, (they're equipped to handle a party of up to 50 people) for any occasion.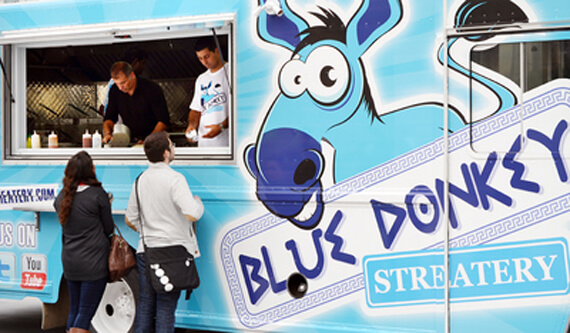 Blue Donkey Streatery – Everywhere
Let this Greek eatery find you. Blue Donkey brings authentic street & gourmet Greek food to the GTA. The food truck is the pride & joy of four Greek-Canadians. The experienced restauranteurs teamed up to ensure pita accessibility to all. The Blue Donkey has been rolling around the roads since late of last year, but is most often found in Mississauga. Fret not, Torontonians– you can satisfy your souvlaki cravings at future Food Truck Eats events and at festivals around T.O. Flagging down the the food truck is the easy part, deciding what you're going to order can take some time, however.
Blue Donkey provides fresh options, and plenty of variety for the contents of your souvlaki, like a fried calamari pita, or grilled cheese pita. Sample a few of their famous sauces like sweet Garlic Mayo & Ouzo, Spicy Feta, Greek Island Hot Sauce, and a curious sauce, aptly named Pink Sauce. Surrendering to their Greek-Canadian backgrounds, the choice of poutine pops up on the menu. Go regular, or top your gravy, fries and cheese with some gyro meat. Chase the cheese with a classic Greek soda (lemon, or orange flavour). For your own personal Gyro GPS, follow the truck on Twitter & Facebook. AND, Blue Donkey also caters!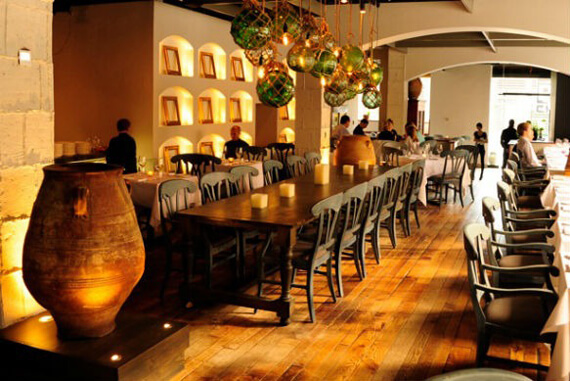 Estiatorio Volos – 133 Richmond Street West
Volos has Greek cuisine connoisseurs buzzing. I have yet to visit the estiatorio (a Greek restaurant, that is more elaborate than a taverna), but the upscale Greek restaurant, and I shall be meeting soon, of that I am sure. There is no denying rave revues, the traditional Greek comfort food, with a twist has diners drooling.
Named after the port city in the the province of Thessaly, Volos offers your usual Horiatiki (village) salad, but also serves up exciting creations like: a Wild Arugula, and Shaved Fennel Salad with Manouri Cheese, Grilled Pear, and Roasted Walnuts.
The decor is of a higher caliber than the previous list makers, therefore the price is slightly more elevated than the rest, but you get what you pay for. With options like Spetzofai: City of Volos Signature Plate consisting of Roasted Spicy Ontario Lamb Sausage, Red and Green Bell Peppers, Oregano, and Tomato Sauce // Honey Glazed Cornish Hen with Fig Stuffing, Spinach & Orange, and Feta Mash Potatoes // Exohico Filo Pastry Stuffed with Braised Lamb and Vegetables, Feta and Kefalotyri Cheeses and Lamb Jus, I know I will not be let down.
I am also thrilled to see staples like Baklava on the dessert list, and I am intrigued by the possibility of an Ouzo Chocolate Mousse.