Protein Packed Meals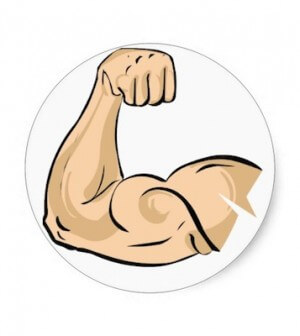 Starting your day off with a protein packed breakfast has been proven to make you eat 26% fewer calories throughout the day compared to those who ate meals with the same calorie content but with less protein. According to The International Journal of Obesity, the protein aids in a release of peptide YY. This is a hormone that triggers your brain to realize you're full.
So, making sure your meals throughout the day is filled with protein will not only satisfy your appetite but will also help you build muscles and burn fat.
Here are some easy, delicious and protein packed ideas from Breakfast to Dinner.
BREAKFAST:
Whole grain toast- swap the typical jam or butter with 2 tablespoons of organic peanut butter or almond butter, these nutty spreads adds about 8 grams of protein to your meal (NOTE: since processed nut butters can be a sneaky source of sugar and other unhealthy ingredients make sure to look for an ingredient list that contains ONLY the nut)
Yogurt- trade in a non-fat yogurt with Greek yogurt to add in 6more grams of protein per serving for a total of 14 grams ( NOTE: try to avoid adding granola to your yogurt as there are hidden sugars in those crunchy bites)
SNACKS:
Banana & cottage cheese- banana makes it convenient to have a snack on the go now add in 1 cup of cottage cheese to give you a boosting 28grams of protein to your mid day snack. (NOTE: the cottage cheese is a great source of calcium and vitamin A)
Edamame-these little beans offers 17 grams of protein (NOTE: buy them fresh or steam them they only take 6 minutes to make.)
Pumpkin seeds: although it's not fall season getting those orange seeds in your meal plan is a great source of protein. Make sure you wash, dry and roast them! Having ½ cup of these seeds has about 14 grams of protein (NOTE: the perfect pre-workout snack)
LUNCH/DINNER:
Lentils- what's great about Lentils? Well you can make a big batch and have it for both lunch & dinner. Lentils are a great side dish and contain 22 grams of protein with about 300 calories. Try this simple recipe I enjoy combining with chicken: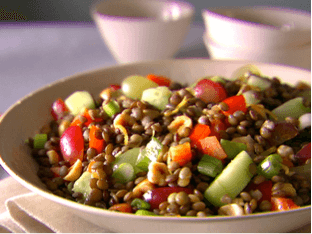 Lentil Salad
– 2 cups of dry lentils
– 2 large bell peppers or 6 small mini ones, wash, seeded and cut into small cubes
– ½ of a1 large cucumber, washed and cut into small cubes
– Handful of fresh Basil
Dressing
– 1/4 cup of raw apple cider vinegar (or vinegar of your choice)
– 1/4 cup of extra virgin olive oil
– 1/2 teaspoon dry mustard
– 2 garlic cloves, peeled and put through a garlic press
– salt and freshly ground pepper
1: Soak lentils overnight, drain and rinse. Put into a pot and cover with water. Bring to a boil and cook until just soft. About 20-35 minutes.
2: Drain and rinse with cold water.
3: Add the vegetables and herbs to the lentils and gently stir in. Make up the dressing and toss with the lentil/vegetable mixture. Taste and adjust to taste.
4: Enjoy right away, or chill and serve later. You may need to readjust the flavours again right before serving.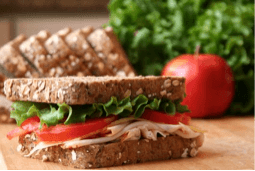 Turkey- a great source of protein for lunch & dinner.
LUNCH: Slice one piece of whole grain, break in half, top with 2 slices of roasted turkey, 1 lettuce leaf, 3 slices of avocado, onions, tomatoes= 14 grams of protein, 1 slice of Swiss cheese (optional)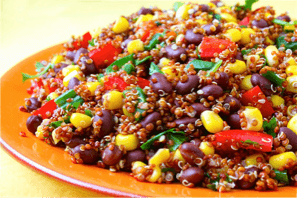 DINNER: Use the turkey and combine it with a mix of quinoa & kidney beans. (NOTE: 1 cup quinoa=8 grams of protein, 1 cup kidney beans=15 grams of protein)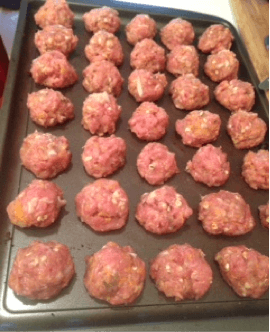 Meatballs- my all time favourite MEATBALLS but I substitute ground meat with lean ground turkey breast and ground turkey and combine it with quinoa to make this a complete meal. Not only is this meal packed with protein it has a healthy balance of fats, and carbs. Here is the simple step by step recipe:
Ingredients:
1 lb ground turkey breast
1 lb ground turkey
2/3 cup cooked quinoa
3 garlic cloves
1 large egg (lightly beaten)
2 tbsp olive oil
2 tsp dried basil
1 tsp dried oregano
½ tsp onion powder
½ tsp pepper
1 sweet onion
56 oz crushed tomatoes
Directions:
In a large bowl, combine turkey, cooked quinoa, garlic, beaten egg, olive oil, basil, oregano and pepper. Mix thoroughly , roll into mini balls (slightly smaller than a golf ball) and place on a baking sheet
Layer sliced onion on the bottom of the Crockpot & add 1 can crushed tomatoes
Heat a large skillet; add ½ tbsp of olive oil.
Add the meatballs, searing on top & bottom until it is golden brown. Roll the meatballs around so each side gets brown
Add meatballs one at a time into the Crockpot
Once all meatballs are in the Crockpot, add the other can of tomatoes
Cook on low for 2-3 hours, ENJOY!!!
** Do not skip the browning step as this will keep the juices in the meatballs and avoids crumbling in the Crockpot
About Chi Malixi
Chi Malixi has been in the Fitness & Wellness industry for 10 years. A graduate in health & fitness promotion she been able to experience all sectors of the fitness industry. She is a certified Fitness Consultant, Personal Trainer Specialist, Weight Loss Coach and a Registered Yoga Teacher. She continues to share her passion in guiding others towards their fitness goals and aspiration through education, motivation and inspiration. Instagram- @Teamchifit Twitter- @Fitmalixi Email: teamchifit@gmail.com