Private Pilates Sessions @ Core Studio
If you've read my previous post on Core Studio, or follow me on Twitter, you will already know that I am a huge lover of pilates and a supporter of the studio itself. If not, I have no problem continuing to compliment either of the two.
A typical week of mine consists of at least 3-5 classes of pilates at Core Studio – most of which are taught by the very talented and lovely Natalya.
When I wrote my first article on Core Studio in 2011 I was a brand new pilates goer. I usually stuck with the basic Mat 1 classes and participated in a few reformer classes here and there. I must admit, the thought of taking a Mat 2 class was pretty intimidating at the time. I remember needing to find a class that coordinated with my schedule and the only one available that day was a Mat 2 class with Natalya. After seeing her name appear on the schedule so many times next to higher level classes I was even more intimidated. However, I am always up for a challenge and decided to be courageous and just go for it.
I remember the class being mainly on the bosu; which is challenging in itself, never mind the class alone being targeted towards advanced pilates goers. By the end of the class my butt was kicked and I was loving it. I had challenged my body to hold positions longer while adding some weighted props here and there. My intimidation of Natalya's classes hadn't exactly subsided and I wasn't ready to become a regular participant in her classes just yet, but I knew that at some point I would return with confidence.
After temporarily leaving Core Studio (due to a change of address) I returned less than a year later after once again relocating to a more convenient location. I decided that this time I was going to dive right back into the pilates practice with a different mindset. I wanted to see what and how pilates alone (meaning no circuit training with weights or anything of the like on my own) would transform my body.
Since my return to Core Studio in June I have noticed a leaner, longer physique from pilates alone and I have been taking only Mat 2+ classes with Natalya ever since. My muscles are stronger, my breathing is better and it has literally become a necessity in my weekly schedule. If I miss a couple of days I am eager to get right back in there as soon as possible. Needless to say – I'm addicted.
That being said, since I have become a regular attendee to Natalya's classes, she has been able to monitor the continuous growth of my practice. I've never been to a class where the instructor was so aware of every single person at all times. It is evident that she genuinely loves what she does and strives to see improvement in her 'students'.
Now I will be honest, I am in no way shape or form a pro at pilates, just yet. I can conquer almost every position and movement except a 'roll up'. For some reason my body rejects the movement and I simply cannot get up without some assistance of a prop. This frustrates the hell out of me every single time.
One day during a mat/reformer class, Natalya assisted me with my roll-up and then quietly asked me if I had ever had a back/spinal injury of any sort. I shook my head 'no' in a very concerned manner and continued the class. Before leaving Natalya came up to me and suggested I take a private session with her so that she can take a better look at what was going on in my lower back. I accepted her proposal and scheduled a time to meet with her the following Monday.
During my one-on-one session with Natalya we used the reformer (my favourite) to go through various moves in order for her to take a closer look at exactly where the problem was coming from. The private sessions were so much more communicative and focused in comparison to a public class environment. If I was performing a move that gave me a pinching sensation or felt uncomfortable I was able to tell her immediately and then she would adjust me and have me try another move to really get to the root of the issue. After every move Natalya took notes on a chart and then went over everything with me at the end of our session. She made a few suggestions for me, commented on areas I need to focus on to improve my issue, and then emailed me a list of exercises/suggestions to do on my own and in class. I am now more aware than ever of my weaknesses and look forward to improving them day by day. Amazing!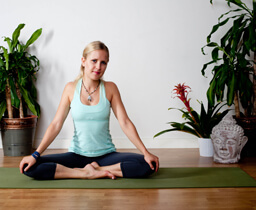 Upon meeting Natalya it is evident that she is fully dedicated to teaching her practices. She has a full STOTT Pilates Certification with concentration on Injuries and Special Populations, as well as Ashtanga Teacher Training. With almost a decade of experience in teaching, Natalya is also a former contemporary dancer and long time yoga practitioner. She studied Kinesiology at York Uni which provided her with extensive knowledge of the body as well as learning from many of her mentors.
I highly recommend visiting Core Studio and taking one of Natalya's classes to fully understand what I am talking about if for nothing more than a fun workout. If you're intimidated by group classes I suggest booking a private session with her so that she can use her knowledge and training to provide you with the best guidance she can to get you in the healthiest and best shape of your life! You owe it to your body.
Be sure to visit Natalya's website to read more about her and her experiences, follow her blog and book a session with her.
http://natalyayogapilates.com/
Also, Natalya will be guest writing on our blog in the very near future so please look out for that as well. We're so excited she has agreed to share her knowledge with us here at TCG.
See you in the studio!
http://corestudio.ca/
Natasha xoxo