The Perfect Skirt for Your 9-9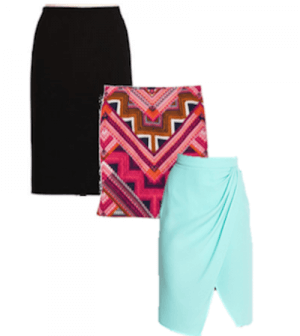 If there's one thing I love most about warmer weather it's being able to wear skirts, and this season there are so many hot styles to choose from. You could wear a different skirt everyday of the summer and have completely different outfits and style choices; that's how versatile they are! However, a lot of people have trouble finding the perfect skirt that suits their all-day needs, so here is how to pick the perfect skirt for your 9am to 9pm!
Conservative
Skirt: Calvin Klein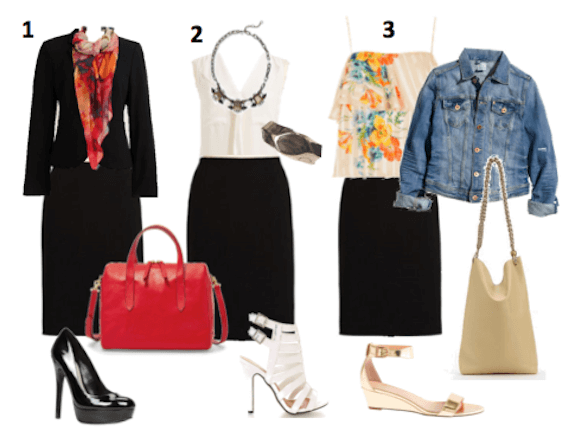 A lot of office etiquette dictates that you can't wear sleeveless shirts or peep toe shoes, and that you have to wear a blouse. The perfect skirt for that kind of office setting is a knee-length black pencil skirt. This is a classic and a staple in most women's closets, along with a white blouse and matching blazer, and you can never go wrong with these pieces. If you have to be conservative in this way, add a lightweight colourful scarf and bold coloured bag for the office.
Blouse: Mexx
Blazer: Calvin Klein
Scarf: Lord & Taylor
Pumps: Aldo
Satchel: Fossil
Exchange the blazer and scarf for a statement necklace and bangle, and swap the black pumps for white strappy ones for a perfect after-5 look.
Necklace: Club Monaco
Bangle: Tristan
Heels: AMIClubwear
For a more casual look, pair the pencil skirt with flat sandals, a denim jacket, and a flowy top to offset the tightness of the skirt. A slouchy tote completes the look. Perfect for running around the city on your day off.
Top: Topshop
Denim Jacket: H&M
Sandals: J. Crew
Tote: Cold Picnic via Urban Outfitters
Trendy
Skirt: Target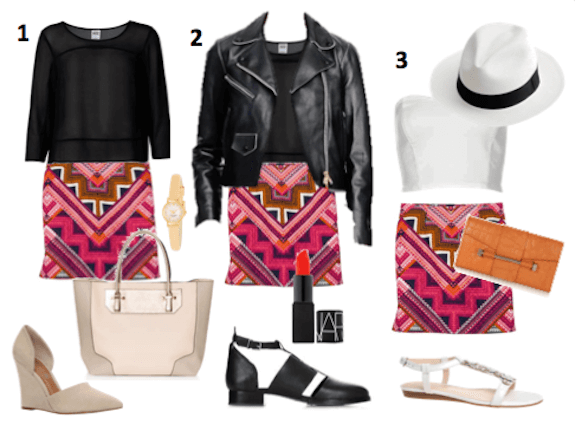 For a more laidback workplace, try a fun Aztec print skirt. Though keep it simple on top with a three-quarter length sleeve black blouse and on the bottom with a pair of tan wedges.
Blouse: Vero Moda
Watch: Kate Spade New York
Wedges: Aldo
Tote: Topshop
For post-work shenanigans, a moto jacket will add a bit of edge (or if it's too hot out, a moto vest), with sleek sandals and a bold lip.
Leather Jacket: Club Monaco
Sandals: Kapa via Topshop
Lipstick: Sephora; Nars Heatwave
For a fun weekend look, choose a bralette and fedora. Trade in the work tote for a clutch for an ultra chic vibe.
Bralette: Moto via Topshop
Hat: J. Crew
Sandals: Nine West
Clutch: Topshop
Business Casual
Skirt: Forever 21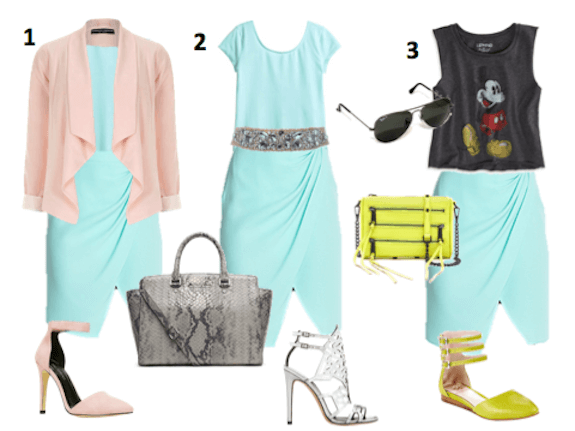 Some workplaces are in between the two extremes above. You still need to dress respectable and modest, but there's some wiggle room that allows you to have a bit of fun and creativity. This seafoam pencil skirt is the perfect balance of appropriate and chic. Pairing it with a basic t-shirt of the same colour will make it look like a dress, and adding a coloured blazer is great for this kind of workplace. Also these gorgeous pink ankle strap heels still have a closed toe (office appropriate), but still allow you to show off your stylish side.
Top: H&M
Blazer: Dorothy Perkins
Heels: Call It Spring
Satchel: Michael Michael Kors
To transition this daytime look to something a little more relaxed at night, ditch the blazer and add an embellished belt.
Heels: B Brian Atwood
Belt: Miss Selfridge
A laidback look for this skirt would be to pair it with a graphic T, flats, and aviators. A crossbody bag also adds to the relaxed, casual look.
Top: American Eagle Outfitters
Sunglasses: Ray-Ban
Flats: Vince Camuto
Bag: Rebecca Minkoff

About Robyn Emer
I have a degree in Business and Entrepreneurship, but my true passion is fashion and so I am currently earning a certificate in Fashion Styling. Carrie Bradshaw is my spirit animal. I love shopping, writing and blogging about fashion, and anything sci-fi.