Osteria dei Ganzi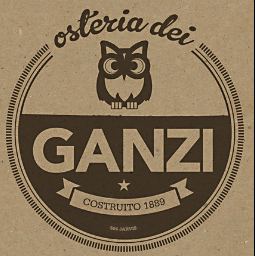 From the moment I stepped through the front door I was transported into a world of old school charm, with a modern twist. Osteria dei Ganzi is situated in a gorgeous historic mansion that was built in 1891 by architect George Horace Gooderham. Ganzi is devoted to all things local, which I love. Their mission is to stay local while providing an authentic Italian experience. Every piece of art on the walls are creations from local artists. Every ingredient on the menu comes from local farms, if not imported directly from Italy. Ganzi guarantees that everything on the menu is made from scratch. The charming Chef is Italian and comes around to each table to greet the guests just like the good old days.
Our four hours of culinary bliss started off with two special cocktails that were created specifically for us. The cocktail menu offers a variety of options for every taste bud and range from $10-$14. I feel that these are 'real' cocktails created by a very talented "Bar Chef" and not just typical mixed drinks you can find everywhere else.
We began with the 'Misto Wood Board' – an assorted selection of D.O.P. Italian cold cuts that included prosciutto, buffalo bresaola, salami, and mortadella. The buffalo bresaola, which is a cured buffalo meat, has a wild game taste to it with a nice finish. The cheese assortment includes parmesiano reggiano, asiago, and provolone. Accompaniments include 'Arancini', which are fried risotto balls, in a homemade tomato sauce as well as fried olives. The fried olives aren't greasy at all and are extremely addictive. The entire selection is very filling and one of the best charcuterie board presentations I've seen in terms of size, variety, and freshness. For $26, this selection is well worth it.
Next came the 'Melanzane alla Parmigiana' ($14), crispy breaded eggplant with fresh tomato sauce, basil and buffalo mozzarella. This is a very hearty dish that is perfect for any vegetarian. Having tried many variations of eggplant parmesan, I find that it often turns out bland if it's not cooked properly. This dish is very 'meaty' and savoury to the last bite.
For the third course we tried the Polenta con Veal that was served with tomato sauce and sausage. Simmered for a day, this dish offers a great combination of flavors and is also quite filling. The sausage offers a bit of a spicy kick. If you say you don't like lamb, you haven't had the chops at Ganzi.
The pasta dish was next. We tried the Pappardelle ($16), which is known as a staple in any Tuscan household. Large homemade egg noodles are cooked in a creamy truffle sauce with fresh fior di latte (buffalo mozzarella) and topped with truffles as garnish. I thoroughly enjoyed the velvety goodness of this decadent dish.
We thought we were done but boy we were wrong. The Chef sent out a 'carni board' fit for a king. There was a selection of grilled meats including steak, chicken breast, and wild boar sausage. Grilled vegetables and roasted potatoes accompanied the meats. This is a meat lover's dream. The chicken, steak, and sausage were fresh and cooked to perfection.
My favorite part of any meal is dessert. We tried two mini desserts – the tiramisu and the limoncello cake. Both were delicious but I liked the limoncello cake more as I haven't had anything like it before. It was a limoncello sponge cake base with mango and apricot coulis drizzled on top served with fresh pastry cream. It was a perfect melody of fruit flavors that worked great together and provided the perfect ending to such an amazing night.
After tasting so many different menu items at Ganzi, I must say that the level of care and attention to detail is evident in every dish that is brought to the table. There is definitely a family vibe at Ganzi and you feel comfortable instantly just like you would at Nonna's house. The staff really stand out here as well, they are so passionate about the food and are legitimately enthusiastic. I found Osteria dei Ganzi to be casual Italian dining at it's finest.
504 Jarvis St.
Toronto, On
(647) 348-6520
Tuesday till Sunday. Lunch (11:30am – 2:30pm). Dinner (5pm – Close). Brunch Sunday (11am – 3pm).
Ganzi Website for more info here. Follow Ganzi on Twitter @GanziToronto
About Sultan Sandur
His story is simple; small town guy discovers his long lost self in an urban wonderland. Through this five-year journey of self-discovery, he has transitioned from simple Kamloopsian to fashionable Torontonian. As a devout Torontonian, he always keeps up to date with what's happening in the city. Sultan considers himself to be a foodie and brunch fanatic. You will find him obsessed with discovering new eateries, art events, and entertainment in the city. He's that guy who will be rushing to Nadege for an emergency box of macarons after a rough day. Throughout the year, Sultan can be spotted at local events such as Fashion Week, Nuit Blanche, Art Toronto, Digital Dreams, and TIFF just to name a few.