Trattoria Mercatto
In a city of millions, full of hustle and bustle, it's nice to sometimes find a familiar face in the midst of all the craziness. Lucky for me, a long lost friend from my hometown wound up in Toronto just like me and on one crisp Friday evening we would find each other again.
My guest and I arrived at Trattoria Mercatto at about 7:30p.m. and were placed at a cozy table for two…Glasses of Prosecco were soon to follow. As per usual, I begin to update my social media accounts and it didn't take long for the comments and tweets to start to pouring in! "You MUST try…," "make sure to order the…" It was clear to me that Mercatto had many fans! Moments later, my old friend Tom Van Oosterhout, (a fellow St. Marys, Ontario native, and Trattoria Mercatto's Assistant General Manager) and his big smile were table side. He flipped a chair and sat down for a few minutes of catching up and chatting before excitedly heading off to plan our menu for the evening.
During our chat I found out that Trattoria Mercatto has been open for six months and is open 364 days a year (closing only on Christmas day!) It has two floors, and a large wrap-around patio that seats the same number of guests as the interior. Trattoria Mercatto is the latest addition to the Mercatto family which consists of three locations, (Toronto Street, Bay Street and College Street.) Mercatto began as a single food market and then transitioned into restaurants, Toronto Street being the first location to open 12 years ago. Tom began on Bay Street working first as a Barista and Bus Boy before making the transition to Server, and then Operations Manager. When offered the position as Trattoria Mercatto's AGM he jumped at the chance to take on a new challenge.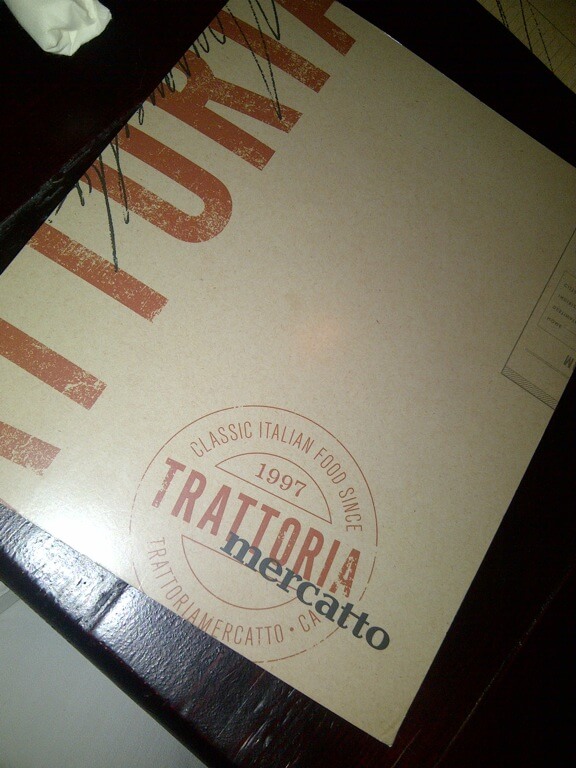 Before the food arrived, I took a few moments to take in my surroundings; tables of families, friends and couples, along with chatting, laughter, and delicious scents filled the restaurant to the brim. Off in the distance I could see Tom socializing with the guests, most of which I could tell were his loyal regulars. It was nice to see that he took the time to get to know each and every customer that walked through the doors. He is more than just a General Manager to his staff and clients, but a friend as well! I could also clearly see through the interaction of the various staff members that there was a special bond that went past co-worker connections, and that the staff Trattoria Mercatto is truly a family.
Now for the most important part…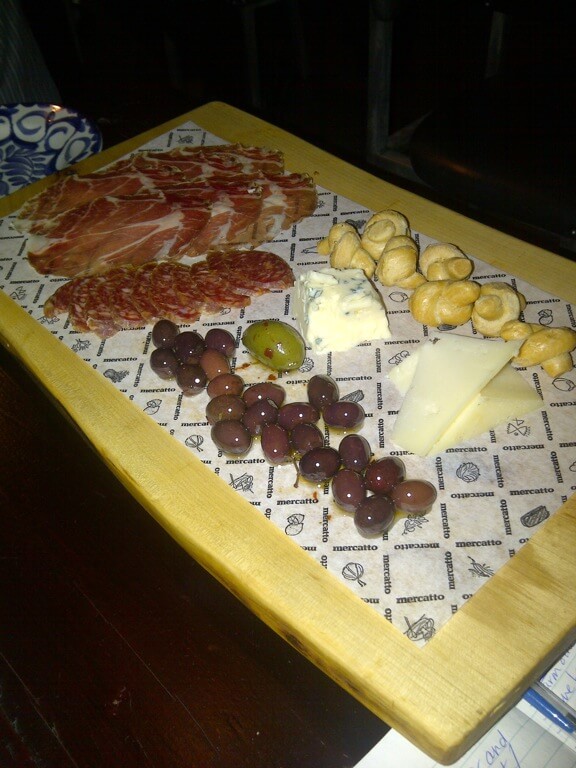 First to make its way to our table was the Affettati e Fromaggi (a selection of local and imported artisanal meats and cheeses, $16.) Warm olives, Blue Benedictine, Montagio, Capocollo and Cacciatori were just a few of the delicious items this dish consisted of. Everything went well with one another—perfect flavor and texture combinations—and add to that a fruity glass of Barbera d'Alba from Piemonte and you have yourself the perfect pairing… And nothing excites me more than a good wine pairing!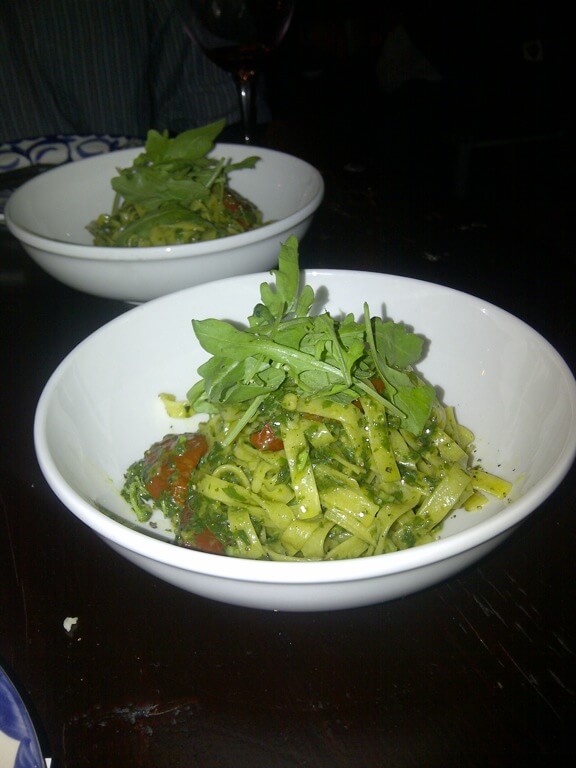 Next up was unanimously the star of the night; Tagliatelle (almond pesto, semi dried tomatoes, topped with arugula, $17.) This dish was love at first sight and scent! The naturally beautiful shades of green from the pesto and arugula, alongside the bright red of the tomatoes made for a visually pleasing, 'healthy-looking' dish. I took my first bite. WOW! Such a simple dish of only a few ingredients, and this could quite possibly be one of my new favorite pasta dishes of all time. I tossed all caution to the wind and went in for a second, third, fourth and fifth bite before I realized I hadn't even looked at, let alone touched my glass of wine! (Which for those of you who know me, is quite a feat to accomplish.) This dish was literally, simply amazing. The combination of flavors just could not get any better! And the best part is, it was nice and light, the kind of pasta you don't feel guilty after eating. Being the creature of habit that I am, there is no doubt in my mind that I will return and order this dish again and again. Tagliatelle was served alongside a glass of dry, medium bodied white wine; Trebiano d'Abruzzo which really enhanced the taste of the pesto and made for another A+ pairing by Tom.
*Now ladies (and gentlemen,) I will warn you, make sure to bring you compact mirrors to check your pearly whites post-pasta indulgence.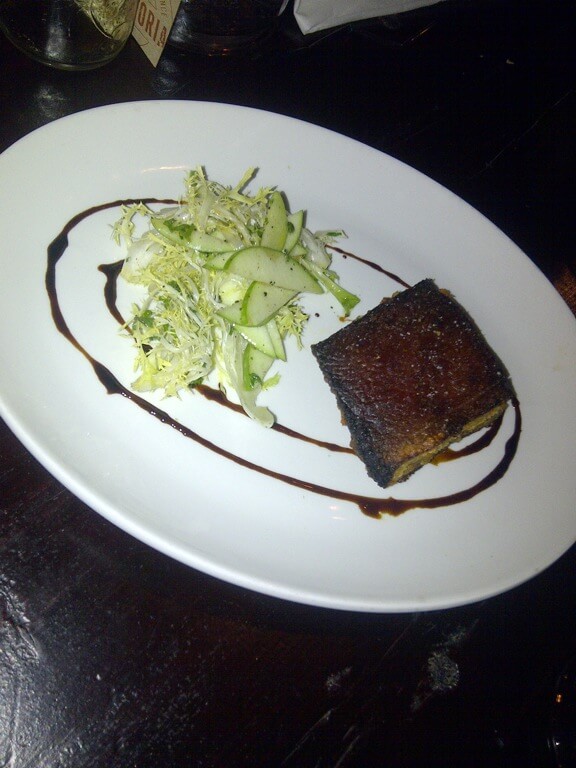 For our last savory dish of the evening, Tom presented us with something I had never before tried; Ciccioli Frolli (crispy pork belly, chicory, apple and aged balsamic, $11.) Now, I will start off by saying, I am not the biggest fan of pork, never have been—that is of course unless we are talking about a delicious, crispy slice of bacon. But having done a lot of growing up since the days of my picky childhood, I am very open to trying new things. The top was crispy and the inside was melt-in-your-mouth tender. The freshness of the chicory and apples really complimented the smooth buttery-ness of the pork. And although this isn't something I'd personally order for myself, I am quite glad to have tried it and would strongly recommend it to all the pork lovers out there. Be sure to enjoy this with a glass of Anima Umbra Rosso to enjoy the full experience.
*I did think it was quite daring of Tom to VENTURE outside the box and choose this dish for us to try. So kudos to Tom!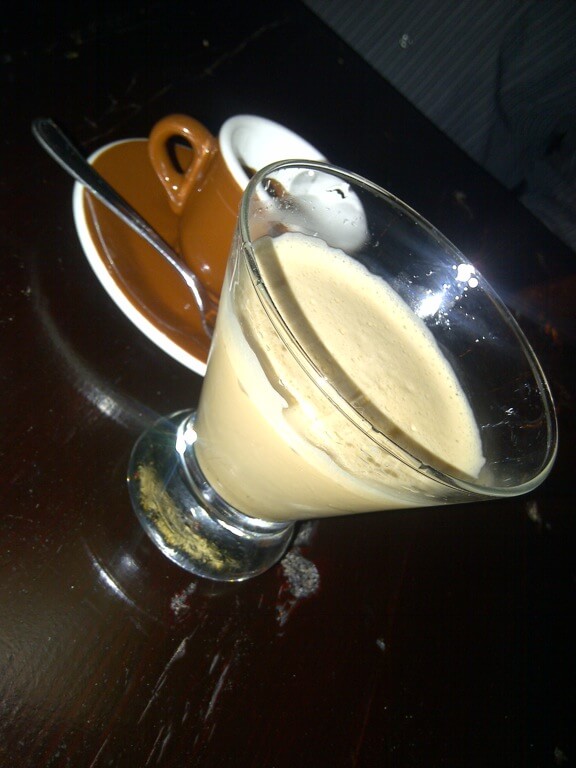 Between dinner and dessert we decided to have a little caffeine. My guest opted for a traditional Espresso ($2.50) and for myself I would indulge in one of my very favorite guilty pleasures that I only allow myself on rare occasion; an Espresso Martini. Now Trattoria Mercatto does not offer this on its menu, but because it is so accommodating the bartender went straight to work coming up with what turned out to be an absolutely mouth-watering concoction to which I savored every last little drop!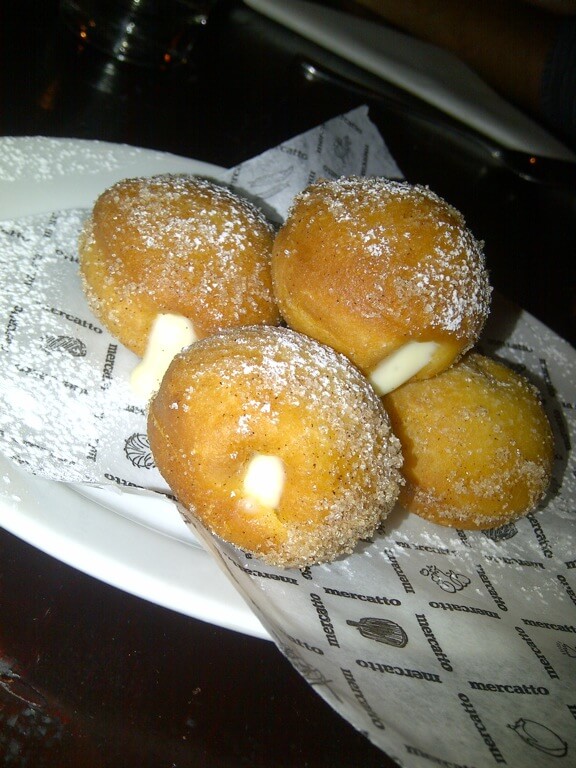 Now I must say, we had reached the point in the evening where normally I am ready to be carried home and off to bed due to extreme fullness, but on this evening it was not the case. I was feeling satisfied all around and was excitedly anticipating dessert, which I usually dread… (pfff… Who am I kidding?) One order of Caramel Copetta (bitter caramel gelato, salted peanuts, marshmallow topping, $7,) and Ciambelle, (cream-filled cinnamon doughnuts, $6,) were on the agenda for the evening. And let me tell you; there are no words to describe… Sweet, salty, chewy, creamy, decadent—delicious! The Caramel Copetta was a ideal contrast of salty and sweet, the caramel was chewy, and the creamy texture from the gelato (which is made in-house and delivered to the other Mercatto locations,) was the perfect compliment. The Ciambella were warm and prepared with fresh ingredients in-house, and cream-filled with a hint of lemon. Wow… A seriously fabulous way to finalize a flavorful evening!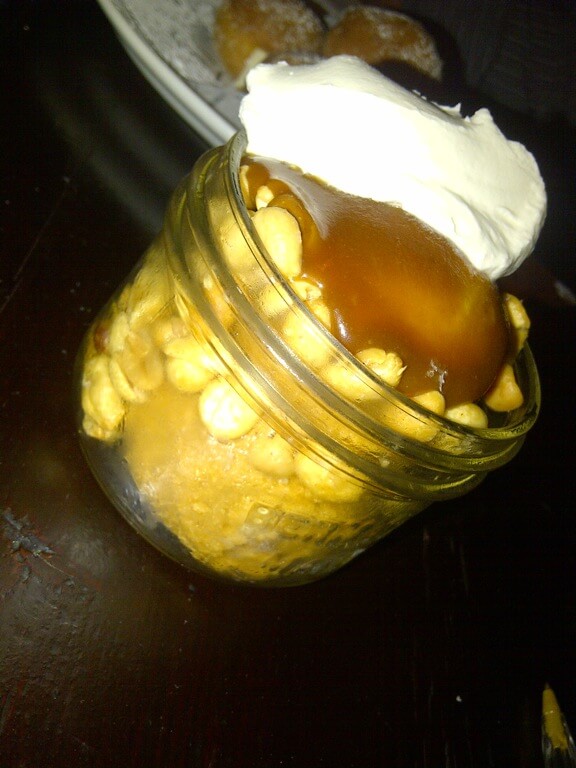 I strongly urge all my friends and readers to make their way down to Trattoria Mercatto, located at 220 Yonge Street, nestled inside the Eatons Centre. What a perfect way to end a tiring work week, or a long day of shopping! I know I will most definitely be heading back soon for some more Tagliatelle in my VERY near future.
Thank you to Tom and the rest of the Trattoria Mercatto staff for the fabulous and unforgettable evening, and great conversation!
http://www.mercatto.ca/