Novo Spa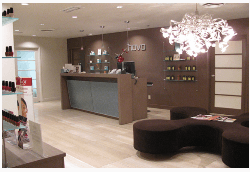 You will find Novo Spa tucked away on Avenue Road in the Yorkville area. I went on a Monday evening for my scheduled steam bed body therapy and the spa was pretty quiet. I was pleasantly greeted by a smiling face and attended to right away.
Novo Spa offers 5000 square feet of pampering. They have separate men's and women's relaxation lounges for you to unwind in before or after your appointment. A tea lounge offers complimentary tea blends and fruit infused water for you to sip on as well as some light snacks to munch on. If you're thinking about going with your partner, there is a luxury couple's suite with a shower for two that provides light therapy. Both men's and women's change rooms have saunas for you to enjoy before or after your session. I've noticed that they usually have specials on a variety of services so it's best to keep an eye on their website to snag a deal.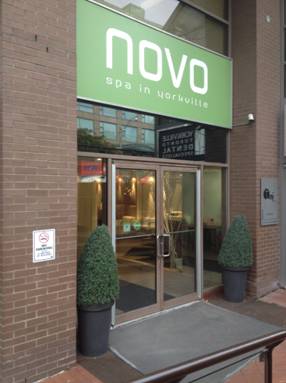 I had their Steam Bed Body therapy, which is one of their signature services. The service was unique in the sense that it took place in their steam and colour therapy cabin. The cabin has a canopy of special lights that change colours every so often. The colours represent your different chakras. The treatment took place on a bed that releases steam on both sides it. The treatment started off with a total body exfoliation and application of vitalizing aroma-oils along my lymph nodes. I was then covered with warmed mud while steam was released from the treatment bed. The steam allows your pores to open up and enhances the healing properties of the mud. During the 'steaming' process, I received both a scalp and foot massage. The treatment ended with an aromatherapy back massage that consisted of hot stones being placed along my spine. According to their website and the massage therapist, this 'treatment is targeted to provide an overall feeling of well being focusing on essential oils, muscle relaxing and overall nutrients for the skin and body'. The massage was extremely relaxing and the exfoliation left my skin feeling smooth. If you are looking for 120 minutes of relaxation and 'me-time', then this treatment would be the one for you. I definitely enjoyed it and would recommend arriving 30 minutes or so earlier than your appointment so you have time to enjoy all of the amenities. I found Novo Spa to be a simple spa with everything you need to relax: excellent service, cleanliness, knowledgeable staff, and a tranquil environment.
Check out the Novo Spa website for further information.
66 Avenue Road,
Toronto, On M5R 3N8

+1 (416) 926 9303
+1 (866) 926 9303
Open seven days a week for your convenience

Hours of Operation:
Monday to Friday 10:00 am – 8 pm
Saturday 9:30 am – 8 pm
Sunday 10:00 am – 6 pm
About Sultan Sandur
His story is simple; small town guy discovers his long lost self in an urban wonderland. Through this five-year journey of self-discovery, he has transitioned from simple Kamloopsian to fashionable Torontonian. As a devout Torontonian, he always keeps up to date with what's happening in the city. Sultan considers himself to be a foodie and brunch fanatic. You will find him obsessed with discovering new eateries, art events, and entertainment in the city. He's that guy who will be rushing to Nadege for an emergency box of macarons after a rough day. Throughout the year, Sultan can be spotted at local events such as Fashion Week, Nuit Blanche, Art Toronto, Digital Dreams, and TIFF just to name a few.