You NEED these Spices In Your Life…. Here's Why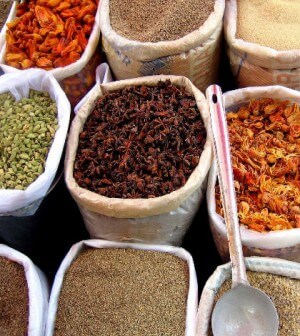 Many believe that when you are trying to eat healthy your food has to be restrictive, boiled and tasteless. This is probably the biggest myth I get from the majority of my new clients who are trying to revamp their nutrition.
In fact, I encourage the use of spices and herbs to your dishes not only to add loads of flavour without the added fat, sugar or salt but to also give you health benefits from the richness of antioxidant found in these spices.
Although there are still many studies being conducted here are a few major benefits of adding spices to your meals:
Antioxidant Power- found commonly in fruits and vegetables these are known to protect against heart disease, cancer and other diseases. The major antioxidants include beta-carotene, and Vitamins A, C and E.
Weight loss- researchers are still studying the potential to promote satiety, boost metabolism and aid in weight management from spices. For example, the capsaicins found in peppers are believed to boost your metabolic properties.
Anti-inflammatory Properties- although there are still some research to be done on the protective properties from spices and herbs, there are high possibilities of the ability to reduce inflammation. Inflammation has been known to be precursors to many chronic diseases, such as allergies, heart disease and Alzheimer's.
Here are my top 7 spices you should start using now:
About Chi Malixi
Chi Malixi has been in the Fitness & Wellness industry for 10 years. A graduate in health & fitness promotion she been able to experience all sectors of the fitness industry. She is a certified Fitness Consultant, Personal Trainer Specialist, Weight Loss Coach and a Registered Yoga Teacher. She continues to share her passion in guiding others towards their fitness goals and aspiration through education, motivation and inspiration. Instagram- @Teamchifit Twitter- @Fitmalixi Email: teamchifit@gmail.com