Look Book – Fruit Print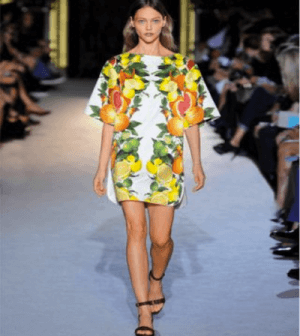 One hot trend that is starting to pop up a lot lately is the fruit print trend. Brands such as Dolce & Gabbana, Kate Spade, French Connection and Topshop have all done variations of the lemon, pineapple or berry inspired prints, which has perfect timing considering it's officially the summer time (cue sunshine, fancy umbrella drinks and dancing music). Not only are these pieces super cute and feminine, but they are also perfect for summer time, and more importantly sangria time! Try using these pieces as a statement for your outfit and you'll be looking sweet in no time!
This awesome Topshop dress is great for both in the office and out! The length is appropriate and trendy, and you can easily accessorize with some cute heels and a nice bold bracelet to top it off.
Look 1:
Dress: Topshop
Bracelet: Tory Burch
Heels: Dolce & Gabbana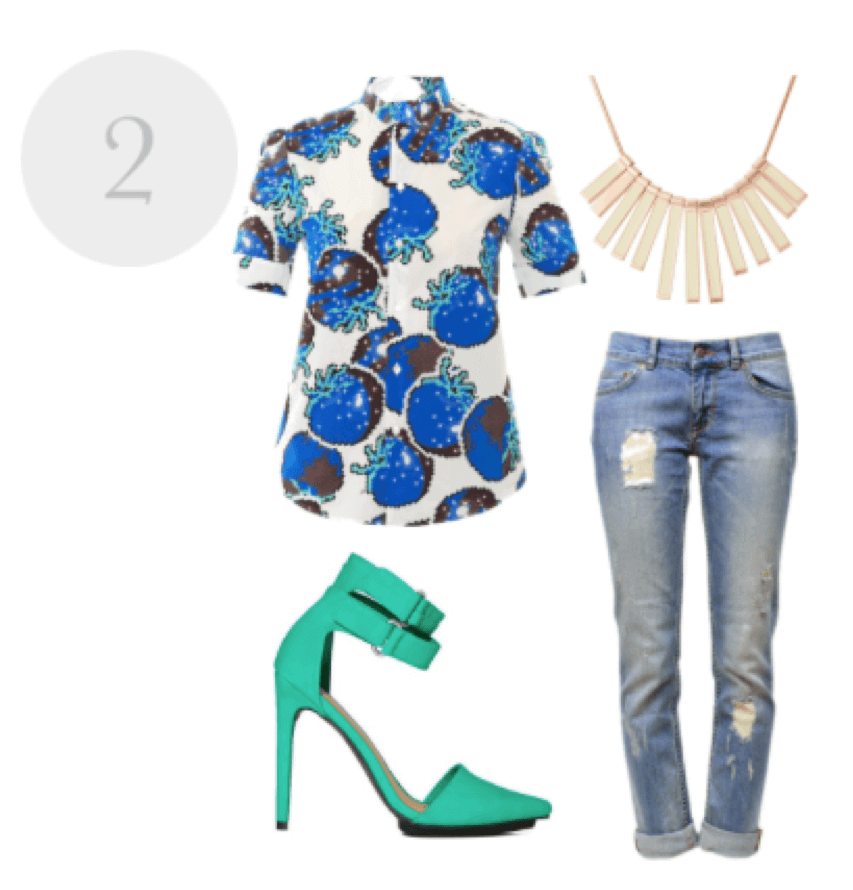 Try this really cool, bold blueberry shirt buttoned up completely with this necklace popping out. It'll go perfect with some boyfriend jeans and bold heels. You could always tone the look down by throwing on a white leather jacket over top, incase it's a bit too bold for some gals.
Look 2:
Top: Julien David
Heels: Shoe Cult
Necklace: Marc by Marc Jacobs
Jeans: Anine Bing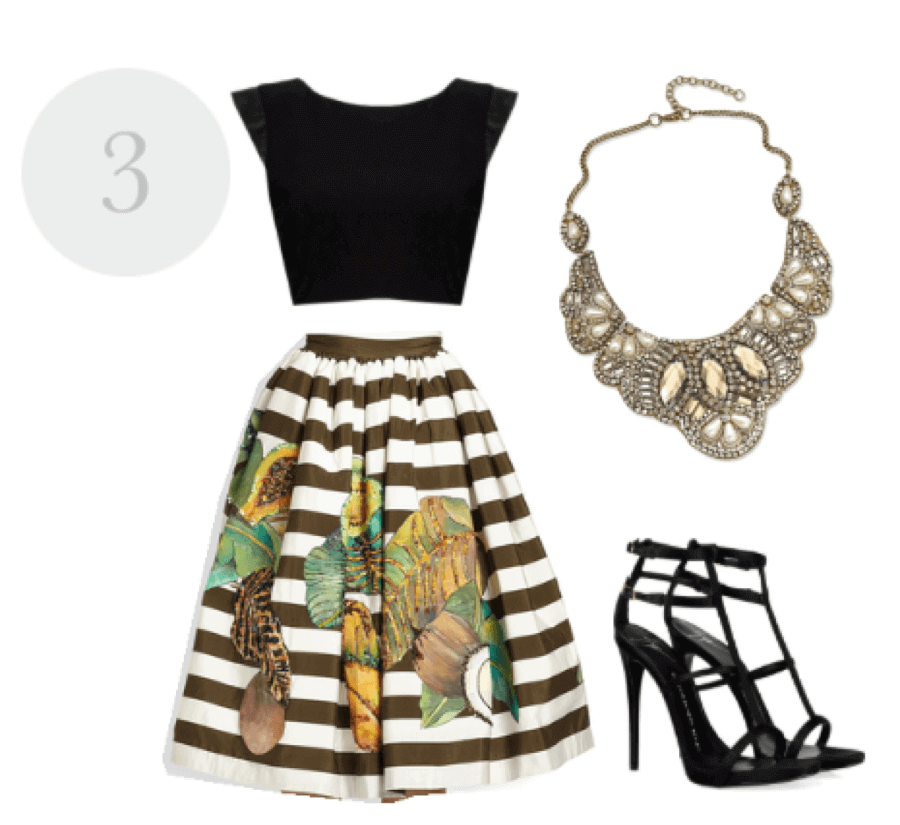 This skirt is simply adorable, and is quite the statement piece. With the fruit print combined with a bold black and white stripe, this skirt should likely be paired with a simple top so the outfit isn't confusing and overwhelming. Try a cute crop top some sexy sandals and a statement necklace.
Look 3:
Top: Alice & Olivia
Skirt: Stella Jean
Necklace: Simply Be
Heels: Giuseppe Zanotti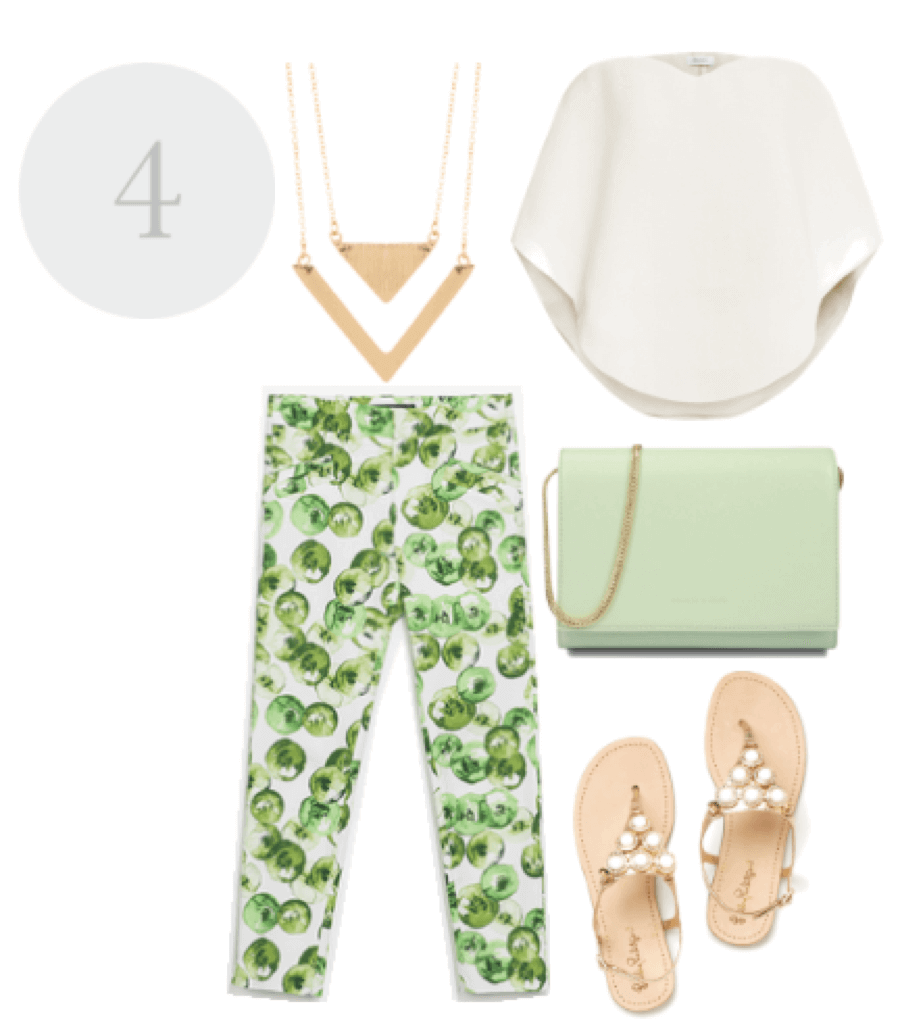 This look makes me feel fresh just looking at it. The printed pants are so cool and would be paired perfectly with a white loose blouse and a simple long gold necklace. Put on some cute flip flops and you're good to go!
Look 4:
Necklace: Daily Look
Pants: Zara
Top: Delpozo
Purse: Charles & Keith
Sandals: Lilly Pulitzer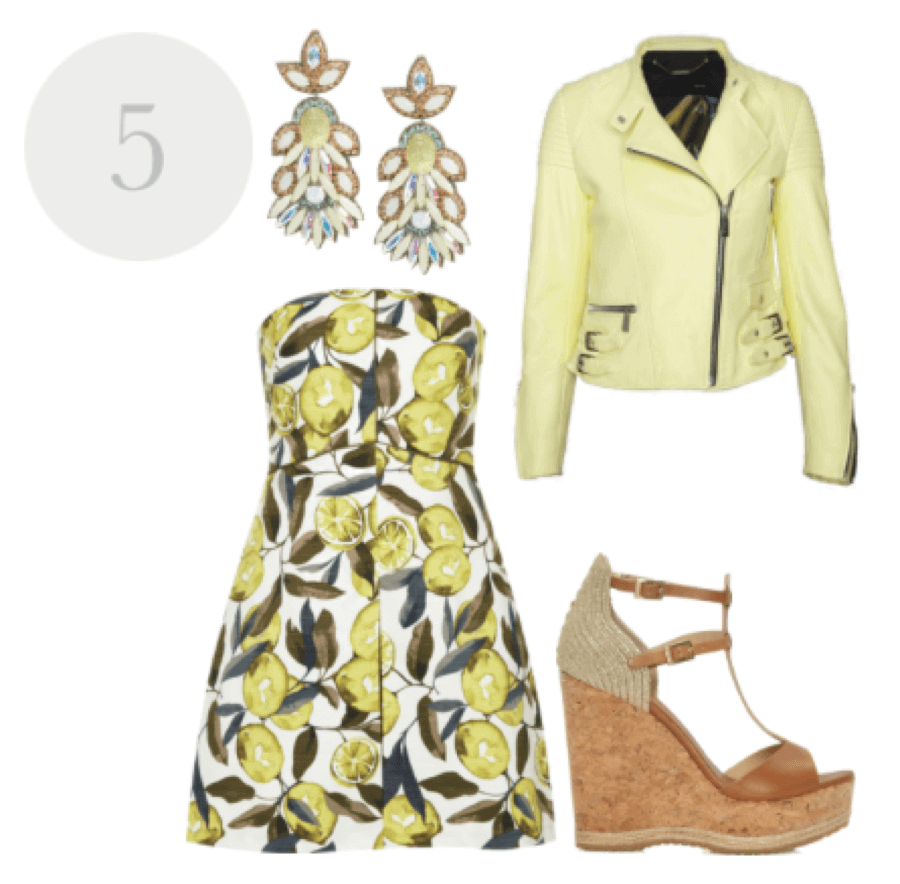 If you're looking for a little bit of a combination of trendy and edgy, this look is perfect. The lemon print dress is super feminine and the big statement earrings work perfectly with the colors of the dress. If you're looking to add some edginess to it you should try a leather jacket in a complimentary color that might match into the dress. Put on some nice basic wedges to make it a little more casual or some sky-high pumps to amp up the sex appeal!
Look 5:
Earrings: Suzanna Dai
Dress: Topshop
Jacket: Barbara Bui
Wedges: Jimmy Choo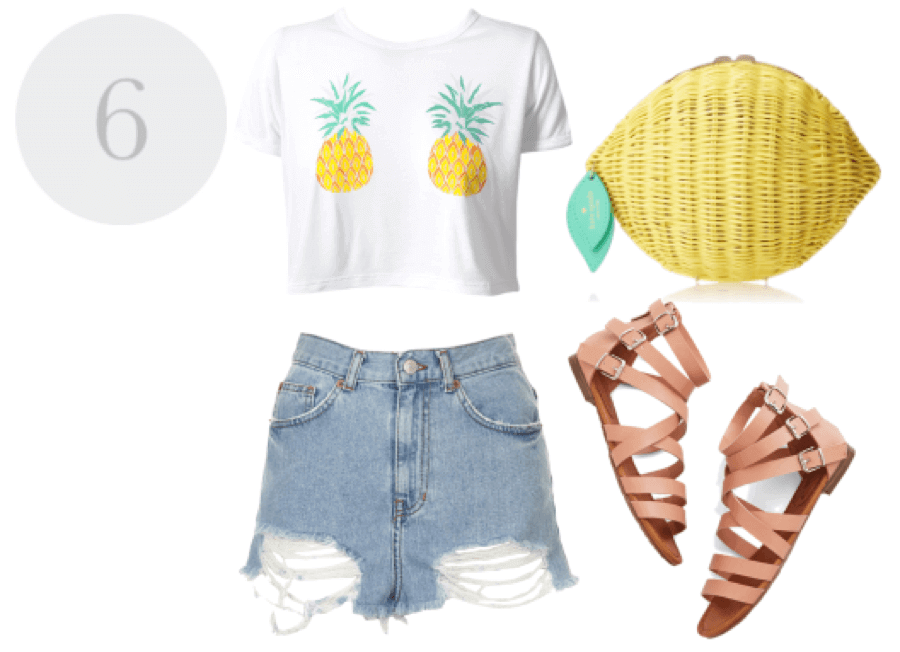 I feel like Leandra Medine would wear this tee, which makes it SO much better. This cute pineapple tee paired with some denim shorts, this (beyond) adorable clutch by Kate Spade and some simple sandals, makes the perfect summer outfit.
Look 6:
T-Shirt: Beginning Boutique
Shorts: Topshop
Clutch: Kate Spade
Sandals: Modcloth
Will you be putting on some fruit inspired pieces this summer? Let us know @TOCityGossip @Mel13Marchand

About Melissa Marchand
I am originally from Nova Scotia, but in 2013 I moved to the 'big city' of Toronto to study fashion. I am a big believer in following your dreams, working hard but staying positive, and taking advantage of any opportunity that comes your way. I love yoga, wine and high heels…and wine. Follow me on Instagram @melissamarchand and Twitter @Mel13Marchand.