JACOBS & CO. STEAKHOUSE
I have been sitting in this pedicure chair for 45 minutes; nothing but pure relaxation. "Pink," I tell the nail technician. She grabs a handful of pink nail polishes and plants them in front of me– 'Mod About You' it is! (featured in our Top 5 All Time Best Nail Polish Shades for Spring/Summer.) It's that time in the day where evening is approaching and my friends and I have arranged a fabulous evening doing what we all do best- EATING!
The "getting ready" process can be a bit tedious and time consuming for a female and out of all my friends, I happen to take the longest. But today is different, for once I am ready in advance! Mani, pedi- check, hair is looking fresh, make up is done, heels are on! The decision is final, tonight is a meat night and not just any meat night. Tonight it's a Jacobs Steakhouse night. One of my favorite steakhouses this glamorous city of ours has to offer.
Located in the Entertainment District in King West, Jacobs & Co. has its grand entrance. Overly sized wooden doors, steep steps that walk you down to the bar and faux fires softly burning behind glass; Jacobs & Co., offers quite the presentation. In the bar area, you are greeted by the hostesses and the sounds of a grand piano.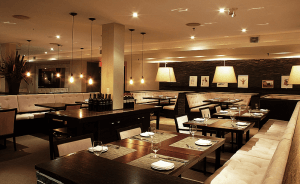 My anticipation to sit down and order grows stronger. "Patience Camila, patience," I tell myself. Finally, the rest of the entourage arrives.
When you enter the dining area, you'll find yourself crossing paths with an open display of meat that Jacobs carries. This is sure to enhance your appetite for a nice big fat juicy piece of meat. Prior to placing our order, the waiter provides us information on how the steaks are aged, broiled and served which serves as quite the enjoyable learning experience, I must say.
I start off with the Frisee Salad, and every one else tries the Caesar salad. As I watched it being prepared, I have to admit, I became a little bit jealous! The Caesar salad is created right in front of you. The server starts off by creating the dressing from scratch, going into great detail about each ingredient that is being added. I was completely smitten by this process. I recommend ordering the Caesar salad just for the tableside experience. And let me tell you about the little bread muffins – not only are they unique but also served warm enough to just melt the butter away.
The greatest part about having dinner with friends is not only enjoying one another's company but also ordering a variety of different side dishes for all to try and share. On this particular evening we decided on:
Duck fat french fries, baby carrots, sautéed mushrooms, caramelized onions, and beefsteak tomatoes (slow roasted with feta and oregano) accompanied with 8oz USDA Prime Black Angus tenderloin from Nebraska, USA done medium rare- grilled to perfection.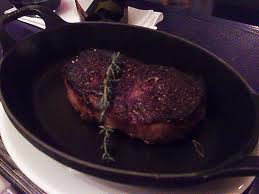 At Jacobs & Co. the steaks are char-broiled at 1800 degrees. The steaks are juicy and full of flavor; you can truly taste the quality and workmanship. All steaks are presented on a skillet where you can hear the last bit of sizzle, highly anticipating your very first bite. Mmmmm, the spices are soaked up in the steak leaving a tasteful explosion in your mouth. It's a gratifying experience you never want to end. Topped off with some red wine to entice your taste buds further. The wine list here offers quite the selection. I had my waitress select one for me based on my preference, and to no surprise I wasn't disappointed, more so impressed. Every time I come to Jacobs, I never have any room for dessert, which I am not to keen on anyways. However, at the end of the meal, you are presented with breakfast muffins. A great ending to dinner; a perfect start for breakfast.
If your looking for a dining experience full of quality and luxury- make Jacobs & Co. Steakhouse is your next destination. The staff is knowledgeable and attentive, truly providing you a 5 star dining experience. It is of no wonder Jacobs & Co. Steakhouse is steak heaven. Book a reservation today and I promise you will not be disappointed.
Jacobs&Co. Steakhouse
12 Brant Street
(416)366-0200
www.jacobsandcosteakhouse.com