Hot Potatoes at Poutini's
Poutine: the classic Canadian comfort food, a simple yet delectable treat that eats like a meal. In it's most basic form it consists of fries, cheese curds, and gravy but can be decorated with bacon, pulled pork, chives, and an endless array of other toppings. Is your mouth watering yet? Good, because I have just the place for you to satisfy the craving I've created.
Pull up your bootstraps, put on those stretchy pants and head over to 1112 Queen st. West and enter the world of Poutini's – House of Poutine. "But I can get a poutine at Harveys!" you say, well let me set the record straight. What separates Poutini's from the rest isn't only the simple rustic décor, complete with chalkboard menu, a varied selection of different bar stools, and typical Queen West eclectic vibe. It's the message behind the place that makes this one of Toronto's hidden gems. Freshly in-house cut fries complete with potato skins, fresh local cheese curds, home-made gravy without shortcuts but slow cooked to perfection for hours. Even vegetarians can rejoice in a separate vegetarian gravy and vegan cheese option. And this is just a traditional poutine, now we add bacon, in-house pulled pork, sour cream, chives, and maple syrup in a dizzying array of combinations.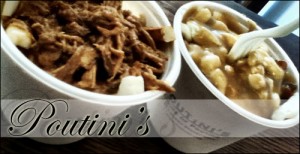 Are you drooling yet? "Well what if I'm not a huge poutine fan?" you ask. First of all that's just non-sense, but if you'd rather skip the gooey bowl of heaven and opt for simple fries that's an option here too! Not only are you spoiling yourself with freshly cut fries cooked in the healthiest of ways, but you also have eight different dipping sauce options (besides classic ketchup) that sound as sexy as their poutine toppings.
Can I floor you some more? Poutini's is all about simple, clean, and enviro-friendly. Everything is biodegradable including the forks, so much so that the only true trash collected is that gum you were chewing when you sat down, everything else is blue or green bin. That simple fact spoke volumes to me and proved that above all else, being conscious isn't as tough a switch as I've initially been led to believe. More points go to the great customer service where it seemed that every customer shared a conversation alongside their poutine purchase.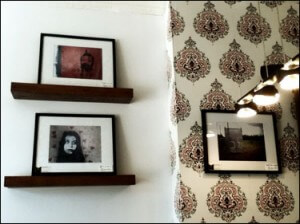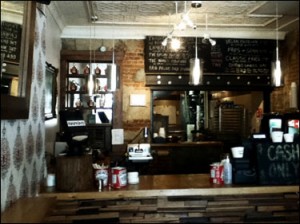 Another point grabber for me was their focus on unique Canadian pieces when it came to décor – nothing came from a big box store and every piece has it's own story. My personal favourite are the tables that, ladies if you are reading be impressed, include purse hooks. No leaving that precious satchel on the floor or on the table, there's a hook for that. During my conversation with the owners I learned that their goal wasn't to be something unique and new, but rather to be the best, most complete version of a simple classic.
So let's recap, the most mouthwatering yet simple anytime menu, options galore, environmentally conscious, a focus on fresh, clean and natural ingredients without cutting corners, amazing customer service, and a unique environment. But I forgot to tell you the best thing about Poutini's – Thursdays, Fridays and Saturdays they're open late, 3:00 am late. Yes my fellow party animals it's possible to eat great even late and not at a drive-thru window.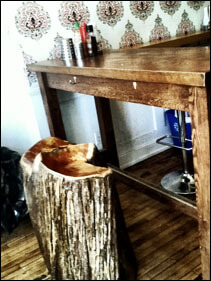 I can't really tell you what it was that sold me point blank on Poutini's but I can tell you that it wasn't the concoction of positive points I have made above. Rather it was a building block event that built their reputation in my eyes. It starts with good, simple food, is accentuated by a growing (and in this case successful) environmental movement, and is topped with pulled pork. No wait, topped with a schedule that makes sense and no fluff or fill. But who am I kidding, they had me at poutine with pulled pork.