Happy Tails Dog Spa – Not so Happy!
My precious little four-legged Pomeranian, Mia, isn't your typical fluffy full of hair Pom. During this season she is loosing her winter coat and shedding absolutely everywhere alongside her side kick Didi. The other day as I was driving with my best friend, we were completely full of embarrassment having dog hair all over our pants. Of course these little buggers (the other one being a Chihuahua) love to sit on our laps, (after all they are "lap dogs.") The good news is we were only visiting our families. It would have been even more embarrassing if we had to go elsewhere. It's that time of the year to take the girls to get a full groom, starting with a wash, nails cut, ears cleaned, teeth brushed, glands massaged, undercoat taken out and hair cut. IMPORTANT: undercoat taken coat out.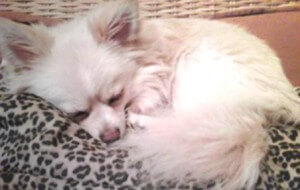 When the girls realize they are about to go somewhere in the car, they spin and jump in excitement, usually they are off to the parents' house to meet the other animals. Haha – not this time suckers. I woke up dreading looking at my area rug that has to be vacuumed each and every day due to these little buggers shedding all over it, not to mention the humiliation I suffer due to dog hair all over my pants. Groomers NOW! I made a few calls around the city and the usual spot I go to was fully booked. I am impulsive; I want it NOW, so it must happen NOW! Through extensive research, finally I find a place that doesn't happen to be too far, just a bit uptown off of Mount Pleasant, "Happy Tails," and the groomer willing and ready to see the little girls in 30 minutes!
During my initial telephone conversation with the establishment we had discussed the breed of the dogs, weight and hair length. The quoted price range happened to border a rate competitive to the downtown dog spa's. I used to work up in this neighbourhood so I happen to be quite comfortable knowing that most businesses in this part of the city live up to their promises. 571 Mount Pleasant Road, here we come!
So we arrived and met the owner. I noticed a very clean and organized store front… This was a thumbs up in my eyes. The owner invited us to the back where the grooming takes place. He kindly asked us to put our dogs in cages and after which we were abruptly escorted out. Ughhh! At this point I am a bit hesitant to leave my dog with this man but she really needs to get a cut and I am already here. However, I have to admit, the first impression of this "dog spa" certainly doesn't live up to the higher standards set by other groomers in the city of Toronto. I figure they have been in business for so many years, they must be doing something right. Nevertheless, given the price, I expect the dogs to return sparkling clean and happy.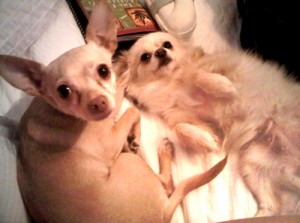 Arriving 10 minutes early before the scheduled 4 o'clock pick up, I could right away hear the dogs barking… Hmmmm, this is a sign they are left alone and unhappy. The store is empty once again and the owner is quick to point out "do you hear your dog there?" with a somewhat fake looking smile, which of course I do. He then prepares to process the payment, which apparently was going to be the high end of his price range he quoted on the phone.
At first I was a little hesitant to say anything but then I do. I tell him that is not what we agreed on; you quoted a lower price and set an upper limit in case the dogs were additional work. What kind of difficulty did you have with these small dogs? Of course, he didn't have an argument and simply said, "well, that's the price." He was steadfast in his manner and I became so frustrated at this point on the principal that he wouldn't explain his services to me. That sure isn't a great way to retain a new customer. Not to mention he took on another line of argument and had the nerve to tell me that I must have mistaken his quote for another groomer and come to the wrong store.
Are you serious?! So given the nerve he had to stand there right in front of me and lie to my face, I quickly scrolled through my call history on my cell phone proving I did in fact speak to him. He quickly becomes frustrated and if I'm not mistaken showed a bitter temperament, eventually threatening to call the police if I don't pay right now. He actually began to call the police then decided to serve another customer that walked in, and continue his call afterwards. All I wanted was a simple explanation on what I was paying for, that shouldn't be a hard question to answer.
I went outside to cool off and get some fresh air as he serviced the other customer. I was furious and just handed the cash over. Right now, I just wanted to get my dogs out from this un-friendly groomer. All that is going through my head were thoughts on how my dog was treated here. Another customer who just entered and spoke with me shortly cleared these worrisome thoughts. She told me that this owner has always acted aggressively in the entire 10 years that she has known him. In her case, she was willing to come back, which I don't understand as I've had much better service elsewhere, but to each her own. The owner of the establishment then brought the dogs out, they were happy to see me, but I noticed the collar happened to be switched between the two dogs. This is a clear signal on their lack of organization among their pets. Nevertheless, they were dying to get home, so we got out quickly. Noticing I had not been given a receipt, I returned to get one and to my surprise the receipt was generic and hadn't even the proprietor's name on it, (and is only available by request!) Are you serious?! How unprofessional.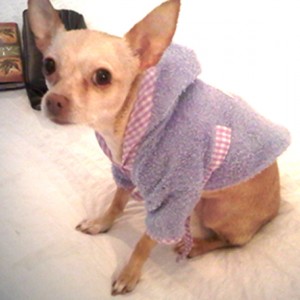 I invited him to see his review online, and he could only say it goes "both ways", so I do invite him to write a review of his own. Given I was willing to happily pay the same price quoted at several other groomers in downtown Toronto. To this day I am shock to have encountered such an experience on the unprofessional and poor customer service, especially since this is an industry that relies highly on customer service. I am genuinely frustrated for having paid a higher than normal price and not receiving the service I usually do, there was no quality there that's for certain. Even if he was having a bad day, that is never an excuse to treat others like that.
Once I got home, we had a look at the other side of the picture, how happy were we with the actual grooming? The dogs were still shedding just as much, which means the undercoat was not brushed properly. Was the hair cut? Yes and no, it was trimmed around the paws and brushed cleanly, but overall it was the same length and this would not pass as a haircut in fact there was no evidence of what I clearly asked for about two times was not done. My little Mia's hair is still uneven, where was her hair cut? Were the teeth brushed? The breath was the same, and not as fresh as normal after the spa, supposedly at the end he said he doesn't do that. *Insert confused bbm face here* Nails cut? Yes, it seems they did something right, finally and their bum was very clean, if you call that a plus for Happy Tails! Certainly NOTHING was very different to warrant an excessive price jab.
Given there are so many other choices for pet groomers in the city, it's only fair to say that Happy Tails gets two thumbs down. The experience at Happy Tails is markedly poor customer service and far too aggressive for a dog spa (or any business for that matter.) If you have the opportunity, you may consider it worthwhile to try one of the other dog spa's the city has to offer, one that will indeed make the effort to send your pet home feeling pampered! Maybe you can have a better experience at Happy Tails Dog Spa. I can surely say for me it was a disappointment, especially with my level of excitement in finding a groomer to take me so quick. Guess sometimes it is just best to stick to who and what you know.
If you have a better experience, I would love to hear about it. E-mail: inkok@outlook.com
Happy Tails Dog Spa
571 Mount Pleasant Road
http://www.happytailstoronto.com