Hair and the Heat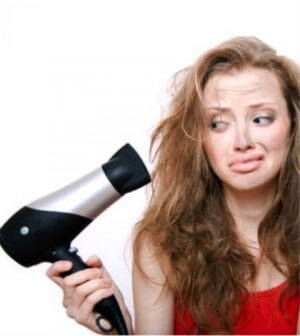 There are so many perfect couples in life: peanut butter and jelly, red wine and cheese, Brad and Angelina… But not every pairing is a match made in heaven – look no further than your luscious locks and the damaging effects of heat. Not to say that styling using heat techniques like flat irons or curling wands isn't revolutionary and life-changing for some women, but the dryness and breakage that ensues is far from luxurious. Since I'm not one who uses heat to style my hair (the air dry and infrequent shampoos are my personal hair regime), I enlisted the help from some of my most trusted girlfriends who, when asked to describe their life without styling using heat, replied, "I can't… I just cannot".
I first spoke to Sarah, one of those few girls that never has a bad hair day. She claims she spends hardly any time on her hair at all, but I've never seen it look less than perfect – even after waking up beside each other after a late night of dancing. Her tip to protecting hair from heat is to only use heat products once a week. Like me, Sarah has trained her hair to only need to be washed about once a week. So after her shampoo and deep condition, she lets her hair air dry before straightening it. Once her hair is nearly dry, she spritzes with a heat protectant spray and quickly runs the flat iron through her hair until satisfied with the results. After that, her hair won't see heat for another week or so – allowing nature to run its course, regardless if she's left with a few stray hairs or bedhead kinks. Maybe that's what I love so much about Sarah's hair – it always looks effortless, shiny, and tousled to perfection.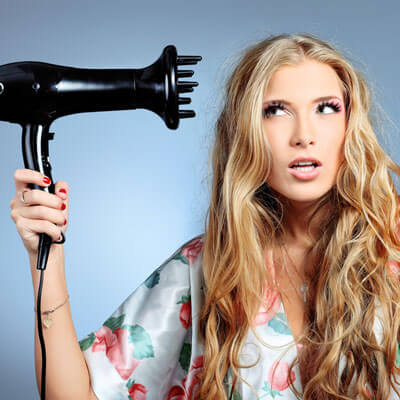 Understanding that not every woman can commit to only washing their hair once a week, I chatted with Lauren, the queen of voluminous tresses. A bit of a beauty junkie, she has tried every product on the shelf and still hasn't found a regime that's set in stone. While she may not have been able to tell me her go-to products, Lauren did have some advice to styling with heat. After washing and conditioning, Lauren dries her hair using a diffusing hair dryer; one designed to dry the hair without removing the moisture. Starting at the roots, she dries the hair in a a downward motion, ensuring that her curls don't get too out of control. She then applies about five different serums and sprays, all designed to condition, defrizz, and make her hair shiny and healthy looking. After that initial blow dry, Lauren avoids styling using a flat iron or a curling wand (only for special occasions), and lets her hair do it's thing.
My research ended with Colleen, a serial hair straightener who styles her short blond bob with heat on a daily basis. Perhaps because I am so busy, I simply cannot even imagine spending close to an hour doing my hair every morning, but apparently that is many women's routine. Colleen awakes every morning to a shower, where she shampoos and conditions. She then blow dries her hair until it is completely dry, slathers on a defrizzing serum as well as a heat protectant spray, and then sets off straightening her hair with a flat iron. After that process is complete, she finishes with a shine spray and serum to keep every hair in place and looking fabulous. This routine seems a bit high maintenance for me, but by ensuring that she is using natural, effective products, her hair still looks and feels healthy.
So regardless of your own hair routine, using the best products for your hair type and schedule will help in reducing the damaging effects of styling with heat. Whether you're like me and your hair literally never comes in contact with heat of any kind, or you're like Colleen and heat may as well be your middle name, it's crucial to understand the effects of heat and how it can damage your hair. Take preventative steps to make sure that your hair stays luscious and shiny for years, and you and your locks will become the next unbeatable power couple.

About Megan Dussin
Megan is a marketing student living in Toronto, working in fashion merchandising. She spends her time scouring thrift stores and flea markets for the perfect vintage pieces, sipping coffee on her balcony with friends, and exploring the city on foot. Obsessions include anything black, leather, or shiny. Follow her on Instagram at @megadeexo