Where to hang out in the city?
Most of us know where the hot spots are in Toronto if we want to hit the club and party. However, what if you just want to go out with your friends and chill. Yes, you could hang out at the local pizza shop or get together at someone's hour to play a game of poker, but we all need to get out sometimes. Here are some excellent spots to chill in Toronto.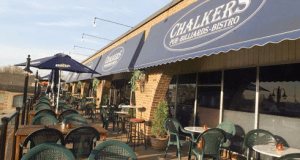 Chalkers Pub
If you want a pub and billiards hall with a little something extra, you should check out Chalkers. Located in North York, Chalkers combination pub, pool hall, and bistro all wrapped up in one. Chalkers has 12 billiards tables for those that want to knock a few around or you can sit back and relax while trying one of their 18 beers on tap. Chalkers also has a varied menu ranging from pub fare to bistro style pizza and even New York Steaks. Several times a week, they also have live music that includes retro, jazz, and salsa.
For just a $6.50 ferry ride, you can head over to Toronto Island and chill out with friends while enjoying the great outdoors. You can chill at the beach, parkland, take a ride down various bike paths, or hang out at Hanlan's Point.
The Beaches is located on Toronto's east-end and has an amazing boardwalk that goes along seven beaches. You can bike, blade, or just stroll along with friends for free. For a small fee, you could take the TTC Queen Streetcar and check the area out.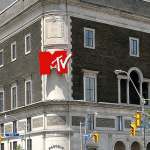 Be on TV
Since a ton of shows are filmed in Toronto, there are always shows filming. For example, MTV Live regularly tapes at the Masonic Temple and you can get free tickets for you and your friends to watch the show being made. You could also go to the CN Tower and watch as The Hour is being taped. You never know, you and your friends might show up on Late Night TV.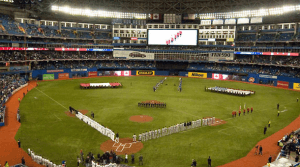 Take Me Out to the Ballgame
What can be better than a Major League ballgame on a summer day or evening. For just under $15, you can get tickets in the cheap seats section at the Rogers Centre and take in a Blue Jays home game.
Where else are you going to get live entertainment so cheap? With the retractable roof, you can watch the Jays play rain or shine.