Festival Fever: Purse Necessities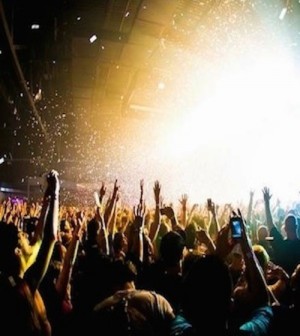 It's almost music festival season here in Canada, and whether you're a novice or festival connoisseur, here's what you should pack for your crazy weekend!
It is necessary to always be equipped for a full day, weekend or summer of party rocking. We know you have your hottest outfit ready to go, but it is the necessities that we often forget. No need to fret, I am here to make sure you are staying styling and prepared for all you music festival antics.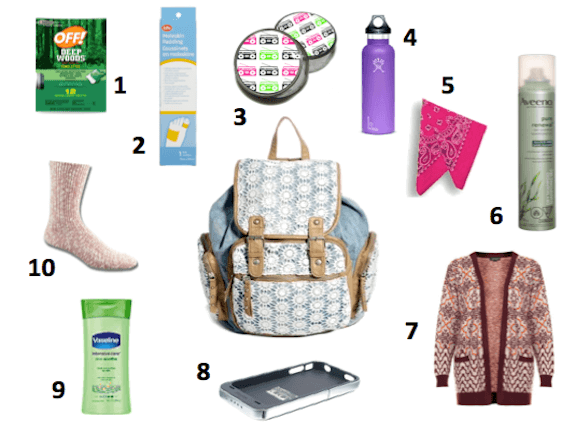 The Bag: Knapsack
New Look via ASOS
Probably your best bet for carrying everything around in for a festival is a knapsack. First, because of it's size. Especially in a material like this crochet one, it can expand to fit all your items. Second, because of the comfort. Unlike with a tote or cross-body bag of this size, the load can be shared by both shoulders. And third, because of the convenience. You can stay hands-free, which is great for taking pictures and dancing.
The Items:
1. Insect Repellant: OFF! Towelettes
Bug spray is always a great thing to have on you when you'll be spending a lot of time outdoors, especially at night. These towelettes are ideal, and they will also fit more compactly in your bag.
2. Moleskin Pads: Life Brand
Beauty is pain and while I recommend wearing worn-in, comfortable shoes for long days of standing and walking, I know most of you will want to wear those cute new sandals than let's say, sneakers (don't worry, I would too). But putting these soft moleskin sticky pads in your shoes (on the bottom, sides, etc.) will help your feet stay comfortable and not rub against the material.
3. Ear Plugs: Etsy
Whether the music is just a bit too loud for your taste, or you would like to actually get some sleep, there is no substitute for these babies. Get some music-themed ones for your music-themed weekend.
4. Water Bottle: Hydro Flask
A water bottle that is designed to keep cold liquids cold (this one is, for up to 24 hours!) is a great item to have at an outdoor festival and surely a necessity.
5. Bandana: Walmart
Good for sun protection if the top of your head is too exposed, or you can roll it up and wear it as a cute headband. Also, if you're too hot to wear a full shirt (it happens a lot at these festivals), wear it as a top!
6. Dry Shampoo: Aveeno
Just because you probably won't be bathing this weekend, doesn't mean your hair can't.
7. Sweater: Topshop
If you're partying into the night, when there is no sun, you'll definitely want to keep warm. Literally called the Folk Festival Cardigan, I don't think it needs anymore selling points.
8. Phone Charger: Mophie
You'll probably be taking a lot of pictures and videos on your phone this weekend, and you'll also probably be texting your friends trying to find each other and meet up. So it's very likely that your phone battery will drain very quickly. Mohpie is a phone case that protects your phone while it charges it, and will not take up any more room in your bag than your phone would.
9. Aloe Vera: Vaseline
Aside from the most-known use for soothing sunburns, you can also use Aloe Vera to alleviate the irritation of insect bites and blisters, which is definitely worth the room it'll take up in your bag. I like the Vaseline brand because of the intense moisture.
10. Socks: Wigwam Cypress via Camp Connection
It's cool to rock your sandals during the day, but once the sun sets, your feet will get really cold really fast. Don't be afraid to sport the camping chic look of socks and sandals, and they'll also help you avoid getting bug bites on your feet.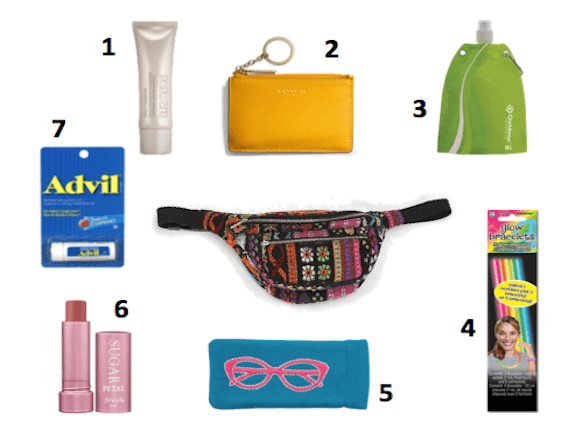 The Bag: Fanny Pack
Ecote via Urban Outfitters
This is another great hands-free option, but on a much smaller scale than a knapsack. This option is if you won't be away from your tent for long, or if your friends are carrying most of your supplies (taking turns and sharing the load is great!).
The Items:
1. Tinted Moisturizer: Laura Mercier via Sephora
Makeup touchups will be few and far between (if not non-existent) on your weekend, so keep a tinted moisturizer with you during the day. Use one with SPF for added sun protection.
2. Coin Purse: Coach
You won't need your regular big wallet for the weekend, so just bring a small change purse for your cash and ID, and a credit card for emergences.
3. Collapsible Water Bottle: Outdoor Products via Walmart
No matter how big, you should always have some kind of water bottle with you when you're going to be outside all day. Even though it might not fit in your fanny pack, this bottle comes with a carabineer that you can clip onto your belt loop or waist strap. When it's empty, it'll fold up and fit perfectly in your bag.
4. Glow Sticks: Glow Sticks Pro
This item is purely for fun. You can't go to a music festival without glow sticks!
5. Sunglasses Case: Sewlomax
This soft sunglasses case is very compact and perfect for when you'll be partying into the evening and need to put your sunglasses away. It's soft so it will fit nicely into your smaller pouch, but will still protect your sunnies.
6. Lip Balm: Fresh Sugar Lip Treatment via Sephora
Choose one with SPF that will be easy to keep reapplying all day long. Also, a tinted one will allow you to still look chic while moisturizing and protecting your lips!
7. Medicine: Advil
These are just really good to have for a weekend of nonstop partying (for obvious reasons).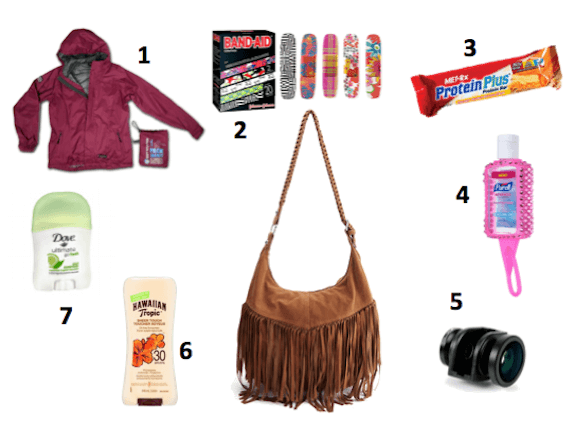 The Bag: Cross-Body Bag
Charlotte Russe via Polyvore
This is the perfect in-between option. If you need something a bit larger than a fanny pack, but won't be carrying as many heavy items as you would with a knapsack.
The Items:
1. Raincoat: Misty Mountain
Unfortunately we can never perfectly predict the weather. A light raincoat (so you don't get too hot) is a perfect fallback, and this Misty Mountain one folds right up and fits into a little pouch, so it sits compactly in your bag and takes up minimal room.
2. Band-Aids:
Band-Aids are compact and easy to store in your purse, and are also good for situations other than sore feet (cuts, scrapes, etc.) But who says you need to use boring nude coloured band aids?
3. Protein Bars: MET-Rx
It can be hard to keep up with proper meal times when you're distracted with the amazing music and new friends at festivals. Keep power bars on you for these situations. MET-Rx's proprietary protein blend Metamyosyn® contains some very high-quality protein, including whey protein isolates, hydrolyzed whey, egg white and casein.
4. Hand Sanitizer: Purell
Realistically, even though you may be "roughing it" for the weekend, you still want to stay free of germs as best you can. A scent-free hand sanitizer is perfect for this, as the smell won't attract greatly unwanted bugs, such as mosquitoes.
5. Camera Lens: Olloclip via Amazon
In this day in age, we pretty much only use our cell phones to take pictures (no more of this digital camera nonsense). Unfortunately, you can only zoom in so much on an iPhone, so bring this attachable lens for better pictures to remember your amazing weekend by.
6. Sunscreen: Hawaiian Tropic
Though this is an obvious one, you can never stress sun safety enough. If you can't fit the big bottle in your bag, keep it in your tent and use it as a refiller for the mini bottle. I like this brand because it's waterproof, in case of rain or sweat.
7. Deodorant: Dove
Let's face it, you probably won't be showering this weekend, and even if you are, you'll definitely need to keep reapplying deodorant throughout the day. Dove has miniature versions of its deodorant and there's also antiperspirant in it, which will definitely come in handy.
How excited are you for music festival season? We want to hear all about it, now that you have all your purse necessities! @TOCityGossip

About Robyn Emer
I have a degree in Business and Entrepreneurship, but my true passion is fashion and so I am currently earning a certificate in Fashion Styling. Carrie Bradshaw is my spirit animal. I love shopping, writing and blogging about fashion, and anything sci-fi.