Be Fashionable – Before, During & After the Gym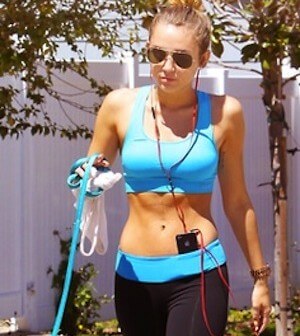 Going to the gym can be intimidating, especially if you're a newbie. Looking around trying to find the machine that looks the least complicated without looking like a total amateur is hard enough, let alone knowing what to wear! And don't get me wrong, I'm a big believer in sweating your butt off and looking like a hot mess at the gym (and only at the gym), but I also believe you can be fashionable when going to get your sweat on. By fashionable I mean with your workout attire, not throwing on some eye-liner, mascara and a little perfume – what would be the point of that if you're just going to sweat it all off? So, I've decided to help you ladies dress for the gym – and also show you how to incorporate these cute workout pants into your everyday life!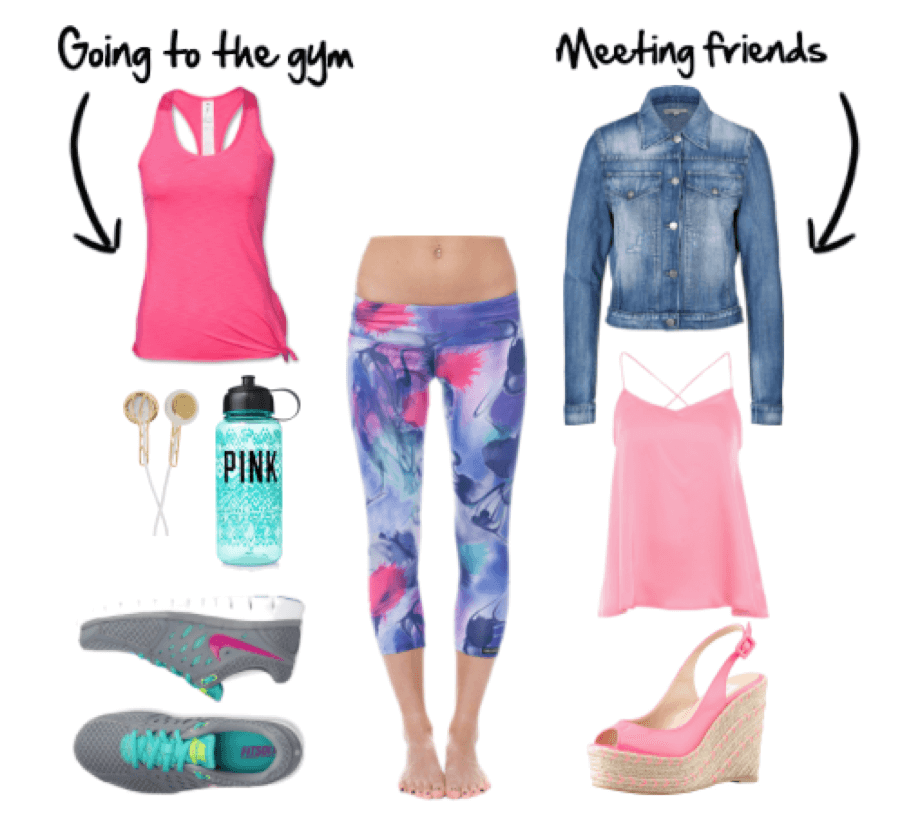 Always have a water bottle, don't forget your sneaks & m usic is always great for motivation
Try a loose tank so your look has some flow to it and do not forget about the wedges!
Going to the gym:
Top: Capezio Andria
Earphones: Frends
Water Bottle: Victoria's Secret
Sneakers: Nike
Pants: Public Myth
Meeting friends:
Jacket: Citizen's of Humanity
Top: Alice + You
Shoes: Valentino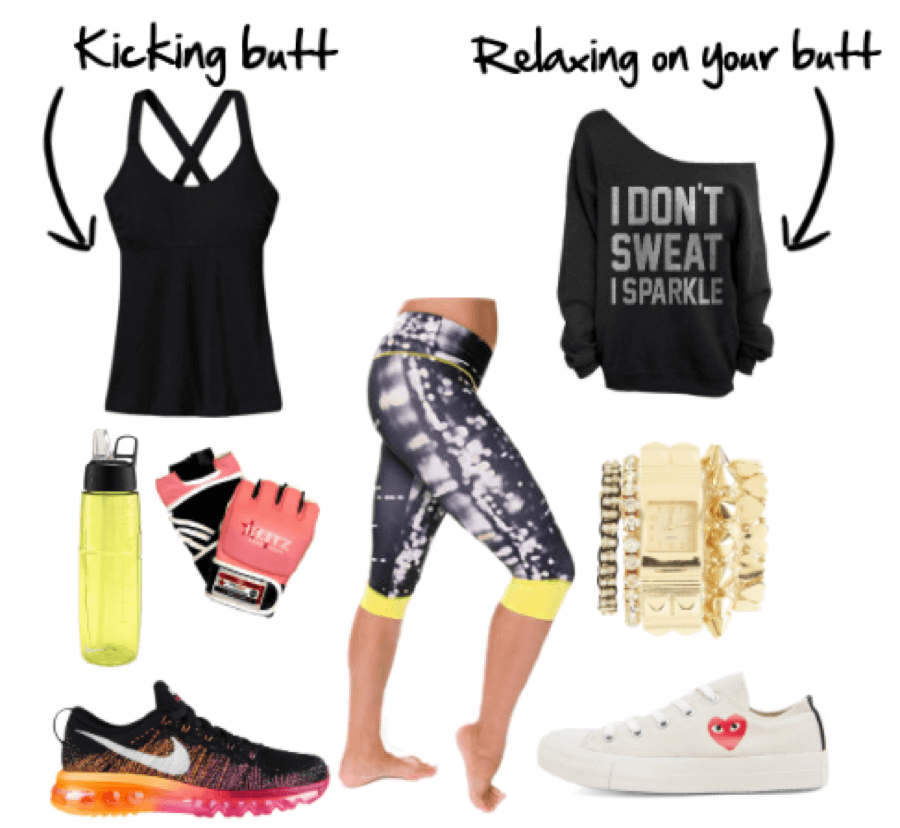 Stick with a basic black tank but accessorize with your water and a perfect pair of sneakers.
A comfy sweater for lounging and some cute sneakers if you're running errands is a perfect transitional look.
Kicking butt :
Top: Patagonia
Water Bottle: Nike
Gloves: Blitz – Everlast (Similar ones)
Sneakers: Nike
Pants: Onzie
Relaxing on your butt:
Sweater: Etsy
Bracelets: Charlotte Russe
Sneakers: Comme des Garcons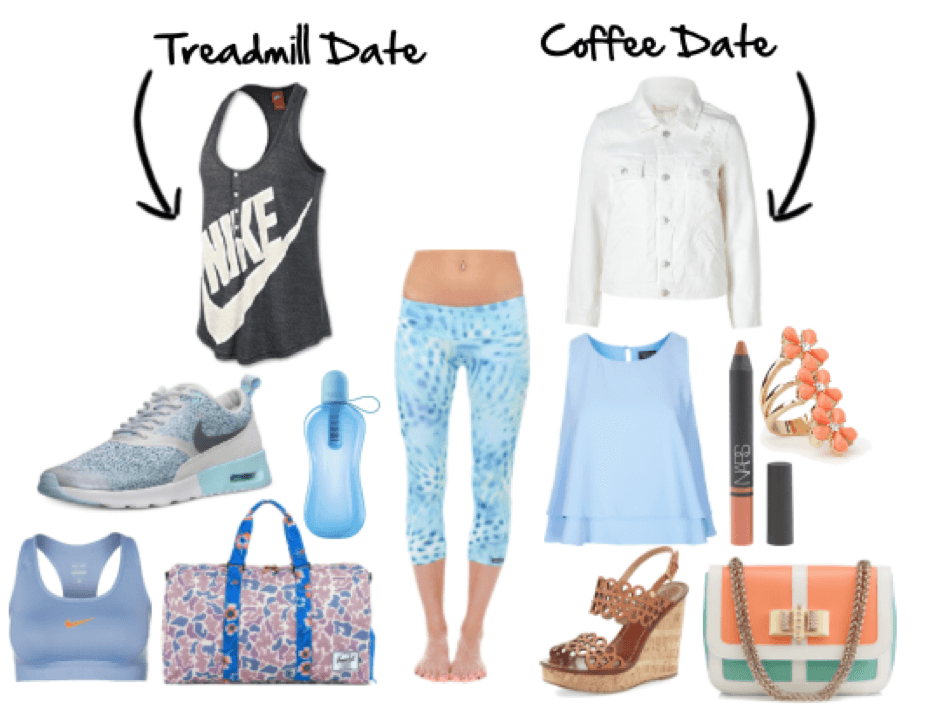 Try a loose tank for cardio and match your sports bra to you entire outfit!
A white denim jacket goes great with these blue printed legging and accessories just right for a coffee date.
Treadmill date:
Top: Nike
Sneakers: Nike
Sports Bra: Nike
Water Bottle: Bobble
Gym Bag: Herschel Supply
Pants: Public Myth
Coffee date:
Jean Jacket: Marc by Marc Jacobs
Top: Topshop
Lipstick: NARS
Ring: Forever21
Wedges: Tory Burch
Purse: Christian Louboutin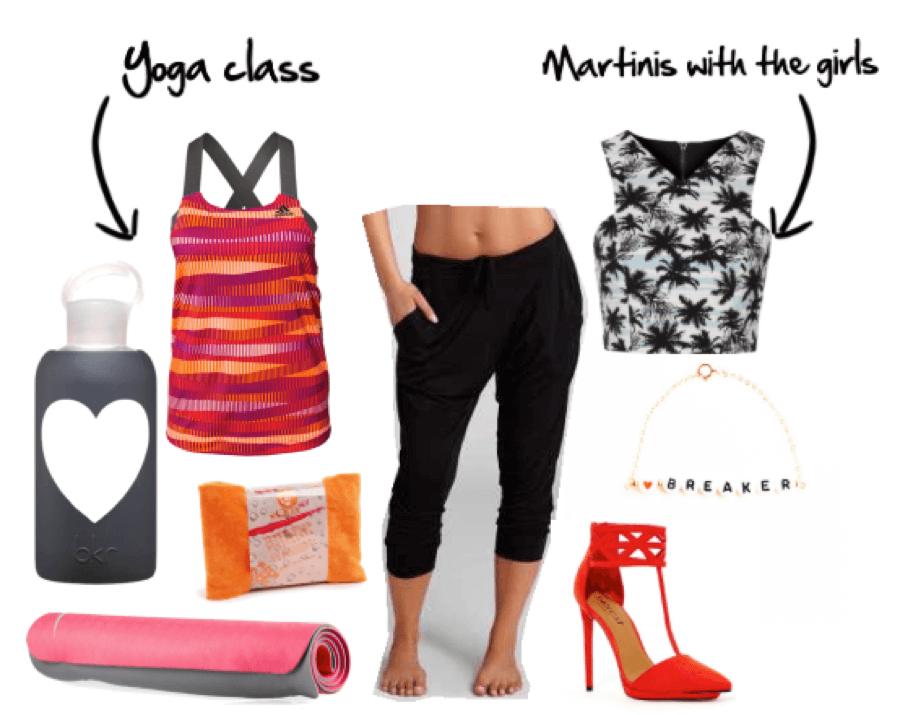 These are great yoga pants! Add a bright top for a pop of colour. Don't forget to accessorize with your yoga mat, water bottle and towel.
This top is flawless with these pants. Throw on a bright red pump to add some bold colour to your fresh look.
Yoga Class:
Top: Adidas
Water Bottle: BKR
Yoga Mat: Nike
Towel: Nordstrom
Pants: Love & Light
Martinis with the girls:
Top: Topshop
Bracelet: Ryan Porter
Shoes: Shoe Cult
Whether you are going to a hot yoga class or meeting someone for a hot date, you can wear your comfy workout pants! Let me know where you get your cute gym outfits @TOCityGossip @Mel13Marchand
Melissa Marchand

About Melissa Marchand
I am originally from Nova Scotia, but in 2013 I moved to the 'big city' of Toronto to study fashion. I am a big believer in following your dreams, working hard but staying positive, and taking advantage of any opportunity that comes your way. I love yoga, wine and high heels…and wine. Follow me on Instagram @melissamarchand and Twitter @Mel13Marchand.