How To: Dress For An Indoor Concert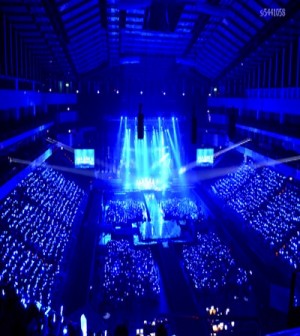 I love listening to live music, and in the summer, though it's nice to go to a concert outside, sometimes you just need to forgo the heat and humidity and go for an indoor concert. And even though big venues like the Air Canada Centre in Toronto, the FirstOntario Centre in Hamilton, and the Barrie Molson Centre in Barrie are usually air conditioned, you still need to dress for warm weather, party rocking and you obviously still need to look super cute.
If you're short, like me, you almost always have to wear an elevated shoe if you want to get a view of anything. But if you'll be sitting in slanted seats you may be able to trade in those heels or wedges for comfy flats or sandals. It's great to purchase a t-shirt from the merchandise booth at concerts, for a keepsake and especially if you really love the band, so I usually wear a thin tank to the stadium and then just end up throwing on my new T once I'm there. Also, I always recommend wearing a cross-body bag to a show; it's easy to keep an eye on and still leaves you hands-free! In addition to these tips, here are some other great ideas for your summer concert looks!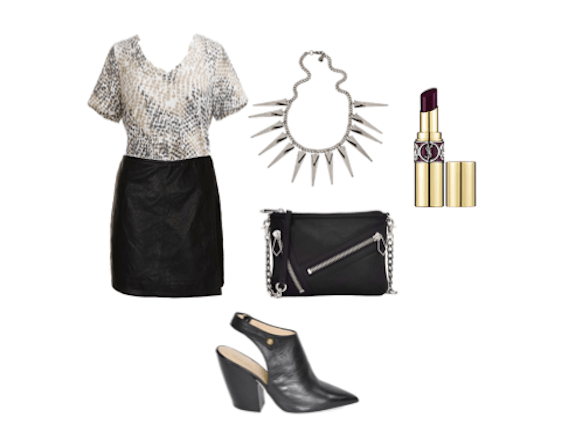 For a hard rock concert, keep your look badass with dark lipstick (even though it's summer; it's night time), a pleather skort and an animal print T. And of course, what hardcore look is complete without a spiky necklace?
Top: Karen Scott
Skort: Topshop
Shoes: Diesel
Bag: Botkier
Necklace: Yochi
Lipstick: Yves Saint Laurent Rouge Volupté Shine in Dark Violet via Sephora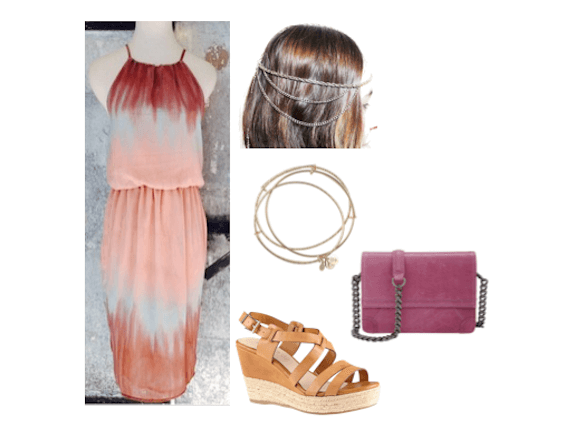 For a more laidback band, wear something a bit more mellow, like this beautiful tie-dye dress from a Toronto boutique, with a headpiece and wedge sandals. Keep the neckline plain because of the headpiece, but you can compensate with thin bracelets.
Dress: Coal Miner's Daughter
Sandals: Aldo
Bag: Alice + Olivia
Bracelets: Alex and Ani
Headpiece: Nightingale Workshop via Etsy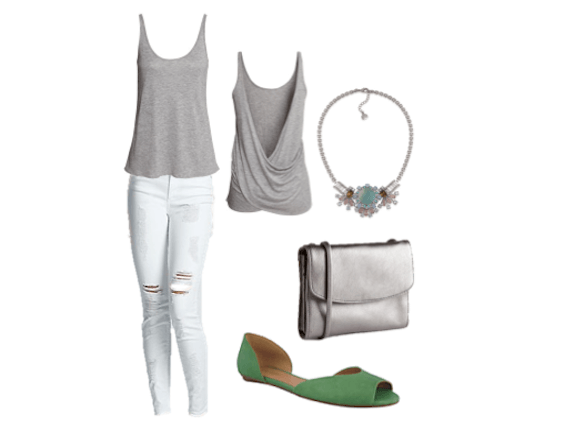 For a pop concert, high waisted distressed jeans are always a great look. Pair them with a low-back top in a neutral colour to keep the outfit simple. Finish it off with flats and a short necklace.
Top: H&M
Jeans: Guess
Flats: Nine West
Bag: Derek Alexander
Necklace: Carolee Lux

About Robyn Emer
I have a degree in Business and Entrepreneurship, but my true passion is fashion and so I am currently earning a certificate in Fashion Styling. Carrie Bradshaw is my spirit animal. I love shopping, writing and blogging about fashion, and anything sci-fi.