Destingo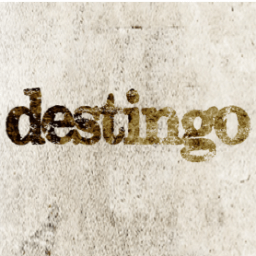 Destingo; a place where you are destined to go. It's about your experience and your time, and it certainly was for us!
Upon arrival to the Queen West Italian eatery, we were eagerly greeted by our server Paul, and the restaurant owner Monika Vacca, an adorable Czech lady whose love for food shines through in everything she says and does in the restaurant.
We were seated and given food, wine and cocktail menus, though Monica offered a selection of dishes she encouraged we try. The menu was the perfect amount of options, not too many to be over whelmed, but reading the descriptions of each made your mouth water.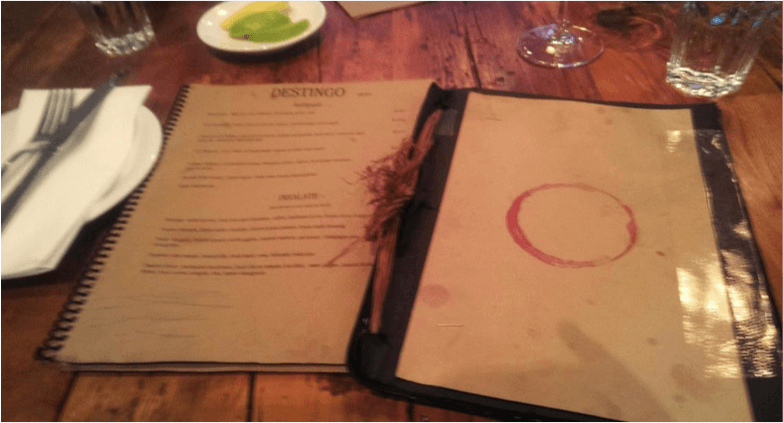 After asking Paul his suggestions of wine for us, he expertly chose a Pinot Noir 2009 Domaine Prieur Brunet ($14 for 6oz.) and a Cabernet Sauvignon 2011 Avalon, ($12 for 6oz) which accompanied our meal perfectly.
We started off our first course with Prosciutto Di Bufala ($13.95) and Grilled Calamari ($14.50). These two dishes were easily the highlight of my meal, the tender melt in your mouth calamari was topped with a sauce of Kalamata olives, caramelized onions, capers, tomatoes and garlic and was served with a side of baby greens to cleanse your palette between bites. The Prosciutto was served with silky buffalo mozzarella cheese, aged balsamic drizzle, and in house pesto. I found myself scrambling for morsels on the plate with this one, so delicate and easy on the palate, left you wanting much, much more.
We then ordered Gnocchi four Destingo ($14.95) and Vitello Destingo ($21.95). The Gnocchi was perfectly cooked in a four cheese cream sauce. It is not for those looking for a light meal, even shared it was filling. This was my first restaurant experience with veal, and it was impeccable. The veal scallopine was perfectly cooked, and melted in your mouth. It was accompanied by grilled vegetables and served in a light rosé sauce with baby scallops, tomatoes and cremini mushrooms. The perfect sized plate to lead into the next course.
We were also given shared plates of the delicious bestselling Shrimp burger ($11.50) served on a pretzel bun smothered in delicious aioli with a side of truffle and parmesan fries, as well as Spaghetti di Mare ($16.95) which was excellently prepared spaghetti filled with, salmon, shrimp, octopus, mussels and scallops, tossed in a light tomato sauce with fresh herbs.
We were offered dessert ($7.95), and despite my full stomach, I agreed. We were given the house made tiramisu and apple strudel, which is made and brought into the restaurant by Monika's own mother! The tiramisu was exactly what traditional tiramisu should taste like – light, fluffy & whipped inside of a crumbly espresso base. The apple strudel was accompanied with a side of pineapple confit; it was just the right amount of moist and flakey pastry with a sweet apple filling. Pair these with an espresso, Americano ($2.95) and you have the perfect rounded meal.
Before I left I had the pleasure of meeting Chef Arshad Uwais, who has worked with Monika to create this delicious menu. His quick responses to my questions showed his excitement and passion of cooking and food. I will definitely be coming back to Destingo, with friends and by myself, the environment is inviting and comfortable, and you'll never feel rushed.
I'd say everyone should stop by Destingo at least once to appreciate the delicious food, amazing wines and their very large, very beautiful patio. With summer right around the corner, this could very well be a new Queen Street hot spot.
741 Queen St West
Toronto, ON M6J 1G1
(647) 748-3113
www.destingo.ca
"Like" Destingo on Facebook and "Follow" Destingo on Twitter @DestingTO

About Emily Miles
Culinary School graduate, new Torontonian and adventurer! Full time cook by day, food connoisseur by night. Can be found in coffee shops getting the daily caffeine fix, working on work outside of work, and walking around aimlessly downtown trying to find the next place to try fish tacos. My passion for food shines through in everything I do, and where others spend their money on clothing, shoes, and tangible things. I will be found in a market, restaurant or grocery store buying the next thing to excite my taste buds! "What's your favourite food? Or "What's the best thing you cook?" will not get you the answers you are looking for, simply because the answer will always be changing. That's the best part of food, food feeds your mind and is constantly changing, and it's my goal to keep up with it.