ki Restaurant & Lounge
You know those mornings that seem to never end and when lunchtime finally roles around your stomach is crumbling in starvation? Well, it just so happens I had one of these mornings recently. I was highly anticipating noon hour's arrival and literally felt like it was never going to come. Finally lunchtime was upon us and I was ready for something fresh and delicious. I also wanted a room filled with individuals who potentially had the same morning as me and just needed to escape the workplace. At this point, Blow Fish (my favorite Japanese restaurant) was closed and I was forced to re-locate. I am a particularly picky individual when it comes to my cuisine; from the freshness to the presentation of the dish- I analyze every detail. Being the indecisive individual that I am, I took my time pondering where I wanted to spend my lunch hour. I knew I wanted something fresh– something from the sea. Then it hits me like a salmon to the face; I want SUSHI! The next quest was figuring out where I could go that would serve up quality sushi with an exceptional culinary experience. That's when the little teeny tiny flashlight in my brain lit up!
"Cab driver, 181 Bay St!"
Ki (noun. Japanese, pronounced "kee") means pure; undiluted; raw.
Located on the corner of Wellington and Bay; my encounter with Ki Restaurant and Lounge began. I pulled open the handles of the overly sized doors and was immediately greeted by an extremely pleasant hostess. The lighting was soft and the dark wood emphasized the urban interior. The ambiance just screamed success- it was lively, sharp and packed! It was quite apparent that Ki was the hot spot for Bay Street power-lunching crowd. The Toronto rumor mill claims the cost to create the atmosphere of Ki was roughly around the seven million dollar mark and after seeing it for myself, that comes as no surprise. From the service, to the décor, to the cuisine – there is no room to wonder if the investment went to good use. This contemporary, fine dining restaurant is quite popular among the Bay Street foodies, not to mention fellow downtown Torontonians such as myself. All right, you got me, I didn't go to Ki just for the great food and fabulous atmosphere; the eye candy in the suits were definitely on my agenda as well. The crowd was full of young professionals, however, you can spot the occasional group of older gentlemen off in the corner sipping scotch. Ki absolutely makes for a great place to enjoy one of my favorite pass-times – people watching.


Ki Restaurant and Lounge offers a variety of dining options to suit your preferences. You can find yourself engaging in some socializing at the sushi bar/lounge or even have a more personal dinner in one of the two raised areas that are surrounded by ponds. This is the ideal perch to watch all the Bay Street excitement. If you are looking to have a fairly large gathering in a quieter atmosphere there are areas that accommodate private groups of 10 to 24. You are able to sit back and relax with friends as you watch the chefs prepare your sushi. Like any restaurant, if you need more space then just fork out the cash and reserve the whole place, but you better be willing to pay a pretty penny. (And the most important detail of all– don't forget to invite me to the event!) Did I mention how amazing the outside patio is during the summer months? The outdoor bar & patio space is extremely sleek and of course super busy during this time of the year. After all, if I worked around the corner I must admit, I would be very tempted into having some cocktails and sushi every day too!
Ki's menu items are great for sharing. So if you have a fairly large appetite make sure you don't come alone; after all sharing is caring. You can also find a wide selection of warm or chilled sake and a variety of wines from all over the world. Of course you can't overlook the delicious cocktails and martinis. One of my favorite sake's at Ki is the Wakatake Onikoroshi 'Demon Slayer' Junmai daiginjo-shu.
(Sake is Japan's national beverage. From wikipedia: Sake (pronounced/ˈsɑːkiː/ or /ˈsɑːkeɪ/; Japanese: [sake] is a rice-based alcoholic beverage of Japanese origin. It is sometimes spelled saké to show the pronunciation more clearly).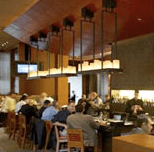 Ki is one of the best restaurants in Toronto for sushi! I am a sushi freak and I know when I've tasted good quality sushi, so believe me when I say Ki has GOOD sushi! It is VERY fresh and flavorful, definitely not comparable to the outrageous number of cheap sushi joints in the city. You pay for quality, hence why the price is on the higher end at Ki. Ki is a traditional Japanese restaurant with a modern twist and the selection here is impeccable. The classic sushi restaurant experience ranges from soup and salads to kushiyaki skewers, to vegetable and seafood tempura, to the nigiri and sashimi, the classic makimonos, and then there is ki's modern makimonos creations. There is also a choice of signature hot and cold plates to choose from, but really who goes to a Japanese restaurant and doesn't order the sushi? The Mutsu (Butter fish) at Ki is to die for- soft and tender, it literally melts in your mouth. To start, my personal favorites are the duck confit salad with pickled red cabbage, green beans + saikyo miso vinaigrette, and edamame that is tossed with a seven-spice chili. The Alaskan king crab sashimi is amazing (kani) alongside the sake (Atlantic salmon,) Toro (marbled tuna,) and Mutsu (butter fish.) As for the makimonos, they always seem to be a difficult choice as there are so many delicious options. Ki's modern makimonos Kiwi-Tuna is a MUST; rolled with yellowfin tuna, mango, cucumber, spicy tomato salsa, and topped with Kyoto miso. I wouldn't share that one, eat it all yourself!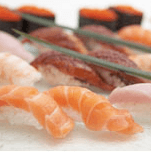 My personal order at Ki always consists of the following:
1. Spicy Tuna rolled with maguro tuna, scallions, sriracha mayo, sesame
2. Ki Spider rolled with soft shell crab, mango, perilla leaves, chives
3. Spicy Salmon rolled with Atlantic salmon, asparagus, endive, spicy raspberry sauce, ao noriko (MMMMMmmm the spicy raspberry sauce does quite a number on this one.)
By the time I place and finish my favorite order, I'm always perfectly full and never have room for dessert. This happens each and every time. Either way, I am not much of a dessert person so it's not that disappointing. Personally, I'd rather finish the meal up with another cocktail!
You know where you can find me once you finish reading this; meet me on the patio

Ki Restaurant
181 Bay Street
Tel: 416-308-5888