A Chelsea Boot for Every Occasion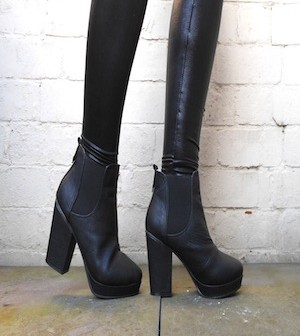 If there is an essential shoe making its way across every fashion scene, it is without a doubt, the Chelsea boot. This is the boot for every occasion, as it comes in so many different styles, colours, and yes, shapes. Read below to find your Chelsea boot for every (and any) occasion.
Women
1. New Look Chandler via ASOS
For running errands or catching up with friends over coffee. Though more casual than some styles, because of the less-pointed toe and wider ribbed siding, they are very easy to pair with a simple outfit that doesn't need a statement shoe. Think denim jacket and skinny pants.
2. ASOS Armor via ASOS
On the other hand, if you find your outfit to be quite plain, whether in terms of colour, accessories, or style, these leopard print boots with a pointed toe and small heel are perfect for when you want your shoes to stand out.
3. Chiara Fashion
These boots are sure to stand out as well.The lighter burgundy colour is great for the spring, for a music festival or even just a casual shopping trip.
4. Allsorts via Topshop
These white canvas Chelseas are a great summer shoe. They're perfect for weekend brunches and going to Kensington Market. Because of the low, thick heel they're still very comfortable to walk in, despite them actually being heels. And although the style may be chunky and more "winter" looking, the white colour will definitely say otherwise.
5. Aldo via ASOS
These are the classic black-heeled bootie, with a Chelsea twist. For the office or a night out, they'll go great with a mini skirt and blazer (office) or leather jacket (night out).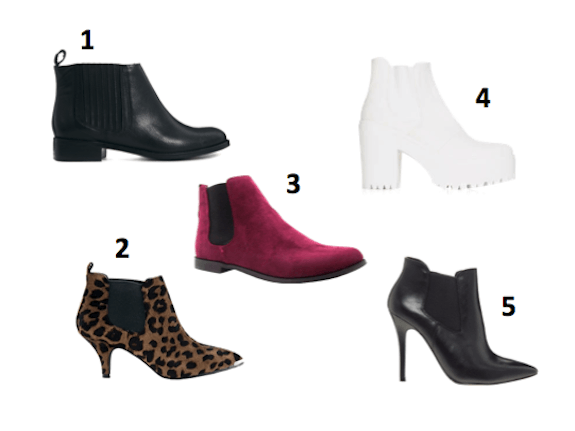 Men
1. Jeffery West via Stuarts London
These Chelsea boots can be dressed up or down, because of the colour and shape. Wear them to work, or for a night out, though something on the more casual side (date night at a midtown restaurant).
2. Ben Sherman via Aldo
Because of the longer, pointed toe, these boots are great for a night on the town. If you're going to a nice restaurant or bar downtown on a Saturday night, you'll want to throw on a style like these ones from Ben Sherman.
3. Bellfield via ASOS
While still on the dressier side, these classic black boots are great for a day-to-night look. Wear them to work with either a suit or business casual attire, and then head out for post-office dinner and/or drinks!
4. Tretorn via Gravitypope
We all know that here in Toronto it can get very rainy, especially during the early spring, it's always great to have a waterproof boot. Whether you'll be changing into your office-approved shoes, or even if you'll be wearing them the whole day, you can never go wrong with a Chelsea-style rain boot.
5. ASOS via ASOS
These beige suede Chelseas are perfect for a Sunday afternoon. If you're catching a movie or just catching up with friends or a loved one, these are the boot you'll want to have on.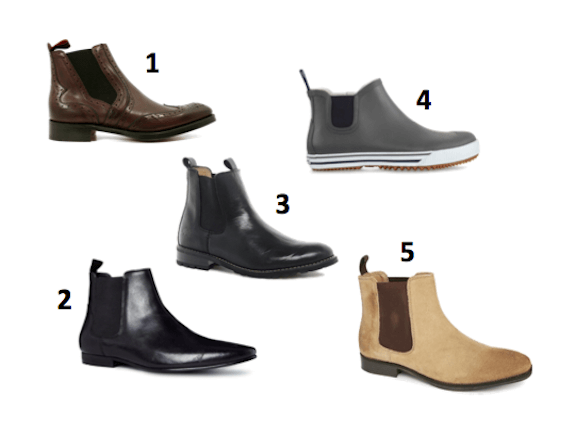 Which are your fav? We want to know. @TOCityGossip

About Robyn Emer
I have a degree in Business and Entrepreneurship, but my true passion is fashion and so I am currently earning a certificate in Fashion Styling. Carrie Bradshaw is my spirit animal. I love shopping, writing and blogging about fashion, and anything sci-fi.