Brunch in the City
If you have yet to visit "Fire on the East Side" I suggest you book your next brunch date there or pop in for after-work martinis.
"Fire on the East Side" is located on a quiet side street just steps away from Yonge (truly an ideal location.) On a warm spring day it is but only a hop, skip and a jump away from all the fabulous shops on Bloor.
The first time I had the luxury of experiencing "Fire on the East Side" was for brunch. Also known as "Fly" on the weekends, the place is very cozy. The décor can be described as stylish and comfortable with a blend of colourful ultra modern elements and earthy natural textures; it's beautiful. They often exhibit different paintings by various local artists on the walls with a purchase option.
As soon as you step foot through the door there's usually always a bit of a line-up but they somehow manage to get everyone in and out fairly quickly. You hear the sounds of either modern jazz or dance music but neither is played too loud so that you can't hear the person next to you.
Every time I have been, the lighting is set perfectly to compliment the atmosphere. The lights are dimmed – not too dark, not too bright. Once you have been greeted and seated, a server will brings over their signature banana bread for you to enjoy while you wait for your food. It's probably the best I've tasted. It's not too sweet and extremely moist. While looking over the menu you'll notice that it is southern-inspired cuisine with a global flair that is very inventive and unique.
For the quality of food and portion sizes that you receive it is definitely inexpensive compared to some of the menus I've seen. The menu extends well beyond your standard brunch fare.
If I hear my tummy grumble and I've been out for one too many cocktails the night before and feel like something on the heavier side I will almost always go for one of the eggs benedict options. They are absolutely amazing! It's definitely something you have to experience at least once, especially if you're a fan of eggs benedict.
Typically, it's served on corn bread with spinach and your choice of a protein along with something generous like three eggs topped with chipotle hollandaise. It is absolutely heavenly. Usually I will switch the corn bread for multigrain toast underneath because I'm slightly anal like that but if you're a fan of cornbread a few friends of mine live for it from there. This very generous portion of the eggs benedict is accompanied by a mixed green salad that is dressed with some sort of mouth watering lemon-inspired vinaigrette and a side of fries (I usually substitute for yam fries they're delish.) The omelettes are particularly yummy as well and I've heard many things about their infamous crab cakes.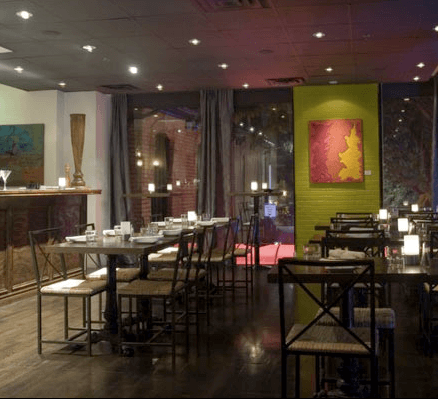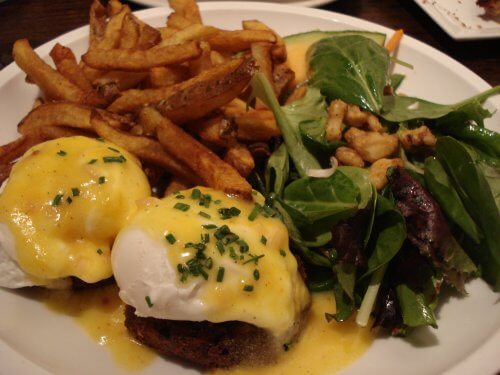 If you're a fan of starting off your Sundays properly with mimosas it's only $22 for a bottle to share with your friends. This place is the perfect combination of great food, lively and fun atmosphere, positive and artsy energy. I highly recommend it.
You'll be back during the week for their lunch menu as well, once you realize your cravings for their delicious and unique dishes, to see the restaurant filled with power-lunching business executives, first dates and family gatherings.
I personally enjoy their daily blackboard specials and that they keep up with their twitter updates (being the twitter chick that I am,) along with the fact that the staff are always fun, flirty, efficient and accommodating. I would recommend reservations if you're coming for brunch as it seems to be getting more busy each time I go – but, the wait is never long if you don't. If it isn't warm enough to enjoy the breeze on the patio but the sun is out, the seats in the front window are the best spot in the restaurant. Also, there are plenty of parking opportunities – every time I have went I have always found a spot within minutes. There is even a green 'P' just two blocks south.
Here are a few things to keep in mind:
Monday Mojitos Madness – 2oz Mojitos–try raspberry, strawberry, citrus, coconut or classic $6
Phat Tuesday – Phat Tuesday all martinis $6
Draught Wednesday – Draught Wednesdays All pints of draught $5
Sangria Sunday – A refreshing mixture of wine, Triple Sec, brandy and fresh fruit juices. 4pm-close. $5/18
Sunday Night Prix Fixe-a delicious 3 course menu $37
Quatre du Sept (4-7pm Monday to Friday)- reduced drink prices including draught and highballs!
Check out the full menu and all other information at http://www.fireontheeastside.ca/
6 Gloucester Street – 416-960 FIRE (3473)
Enjoy!
xoxo